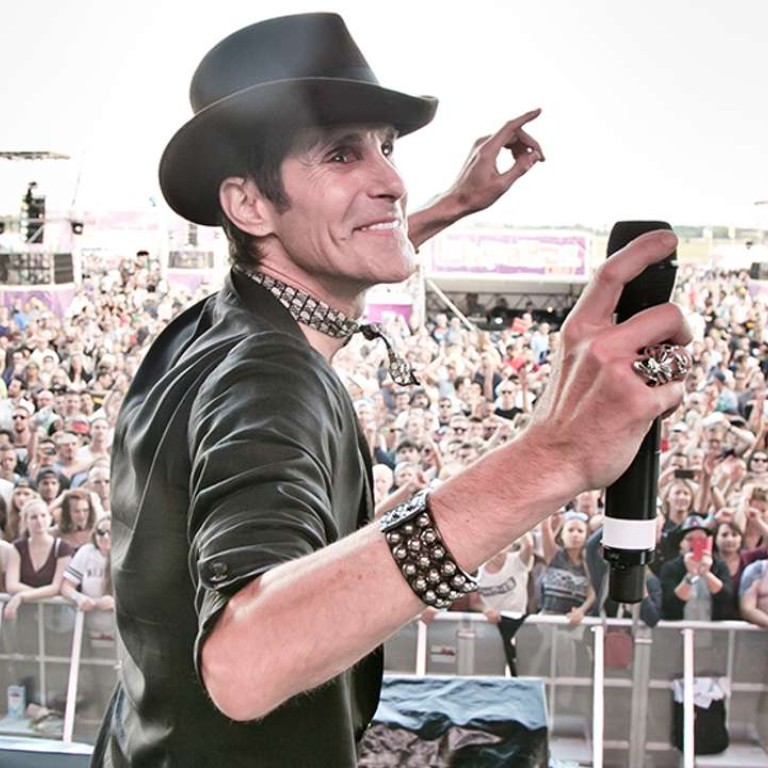 Lollapalooza founder Perry Farrell says it may now be time to leave the festival behind
It was born out of what was meant to be a farewell tour for Jane's Addiction and has grown into a multimillion-dollar juggernaut over the past 25 years, but Farrell has set his sights on something new
Lollapalooza, one of the biggest music festivals in America and on the cusp of its 25th anniversary, wasn't meant to last beyond its first year in 1991. And now that it has, its co-founder, Perry Farrell of the band Jane's Addiction, says it may finally be time for him to move on.
"The idea that you can protect yourself from people who want to make millions of dollars off your idea – you better have a suit of armour," says Farrell of how Lollapalooza has grown from a one-off six-week travelling festival into a multimillion-dollar franchise over a quarter-century.
It was conceived as a Jane's Addiction farewell tour that also included other underground bands and artists such as Living Colour, Siouxsie and the Banshees, the Rollins Band, Nine Inch Nails, the Butthole Surfers and Ice-T. It was a risky move that turned into a profitable tour.
When it finished, Farrell – who is married to the Hong Kong-born Etty Lau and is a regular visitor to the city – was ready to stop, but "the record industry loves success. They wait for something to hit, they go to the hilltops. They go right to next year – hey, the Red Hot Chili Peppers want to do it [in 1992]. I didn't have much else to do that year, I knew I was going to put Jane's down for a time, and I figured, why not? I was up for another party."
The festival outlasted numerous competitors – H.O.R.D.E., Lilith Fair, Smokin' Grooves – by evolving beyond its genre-specific guidelines. Once an "alternative" rock festival, it disappeared for a few years after 1997, was briefly resurrected in 2003 and then reinvented in 2005 as a two-day (and now four-day) annual destination festival in Chicago. This year's event started yesterday and wraps up on Sunday with a line-up that includes headliners the Red Hot Chili Peppers, Disclosure, Lana Del Rey, J. Cole, LCD Soundsystem, Ellie Goulding, Radiohead and Major Lazer. There's not much alternative about it these days, but it's doing bigger box office numbers than ever – all four days of this year's festival were sold out (400,000 tickets in all) before a line-up was even announced.
"Lolla started out as a scene for the alternative kids, and a lot of money was thrown at it," Farrell says. "Rolling Stone called it a 'cash cow' in 1995. I can't say they were very wrong. Everyone was selling something. Managers, agencies, record companies – everybody was. That's life. There's nothing I can do about it except study it and try to keep it sweet, truthful, honest. You see the money people coming, and you bring in more things that are exciting and delightful and funny and pleasing. That's one way to win.
"The other way to win is you start something else. After 25 years I have another project I'm about to start. It will be music-centric. I'm going to make a new scene, a new place, a different feel. Music will be at the heart of it, but it will be a completely new experience. That's all I can tell you."
Farrell is quick to say that he doesn't think Lollapalooza has outlived its relevance, though there are signs the robust festival economy is starting to wobble. The American festival market draws 32 million fans a year from around the world, according to Nielsen. They travel an average of 1,500 kilometres to attend these festivals, which also include such mega-sellers as Coachella in California and Bonnaroo in Tennessee. These are impressive numbers for an industry that is otherwise in decline as sales of recorded music continue to plummet. But in recent weeks, once rock-solid juggernauts such as Bonnaroo and the Pitchfork Music Festival in Chicago have seen attendances drop.
Yet Lollapalooza remains more popular than ever, stringing together sell-outs for several years and expanding to four days this year for the first time.
Farrell still has input in the bookings, but he acknowledges that his passion for the type of electronic music artists who are attracting huge crowds at his namesake stage, Perry's, is waning. Farrell grew up attending clubs and dancing to house music and has been doing DJ gigs since the '90s, but he's not excited by the new wave of EDM artists who are driving the rave scene in America.
"When they said they wanted to name a stage after me [when the festival relaunched in 2005], I was honoured," he says. "I like the adulation. But now you say, 'Perry, what's going on with your area here?' Believe me, I've got questions myself. I hate EDM. I want to vomit it out of my nostrils. I can't stand what it did to what I love, which is house music, which was meditative, psychedelic – it took you on a journey … I sometimes cringe at my own festival."
But Farrell also recognises that EDM is something the Lolla audience wants: "You'd have to do away with pop to escape it, and if you want to do a festival you can't do away with pop."
Which is why he says he's looking toward a new venture in what he calls "scene-making": "The only way to change things is by changing things myself. At my new project, there will be great house music. I hope I will keep EDM at the door. They will be turned away."