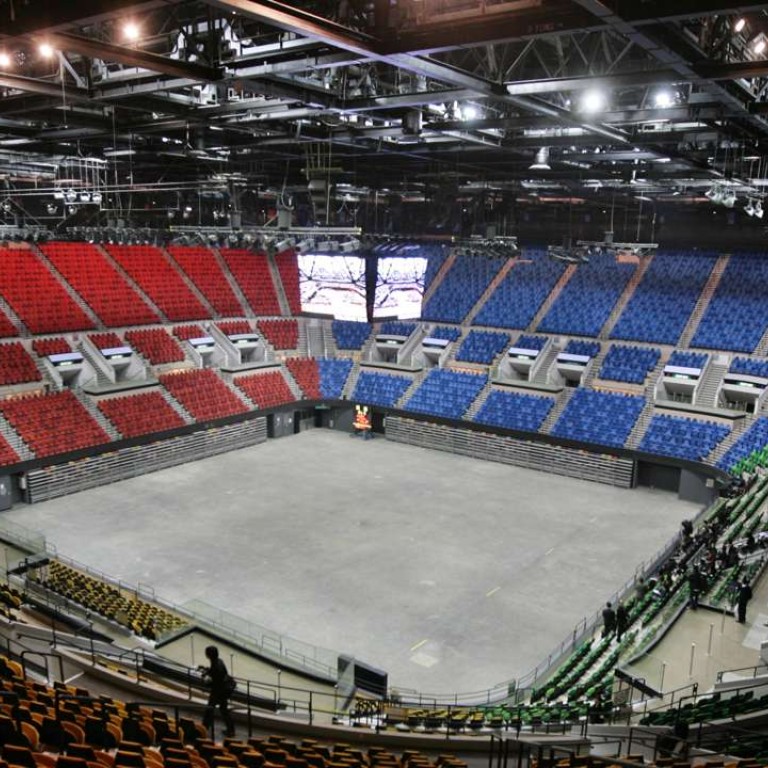 The Hong Kong Coliseum – 40 years on and still rocking at heart of the city
Alex Fung Yee-pak had been keeping an eye on proceedings at the vacant land lot in Hung Hom since the first patch of soil was tilled four decades ago.
Fung – then a student at St Joseph's College in Kennedy Road – had been harbouring dreams of one day entering the entertainment business and news that Hong Kong was going to get its own purpose-built venue to serve that industry was greeted with much excitement among his peer group.
"We were all eager to see what was going to be built there, and as music fans we were thrilled that the city had given us a place where we could see our idols," the 45-year-old industry veteran recalls.
Fung was among the first people inside the Hong Kong Coliseum after it was inaugurated on April 27, 1983, having taken six years to build and costing by its completion an estimated HK$140 million. Then he joined his friends in the audience when the late, great Danny Chan Bak-keung helped inaugurate the venue.
"He was a huge idol then," recalls Fung. "He was one of Hong Kong's young stars. We'd never seen anything like the Coliseum before and when we walked inside we all said 'wow'. We didn't have anything that big – it was for those concerts of about 8,000. The next year we were back to see Alan Tam [Wing-lun] – they put him on a four-sided stage so more people could come in.
"For us it was the most exciting thing we had seen; before then you just didn't really ever get the chance to see such big shows, or gather with all your friends. It really helped the scene come of age."
Much has changed in the city that surrounds the Coliseum, and much has changed in Fung's life, too. He has seen those early dreams realised. Over the decades, Fung has worked his way up the local entertainment industry chain, starting out organising concerts while still at school, then working at one time or another as a personal assistant to the likes of Canto-pop king Andy Lau Tak-wah, before moving into artist management and then on to becoming the vast Emperor Entertainment Group's director in its concert and show division.
In that role, Fung has had a front-row seat as the Coliseum has helped entertain generations of Hongkongers, through its concerts and sporting and cultural events.
Much has been made over the decades of the Coliseum's "inverted pyramid" design. The 12,500-seat venue, with a 10,700 sq ft arena, is very much about "function" rather than "form". The style isn't called "minimalism" for nothing, but Fung recalls that from the first time the doors opened, it was more about what was going on inside.
WATCH a Cantonese opera performance at the Coliseum on National Day, 2013
"We've never really cared about how it looks from the outside," says Fung. "For fans and for the performers what is great about the venue is the way they build the seating. It's very steep, which is rare in a venue – especially these days. The fans love it because they feel close to the performers, and the entertainers love it because of that feeling of intimacy.
"Even the cheap seats have a great view and I don't think people really appreciated that until other venues came along, such as AsiaWorld-Expo and the Convention Centre, where the view you get from the cheaper seats is not that good."
Run by the Leisure and Cultural Services Department – and given a HK$168.6 million makeover prior to helping host the East Asian Games in 2009 – officials say the Coliseum "is regarded by many as a source of pride for the community of Hong Kong".
"For many local pop singers, performing in the Coliseum marks an important milestone in their show business or singing career," a spokesman for the LCSD says. "It is also a dream venue for budding pop musicians to hold concerts."
Fittingly for a place colloquially known as the "Hung Coliseum" – in Cantonese the phrase sounds like "fame" – playing the venue is seen as a rite of passage for both local performers and visitors to our city.
While the venue has hosted scores of cultural and sporting events over the years – from Miss Hong Kong pageants and Hong Kong Film Awards ceremonies to the annual leg of the FIVB Volleyball World Grand Prix – the LCSD says concerts annually take up about 80 per cent of bookings.
WATCH Aaron Kwok host a countdown to 2012 at a New Year concert at the Coliseum
International superstars to have graced its stage include Elton John, David Bowie and Ricky Martin, while "Heavenly Kings" Lau, Aaron Kwok Fu-shing, Jacky Cheung Hok-yau and Leon Lai Ming, along with the late Leslie Cheung Kwok-wing, all enjoyed extended residencies at the venue, as have divas Joey Yung Cho-yee, Sammi Cheng Sau-man and the late Anita Mui Yim-fong.
"The concert series are really something unique to Hong Kong and to the venue," says Fung. "There's nowhere else in the world really where you constantly get artists playing 10 nights or even longer at the same venue, but this has become a tradition here and something the fans just love."
The venue has witnessed its fair share of drama, too, most infamously when veteran singer George Lam Chi-cheung plunged down an uncovered hole while performing in 2003. They're all now part of the city's collective memory, says Fung.
"I'd say over the past 16 years, the Emperor Group has helped stage about 600 shows at the Coliseum," says Fung. "For local artists, to play a concert or a series of concerts there means that you have made it as an entertainer. If you talk to the young ones we represent, that's all they want to do – play the Coliseum like their own idols have done.
"When we work with international artists, especially those from China and Taiwan, they will tell us the same thing. Everyone has grown up either going to see the biggest stars there or hearing about the concerts they have staged.
"We all know that there are plans for other venues. But the Coliseum is in the heart of the city and it has become a place Hong Kong loves. I don't think it can ever be replaced."
This article appeared in the South China Morning Post print edition as: where the stars shine