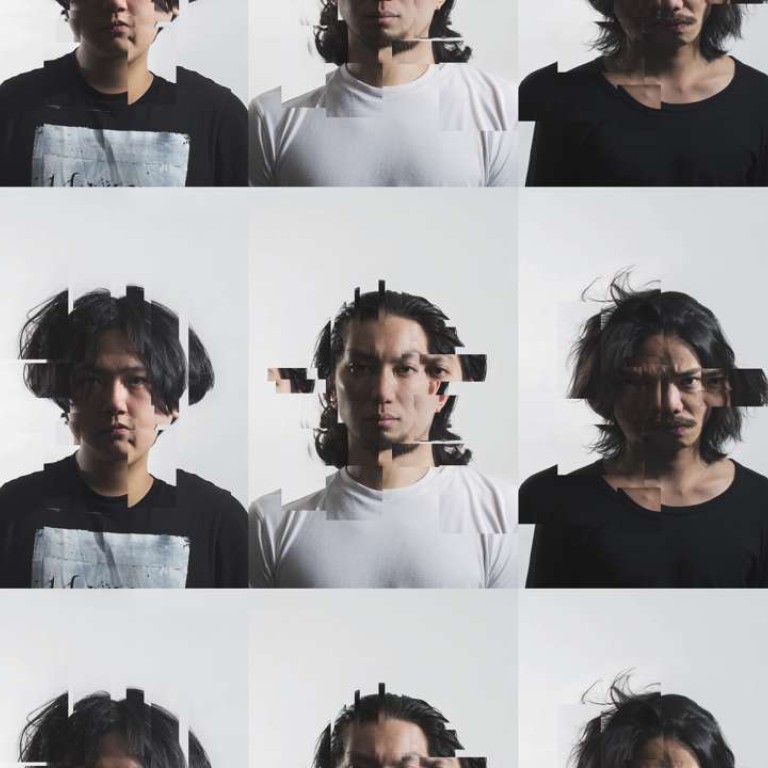 Hong Kong band Tfvsjs bring 'math rock with a Canton twist' on second album
The local five-piece are playing Kitec at the end of August, the culmination of an Asia tour that will also see them play the mighty Summer Sonic in Japan
Less a band name, more an accident with a keyboard, Tfvsjs make music as complex and unpredictable as their cryptic moniker.
After more than a decade of producing daringly experimental, wistful, twisty-turny "math rock with a Canton twist", as they describe it, the Hong Kong band launch their second album, titled Zoi, with a gig at the Kitec Music Zone on August 31, the culmination of a tour that will also take them to Japan for five gigs, including one at the giant Summer Sonic Festival, and then to Taipei.
Adonian Chan, the band's main songwriter and one of their two guitarists, describes the new album as darker than their previous debut effort, 2013's equally informatively titled
Equal Unequals to Equal
, which was released through Hong Kong indie label White Noise. The new album was mixed and mastered by Mino Takaaki from Japanese math-rock legends Toe, which posed a few communication problems, as he essentially only speaks Japanese.
"This album is heavier and more immediate than the first one," says Chan. "Also every instrument is really clean and distinct; the first album was more muddy.
"The second album came after the Occupy movement, and it's really a reflection of our situation in this city – that's why it's dark, intense, doomy. I'm not optimistic about our situation but I am optimistic about people."
Tfvsjs's style of music would appear to suit jamming as a composition method – tellingly, Chan refers to the band's compositions as "pieces" rather than songs or tracks; but while parts of the first album came about that way, Chan says that for the new album the technical complexity of the music forced him to get everything down in advance, using a simplified form of notation based on the Guitar Pro editing software so that everyone in the band could understand it.
"We did this album really differently from the previous album. This time I wrote everything down first, and the band learned the songs. This time I set myself some challenges – things like time signatures I hadn't used before." Listen to the band's music for a while, and you will realise that there can't be many of those.
That mouth-upsetting name, incidentally, is in fact a bilingual portmanteau featuring the first letters of the romanisation of each phoneme of the Cantonese for "decadence" and "vitality", interspersed with an abbreviation of the English "versus", meaning the whole thing translates as "decadence versus vitality" (or teoi fai versus jing san). The name is faithfully displayed in both languages on the signboard of the industrial building in which the band's radically multi-purpose studio space – more on that later – is located.
Chan is joined in the band by Milk Tsang on guitar, Sean Pang on bass, and Chapman So and Antonio Fung on drums, but the line-up changed numerous times during the early years after Tfvsjs formed in 2005; until 2012, there was even a vocalist. After he left the band, unusually, decided to recruit a second drummer. The two drummers both happen also to be founders of the Battle Stage drum shop, so working together isn't a problem.
"It's something I'd always wanted to do," says Chan. "Obviously a lot of bands have two guitarists, and that allows you to do call-and-response kind of things, and I wanted to do that with the percussion part – to have a really simple beat, but in two parts."
Two albums in 11 years isn't exactly prolific, but then like many creative people in Hong Kong, the members of Tfvsjs don't make a living from their art alone but have other jobs: Chan, for example, is also a graphic designer, who co-runs design studio Trilingua, which specialises in Chinese lettering. And then there's their cafe.
Yes, their cafe. In what might be a musical first, the band also own and operate a fusion eatery, syut.tfvsjs, out of their Ngau Tau Kok rehearsal studio, which also houses Battle Stage and hosts a range of art, design and music events. Launched in 2014, the cafe came about "because we got evicted from our previous rehearsal studio in Kwun Tong after we got noise complaints from the neighbours", says Chan. "We get thrown out of somewhere every two to three years.
"We wanted to sustain a large enough space that we could accommodate a band room and a recording studio, so we needed to have some kind of business."
Fortunately Pang is a talented chef, while Chan took care of the cafe's aesthetic, and even with the industrial location, it's been a success.
Despite their other commitments, Tfvsjs still find time to play regularly outside Hong Kong, including a tour of mainland China in June. Playing live, says Chan, doesn't just allow them to take their music in new directions; it more or less forces them to do so.
"For live performances, the way we play songs is pretty different; we have to find a new way to interpret them. For example, we have to modify some parts to play them live because we can't play them at full speed. When we play some of our older pieces, we try to modify and evolve them. And for live performances we tend to be heavier, more intense, with more distortion."
Such atmospheric compositions as theirs are highly sensitive to acoustic differences, so their sound can vary considerably by venue. The mainland China tour, for example, included a gig at a "cosy" bar in Shanghai. "The stage was too small to fit two drummers, and we didn't use much of the house PA system, just amps," says Chan. "It was a totally different way of playing – more organic and intimate. Actually, it was my favourite gig on the tour. I've always wanted to perform on the ground; I never feel too comfortable on the stage. I'm anti-rock star.
"It's always a dilemma. We have to play onstage, but we try to be authentic and not too pretentious. But you can't let the audience get bored either."
Tfvsjs, Aug 31, 8pm, Music Zone, Kitec, 1 Trademart Drive, Kowloon Bay, HK$200 (advance, whitenoiserecords.org), HK$250 (door). Inquiries: 2591 0499