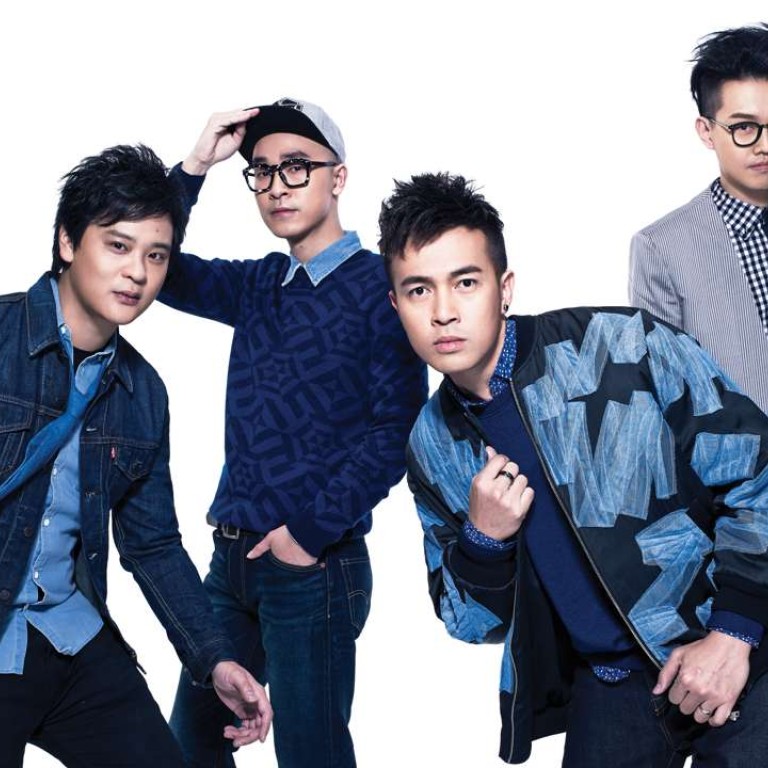 13 years on and Hong Kong band Dear Jane are still punks at heart
Pop-punk band Dear Jane reveal the ups and downs of their 13-year career and how they're trying to change the industry from the inside
The posters have started going up around the city for Dear Jane's upcoming shows in September and their fans are getting excited. Having released three well-received singles earlier this year, the four-piece pop rock outfit are riding a wave of mainstream success that has garnered millions of hits on YouTube, and a status usually reserved for hot newcomers to the music scene.
However, these boys are far from novices – Dear Jane formed in 2003 – and it took more than a few shaky years experimenting with not just their own music, but the Hong Kong audience, to get to where they are now.
Dear Jane's original line-up consisted of Tim Wong, Adam Diaz, Howie Yung and Jackal Ng, who all met through various underground and music scenes. Their early aspiration was to emulate the angst-ridden punk rock sound emerging from late-1990s North America, a fact which might be new to current fans.
"In Hong Kong, it's hard to find people who like American rock music as there's a huge British rock culture," says Yung. "I think we met up and formed because we were the only four who liked that type of music among our friends – we wanted to make punk rock, but change it so it would be a Chinese kind of rock, a second wave of '90s pop punk."
However, Yung and his bandmates quickly realised that the musical palate of Hongkongers was distinctly different to what they were used to. (Half of the members have a US or Canadian upbringing.) They faced difficulties in gaining fans after the release of their first album, 100, in 2006.
"I remember ages ago, I went to a garage to fix my crappy car and our song was playing on the radio," Yung says of the band's early days. It was Long Holiday, from that debut album, which was reminiscent of Blink 182, Green Day and Fall Out Boy.
"I was happy – but then the guy there turned it down when he saw me and apologised. It was difficult getting our brand of rock 'n' roll out because most Chinese people only knew [at that point] Beyond from the '80s and '90s. We were just considered white noise to them."
Taking matters into their own hands, Dear Jane did something that most bands would never admit to – they adapted to their environment, tweaking their musical style to suit the ears of Hongkongers. They struggled, creatively and professionally, with various record labels, being sued by one of them. (They're on their fourth: Warner Music)
They began writing slower ballads that still retained elements of their original rock sound. This resulted in what fans know as their "breakout album", XOXO in 2009. The hit song Do Not Speak embodied all they set out to achieve – to stay true to their rock roots while infusing the song with an '80s Canto-pop flavour. Other songs on the album reveal this nascent hybridisation, while others feature screamo and guitar solos.
Soon after the release of XOXO, founding member Diaz left the group and the remaining members found current drummer, Nice Lai. There were further changes too, as band members switched roles. Yung, originally the bassist, became the guitarist, and Ng, originally the drummer, became the bassist. "It was like starting a new band, actually," says Yung. "It was fun. When Nice came in, he gave the band new life and new energy."
This shake up was the genesis of today's Dear Jane: a completely evolved band pushing a sound that couldn't be farther from their underground, punk rock roots. The band released three more albums: Gamma (2011), Yellow Fever (2012) and Dear Jane (Special Edition) (2014).
Recent singles Lost and You and Me are examples of their new sound – heavy on the vocals, with lighter guitar chord transitions and simpler melodies. The two songs and their music videos are part of a visual trilogy that Dear Jane have constructed for their fans. "We wanted to link the three music videos, so the audience has a story ," says Yung. A new LP is due to be released next month after their shows on September 3 and 4, featuring songs they've released as singles since Dear Jane (Special Edition).
When speaking about the upcoming album and beyond that, Yung mentions something he aims to change in the future. "Hong Kong has a singles-based business model, so they release albums after the singles have been released, instead of the other way round," he says. "This way, it's kind of hard to have a coherent theme where you're writing singles every three months. That we want to change, but we can't change the system so we want to do more theme-based stuff between the singles."
Dear Jane is at heart still a punk rock band. They play their earliest songs at every concert, and they say they were "piss poor for a decade" but are still standing 13 years later. One major incentive to keep going is their approach to the collaborative relationships within the band – everyone has their own role and there is no leader – and with the music they produce, in which they view the audience as the other collaborator.
"When we started playing, people were trying to leave when we got on stage. When we do the same sound in the Canto-pop melody setting, they love it," says Yung with a laugh. "At the end of the day we're entertainers, we want to entertain people. Everyone's life is s***, so if we can uplift spirits for three or four minutes a day… we're proud of that."
Dear Jane, September 3 and 4, 8.15pm, Star Hall, Kitec, 1 Trademart Drive, Kowloon Bay. HK$380-HK$580, HK Ticketing. Inquiries: 2331 3220