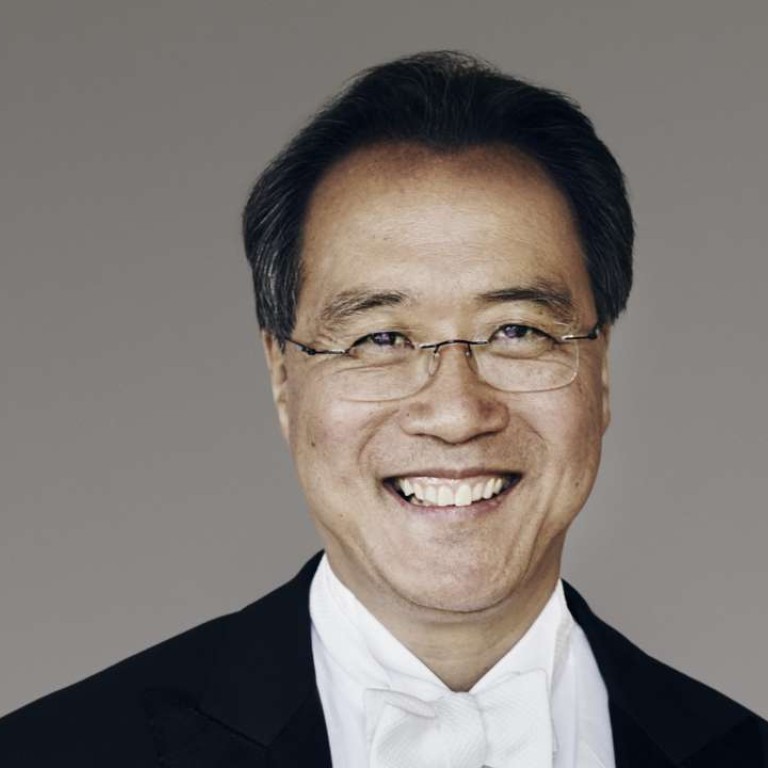 Yo-Yo Ma on the joys of opening the Hong Kong Philharmonic's new season
The acclaimed Chinese-American cellist returns to Hong Kong next month to perform Silent Woodsand Zhao Lin's Duo with the city's top orchestra
Those attending cellist Yo-Yo Ma's performance of Antonin Dvorak's Silent Woods should prepare to be transported somewhere arboreal.
"It's a case of 'once upon a time'. You try to take the audience to that place – you want them to imagine that they are there," says Ma. "You want to be there yourself, you want to be absolutely present in the act of recreating the narrative. Dvorak's work is atmospheric, and in that atmosphere lies a true potential for magic."
The acclaimed cellist will perform Silent Woods, which was composed in 1883 and transcribed for cello and orchestra in 1893, with the Hong Kong Philharmonic Orchestra on September 9 and 10 at the Cultural Centre Concert Hall to launch its new season.
Also on the programme are Georges Bizet's 1855 Symphony in C and Zhao Lin's
Duo
, a concerto for cello and sheng that Ma will perform with Wu Tong. The HK Phil will be under the baton of Yu Long, principal guest conductor.
Silent Woods began life as the fifth part of a piano cycle called From the Bohemian Forest. It was written to express the feeling of being in Sumava, a mountain range in South Bohemia (now in the Czech Republic), which Dvorak, a Czech, enjoyed visiting with friends.
"Dvorak loved nature," says 60-year-old Ma. "Forests have a deep meaning for Central Europeans. They are not only places of natural beauty, they are mysterious – fairy tales are born there. Forests are magical places which inspire music and poetry; they are places where humans have adventures and find themselves, too."
Even the title of this lyrical, atmospheric piece is beguiling, Ma says: "When is a forest ever completely silent? The title starts your imagination wandering."
Zhao Lin's Duo, which the mainland composer specifically wrote for Ma to perform – the cellist premiered the work in Guangzhou in 2013 – takes the listener on a journey of another kind.
"In the second half of Duo, the music expresses a sense of deafening silence, if you can imagine that idea," says Ma. "It's so quiet, that even the sound of a drop of water hitting a lake would be a major event. The music is very descriptive. Imagine a lake that's so tranquil that the water is completely flat, like a piece of glass. Then you throw a stone in it, and a ripple forms and spreads out.
"It's amazing how the composer is able to evoke that kind of experience in Duo."
Composing Duo was an intense process for Zhao Lin, the son of famed film soundtrack composer Zhao Jiping.
"He spent two years writing this piece, working through the night in his office, putting his heart and soul into it. It really draws people into the world of the music, which is what you always hope for," says Ma.
Duo is an Eastern counterpoint to the Western mysticism of the Dvorak piece and it makes sense to have both pieces in the same programme.
"In the latter, you find a kind of Nirvana in the forest, in nature, and in Duo, you find it in the spiritual realm. It's a very special piece of music," he says.
Ma has performed with the HK Phil before – most recently in March of 2012 – but says that each appearance brings new bounties.
"The Hong Kong Philharmonic plays beautifully, and it changes over time, depending on the musical director," he says. "Orchestras change in the same way that people change. The Hong Kong Phil is always a very good orchestra, and I'm always eager to return to it to see how everyone has evolved and grown."
Ma thinks that there will be time for two rehearsals of the programme before the performance. Walking into a rehearsal with an orchestra can be unnerving, he adds: "It's like walking into any room – you make an assessment. Are they happy to see you? If there's a loud groan, then you realise there's some cheering up to do."
Wu Tong, who plays the sheng in Duo, will need no introduction to the cellist – Wu plays in the Silk Road Ensemble alongside Ma. The Silk Road Ensemble, a loose musical collective which grew out of an educational project Ma formed in 1998, brings together musicians from varying backgrounds to explore the musical traditions of the Silk Road within a multicultural structure. The Silk Road Ensemble have just finished a US tour, and a film about them, The Music of Strangers, directed by Morgan Neville, was released in the US in June. They released their seventh album, Sing Me Home, this year.
"We want to match music with scholarship," says Ma of the group's aim. "Scholarship is not a dry concept. We want to make sure that the treasures of the past are not just cloistered away. We want to ensure they have a place in our complex world.
"Our aim is that they become understood, treasured, enjoyed and appreciated – we want to show they have meaning."
This article appeared in the South China Morning Post print edition as: cello again