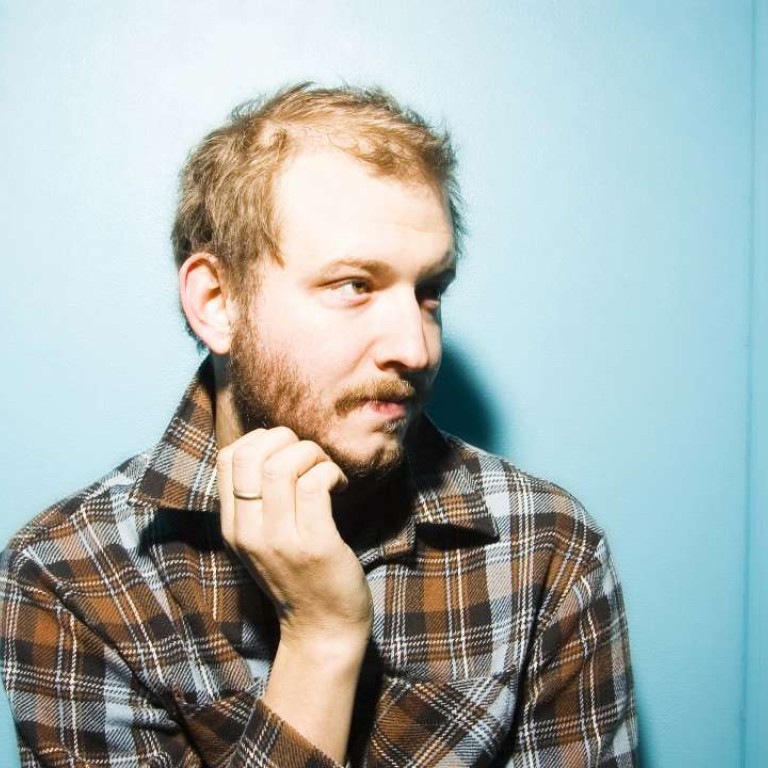 With new album, indie rockers Bon Iver go in louder, more electric direction
Frontman Justin Vernon explains how a trip to the Greek Islands inspired 22, A Million, an album that he says is a departure from the band's previous melancholy sound
Justin Vernon decided he didn't want to do dozens of interviews to launch the third Bon Iver album – explaining the same things over and over to journalists, as he'd done in the past.
That made sense. As the Grammy-winning American musician, who performed live in Hong Kong in March 2016, has shown with his albums and other musical projects, he's all about not doing things he's done already.
And with this new album, 22, A Million, to be released on September 30, he definitely has a lot of explaining to do.
Almost 30 journalists – from North America, Europe, Japan and Australia – gathered earlier this month at a cocktail lounge in a hotel in the state of Wisconsin. Speakers stacked nearly to the ceiling flanked each side of the stage at the back of the room, on which was a table, a single chair and a laptop with an assortment of stickers on its lid.
To kick things off, best-selling author and Tent Show Radio host Michael Perry set the stage by telling the story of the first time he met Vernon, well before Bon Iver's 2007 indie debut album, For Emma, Forever Ago, launched Vernon's career. Perry visited a farmhouse where Vernon rehearsed with DeYarmond Edison, a band Vernon was in with Brad and Phil Cook. Perry recounted seeing a lanky young man with a stocking cap pulled down low, slouched on the couch. One of the brothers told Perry, "This is Justin. He writes songs."
"I remember thinking, 'I'm sure you do,'" Perry says. "Certainly, nobody anticipated what it has become."
The next 39 minutes revealed the new direction Vernon has taken Bon Iver, as the invited journalists were treated to a full listening of
22, A Million
, which Bon Iver recently performed live at the Eaux Claires music festival in Wisconsin. On the 10-track album, Vernon travels new sonic pathways, leaning more heavily on electronic instrumentation. The lush, falsetto choral harmonies and cryptic lyrics of the previous two albums are still there, but on many songs, his voice is twisted and distorted, sometimes taking autotune to the extreme.
Yet there are several songs at the end of the album on which he sings in his normal baritone register, including one song – 8 (Circle) – that starts with his single-tracked, strikingly soulful voice adorned only by a slap-back echo.
On paper, the album seems wilfully opaque and bizarrely puzzling, with titles that can seem like maths problems, album artwork laden with symbols, and lyrics that college students will, no doubt, someday write 10-page essays about. But taken as a musical document, 22, A Million is staggeringly beautiful, summoning visceral emotions and prompting contemplation.
As the album's last strains faded, the invited media members paused, as if to catch their breath, and then erupted in applause, and suddenly Vernon was on the stage, dressed in jeans, a zippered black hoodie and a black baseball cap, probably looking not all that much different from the younger man Perry saw at that farmhouse years ago.
"You don't have to clap," Vernon says as he took his seat, beer bottle in hand. "I know it's kind of weird to just blast it at you. I know it's kind of a strange thing, but it's actually kind of fun."
Vernon admitted to being nervous. "The most nervous I've ever been, actually," he says.
His nerves didn't seem to linger, though. And as enigmatic as his music and public persona are, in person Vernon has a humble, down-to-earth charm. He smiled warmly as he was peppered with questions and elicited frequent laughter with his thoughtful and often self-deprecating responses.
The genesis of the album, the first lines of the first song ("It might be over soon") he explained, came to him when he was on a Greek island alone, feeling simultaneously bored and panicked about his direction in life. "Don't go to the Greek islands off-season by yourself," he advises. "I was trying to find myself. I did not."
The pressure he was feeling on that Greek island was certainly understandable. He'd won two Grammy Awards (best new artist and best alternative album) in 2012 for his second album, Bon Iver, Bon Iver. Where does a guy from small-town Wisconsin go from there?
"Things just got a little big real quick. … I just kind of had to back off because it didn't match up," Vernon says. "I feel a lot better now that it's done, but it really wasn't fun for a while."
The first two Bon Iver albums had a melancholy tone, which a Scandinavian reporter said made them a huge hit with the people where he came from. "For this one, there's still some dark stuff," Vernon observes, but he added that "wallowing just feels boring." With 22, A Million, he wanted to present shouting rather than whispering or whimpering.
Vernon frequently expressed amazement that with all the things going on in the world, much of it disconcerting, people had gathered that evening to hear him talk about his music, and he's just as amazed that there are a lot more people who are eager to hear it.
"We're in a room right now talking about music, and it's a bit ridiculous and amazing," he says. "To be in demand is a wonderful thing, because you get to do what you love for a long time."