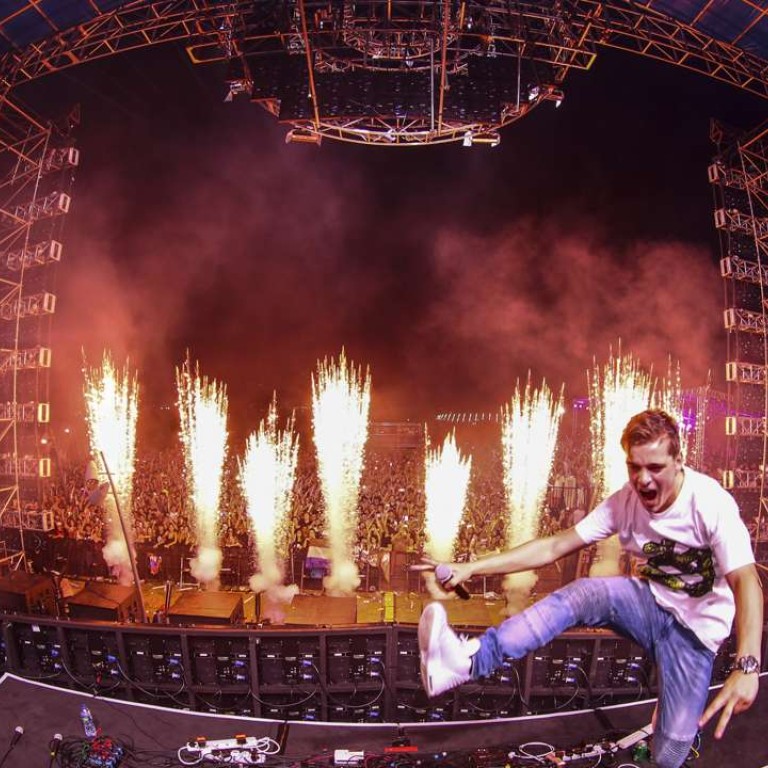 After Hong Kong, the world: Ultra Music Festival mega-rave aims to expand even more
Some say the international dance music behemoth has commercialised the rave scene, but organisers say there will always be a place for the underground alongside their sort of show
Once a modest beach party in Miami, the uber-hip Ultra Music Festival has bold plans to expand further after another year of empire building.
While many aficionados accuse Ultra of helping to commercialise electronic dance music (EDM) in recent years, thousands of revellers have flocked to Ultra events in Hong Kong and Tokyo in the past two weeks.
"There's a place for all genres of electronic music," co-founder Russell Faibisch says. "A festival is all about having different genres. In the last few years, EDM has worked on the main stage for the masses but underground music always has and always will have its place. Everything feeds off each other."
A glittery haven for hardcore EDM junkies, Ultra's mega-rave has pitched up in 19 far-flung locations, including Seoul, Tokyo, Taipei, Singapore, Bali, Bangkok and Hong Kong – with organisers to announce "major additional expansion plans" for next year. Destinations outside Asia have included Argentina, Brazil and Chile in South America, and Spain and Croatia in Europe.
"We've always had a master plan," says Faibisch, who staged the first edition of Ultra in 1999. "During the mid to late '90s in [Miami's] South Beach, the club scene was really thriving.
"There were a lot of great clubs like Liquid and Shadow Lounge, so it was the right timing for everything to come together. It was just like the perfect storm."
A powerful typhoon failed to dampen spirits at last weekend's Ultra Japan, where over 70 acts, including chart-topping headliners Hardwell, Tiesto and Deadmau5, rocked enormous crowds with throbbing electronic beats over three days in Tokyo.
Meanwhile, the Road to Ultra event was staged in Hong Kong for the first time at the West Kowloon Cultural District site on September 17 and featured A-list EDM names such as Martin Garrix, Nero and Knife Party.
In Tokyo, a less radio-friendly Resistance tent featured top house and techno artists such as Dubfire and Art Department – the yin to the cheesier yang on offer on the main stage, where it was often hard to work out where one track ended and the next began.
"There's the commercial end of the spectrum, and then there's the alternative," says Dubfire. "The same can be said of the electronic music scene. There are a lot of people who, once they dig below the surface of EDM, they find there is music there that is more interesting."
British techno heavyweight Carl Cox has been the driving force behind Ultra's underground stage production, while organisers will launch standalone Resistance events in South America next month.
"When something's happening in the underground, it affects the mainstream and the other way round," Dutch artist Hardwell says. "They need each other: like the bright side needs the dark side to keep going.
"Commercial EDM is a great introduction for young kids to get into dance music, since the underground music styles never play on the radio."
Outside in the Tokyo rain, a heaving mass of fresh-faced Japanese youngsters blowing whistles and pumping their fists – many in outlandish fancy dress – just wanted to party.
"You get a pretty young crowd at a festival, so I'll have a look in the first 15 minutes of my set to see what's what," says Japanese techno king Ken Ishii. "They might not know much about techno, but it's a genre with a long history and is one of the core pillars of dance music. It's never going to just fall off a cliff."
Dubfire says he has evolved with the changing dance scene. "I'm an old-school artist playing a new-school sound," he says, then offers an insight into the potential rewards of becoming a DJ: "These days if you want to have a career in electronic music, you don't have to battle your parents any more. They understand what's at stake – they understand you can make a very successful career out of it."