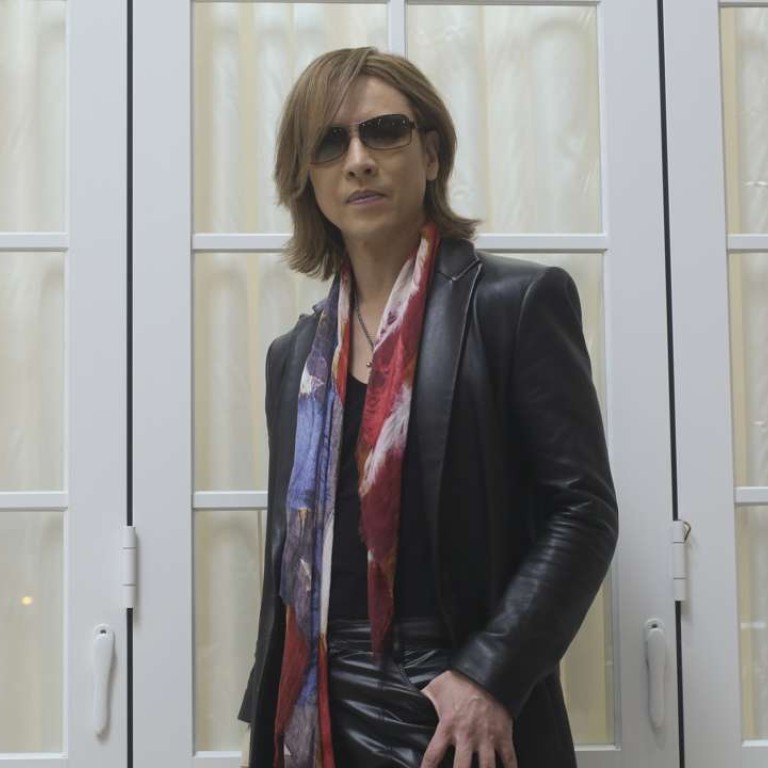 Heavy metal survivors X Japan hope first album in English is passport to wider fame
More than 30 years since they made their name in Japan, and after repeated changes to their line-up, X Japan, the subject of a Sundance award-winning documentary, seek to conquer the West, says drummer
For fans of Asian heavy metal, X Japan needs no introduction. The Japanese band shot to fame in the mid-1980s with their brightly coloured long hair, outlandish makeup and outfits. The only thing more dramatic than their looks is the band's history, as a documentary by British filmmaker Stephen Kijak, We Are X, which screened at the Sundance Film Festival this January and recently in Hong Kong, aims to show.
And it IS a crazy story: this is a band who lost two members to suicide, and a third to a religious cult.
Yet the five-piece is still making music, despite a 10-year breakup (which ended in 2007) and having run through more than a dozen members. Holding the band together through the years has been its co-founder, drummer Yoshiki Hayashi, who anchors the documentary.
Participating in the documentary was emotional, says Hayashi, whom many consider X Japan's heart and soul.
"It was really hard to open the door to the past and recall all those painful memories." Memories such as discovering the body of his father, who had committed suicide, when he was 10 years old and growing up in the small town of Tateyama. It was an episode that led him to abandon his classical music training on the piano.
"Instead of playing piano, I started banging drums," he recalls.
We Are X won the World Cinema Documentary Special Jury Award for best editing at Sundance and, amid the renewed interest in the band, X Japan are working on releasing their first album in two decades at the end of this year.
"Some bands release an album every year. It's impossible for X Japan," explains Hayashi, 50. "I spend so much time in the recording studio. When [others] do that, they may do 10 takes or five takes. We do 500 takes."
With the upcoming album, Hayashi plans to finish what he has started – spreading the band's legacy across the globe – and says he thinks the band's music will surpass people's expectations.
He's driven to deliver, not just by his own ambitions, but also as a tribute to his departed bandmates. "It's almost like my mission," he says. "When [lead guitarist Hideto Matsumoto] was alive, we never played outside of Japan. After Hide's death, we started playing overseas. It was always his dream to do that."
The X Japan line-up includes three of the original members: Hayashi, Toshi Deyama and Tomoaki Ishizuka, along with Hiroshi Morie, who replaced Taiji Sawada in 1992, and Yune Sugihara, who joined in 2009.
Though X Japan have been performing around the world since reuniting in 2007, Hayashi admits they are not widely recognised outside of Asia. That may change now, as the new album will be sung in English – breaking down the language barrier that critics believe has stopped the band reaching a wider audience.
"There are still a lot of challenges ahead. I don't know how many people in the West are ready for artists such as us, coming from the East," says Hayashi.
"There are still walls between the East and the West, a culture barrier. Being an artist from Asia, to go overseas and to perform in Western countries, it's not easy."
He reckons X Japan is helping pave the way for the next generation of Asian artists.
"We want to break that wall for new artists so they can become popular anywhere in the world."
A more immediate concern, though, is Hayashi's health. In his younger days, he would play so hard at concerts that he would collapse on stage at the end of a gig. Today, Hayashi suffers from a torn ligament in his hand and a deformed neckbone – thanks to all the head-banging over the decades.
He insists the injuries won't affect him.
"Physical pain is nothing compared to the mental pain, emotional pain. I work a lot, really long hours and I don't sleep that much. But I try to take care of myself as much as I can. I work out," Hayashi says.
"I will survive."
This article appeared in the South China Morning Post print edition as: Japanese heavy metal survivors look to the West