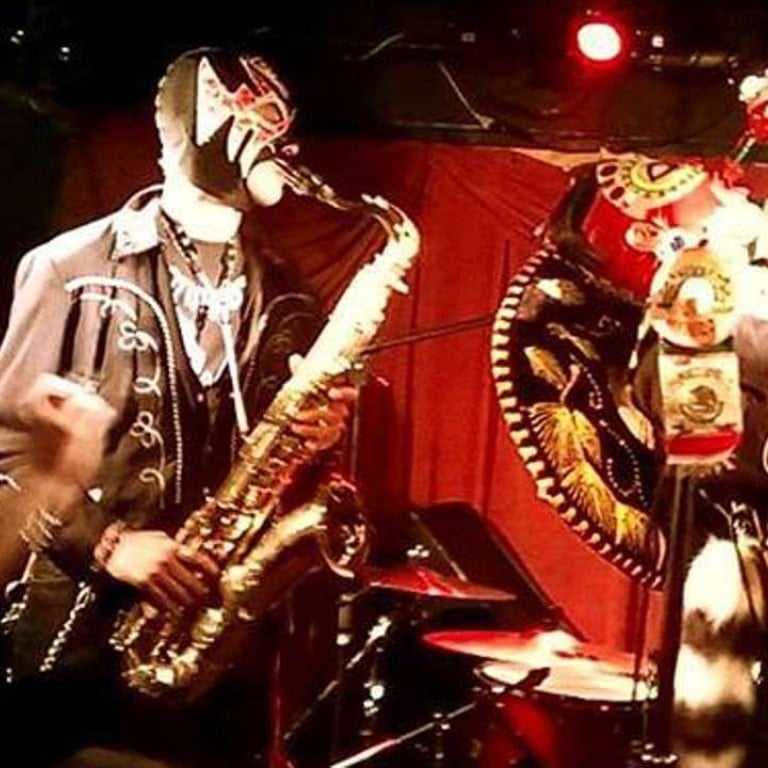 Japan's Los Rizlaz headline Hong Kong's only rockabilly music festival
Now in its fifth year, the festival also features performances The Pringles, The Boogie Playboys and DJ Dave Ross
The twang is back, along with the sharp suits, the leather jackets and the quiffs, as the Dirty Boogie Rockabilly Festival, Hong Kong's only musical event featuring the original form of rock 'n' roll, returns at the Fringe Club on October 9.
Dirty Boogie, now in its fifth year, showcases some of Asia's finest exponents of rockabilly, the proto-rock style that emerged in the US in the 1950s, spiking R&B and jazz with country and bluegrass to create a rhythmical blast of three-chord rock, speed-blues double bass lines and twangy reverb that's more or less impossible not to dance to.
Headlining the event, as they did last year, are Japan's Los Rizlaz, who pair a properly retro, saxophone-driven rockabilly sound with an unmistakable look based around Mexican lucha libre wrestling masks. Joining them on the bill are The Pringles, also from Japan, who combine traditional instrumentation complete featuring upright bass with twin female vocals; and event stalwarts The Boogie Playboys from Hong Kong; alongside DJ Dave "Wobbly" Ross from the UK.
The music might be vintage pre-rock, pivotal in the development of numerous types of music, but it was the attitude that made rockabilly the punk of its day. The music of rebellious youth, its popularity in the '50s marked birth of the teenager and of the style tribe – and to this day, rockabilly fashion remains as important as the music. Dressing up is central to the Dirty Boogie experience, and at least half of the audience looks like it's been transported there directly from the '50s.
To help punters nail the look, for the first time the event will include a market, featuring five rockabilly and vintage clothing stalls, a custom bootmaker, a hairdresser, two tattoo shops and an exhibition of guitars from classic American brand Gretsch, in partnership with Tom Lee Music.
"We've always had some goods sold by our friends, and this year we wanted to make it into a real market, so we booked another hall for it, the Fringe Underground," says Chai Sze-chai, the organiser of the festival and also a member of The Boogie Playboys.
There's a certain appeal to dressing up in a world where style tribes are disappearing – although, of course, in Japan not so much. Unsurprisingly, with its tendency toward full-throated subcultural affiliation, "Japan is the only place in Asia to have a real rockabilly scene", says Chai.
Los Rizlaz vocalist Go Shimizu, aka Go Diddley, says there's some kind of rockabilly event in Tokyo every weekend, with his band organising at least one show a month. They usually attract a hardcore rockabilly crowd – and the more diverse crowd in Hong Kong clearly took Shimizu by surprise last year.
"It was a really nice mix of people," he says. "When we play in Japan or in Europe we only get rockin' people" – dedicated rockabilly fans – "but there it was a mixture of rockin' people and ordinary people."
Originally from Tokyo, Shimizu formed the band in 1998 and is its only constant member. He discovered rockabilly after going to the UK on a school exchange, and liked it so much that he returned to live in London for seven years in the late '80s and early '90s.
"There's something for fans of every sort of music in London, if you know where to find it, whether it's soul, reggae or whatever," he says. "But I love '50s rock 'n' roll."
Los Rizlaz take the first wave of rockabilly stars – Elvis Presley, Carl Perkins, Gene Vincent, Eddie Cochran and so on – as their inspiration. They're not entirely traditional in their instrumentation, eschewing a double bass in favour of a guitar. the band started as The Rizlaz, with a double bass, and gained its Los when it introduced electric bass and saxophone, and the Mexican styling. The
lucha libre
look betrays the influence of the late 50s Southern Californian Chicano rock movement, spearheaded by musicians of Mexican-American heritage, most notably Ritchie Valens.
The masks are both unmistakable signifiers of Mexico and also allow the band to masquerade as Mexicans – without them, as Shimizu puts it, "we don't look right".
The band have released one album, 2010's Here Comes El Rockin' Jelly Bean, but "we've been lazy recently", says Shimizu. The same is true when it comes to touring. "We try to tour outside Japan once a year, but the other band members have got mortgages and kids, so it's getting tougher. We get lots of offers, but these days it's a really, really big commitment."
With only one or two active rockabilly bands in each major city around Asia, Chai says he's desperate for some new ones to start up in the region. "We book [Philippine rockabilly outfit] The Bembol Rockers almost every year. The scale of the event still isn't big, and we don't have a sponsor, so we can't offer much money. With big bands it's quite difficult; we try to make friends with bands and then see if they'll do our event."
In a further labour of love, he's also managed to put together a compilation CD, Dirty Boogie Rockabilly Vol 1, featuring bands from all over Asia, including, somehow, four from Hong Kong.
He's hoping to release The Boogie Playboys' debut album next year, assuming they can find the time; he admits they've been working on it for four years now. The band are also planning a pilgrimage next year to Viva Las Vegas, the legendary US rockabilly festival that inspired Dirty Boogie in the first place.
The Hong Kong event is moving back to the Fringe Club after decamping to Grappa's Cellar last year; the Fringe's location in the middle of Central's nightlife means it pulls in more passing customers, says Chai.
The event usually draws about 300 people, the majority of them Westerners. "They understand the music because it's such a big part of Western pop music history," says Bluesman. "It's harder to appreciate it without that."
Fortunately it's very easy to appreciate how much fun it is.
Dirty Boogie Rockabilly Festival, Oct 9, 7pm, Fringe Club, 2 Lower Albert Rd, Central, HK$280 (inc. one drink), ticketflap.com