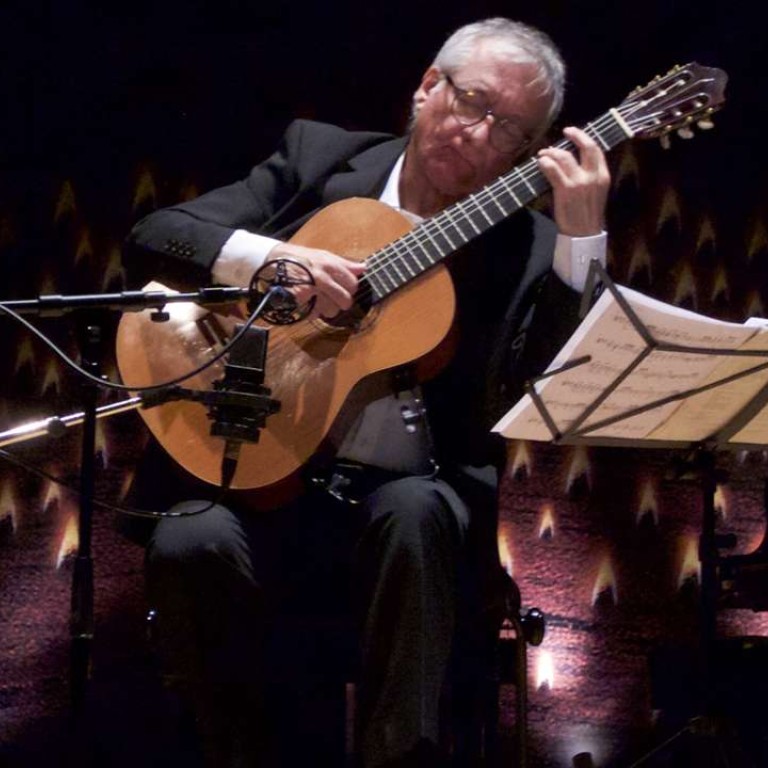 Review: Joy of Guitar Festival - Shenzhen 9-year-old warms up for Uruguayan Alvaro Pierri
Pierri's programme contrasted works by Spanish classical composer Albéniz with folkloric tunes from Latin America; Li Shezao showed technique, showmanship and precocious poise
Headliners in other musical genres often have opening acts, classical guitarists not so much – hence the surprise at seeing Alvaro Pierri have to wait on Monday while nine-year-old Li Zhehao from Shenzhen took the stage at the Hong Kong City Hall Concert Hall.
Li revealed a precocious poise. Fine guitarists twice his age and size are sometimes physically swallowed by their instrument, but Li had both the technique and showmanship to guide the audience through Fernando Sor's Grand Solo in D major, Op. 14. For true artistry, the kind of flexible spontaneity that makes listeners forget there is a physical instrument in the player's hands, they had to wait for Pierri.
Monday's recital opened Hong Kong's inaugural Joy of Guitar Festival, an ambitious series of performances, master classes and workshops running until Friday evening and part of the
larger Joy of Music Festival, an 18-day marathon of performances and public events organised by the Chopin Society of Hong Kong around its Fourth Hong Kong International Piano Competition.
For those who still doubt the guitar can hold its own in a piano-driven world, Pierri's programme was a fitting counterweight. The Spanish composer Isaac Albéniz, though born a half-century after Chopin, shared many of his stylistic traits, not least the stretching of French musical forms to encompass more folkloric national styles.
Albéniz never played the guitar himself, instead evoking plucked and strummed sounds on the piano. (Audiences can hear the composer's work on his given instrument on Friday at the same venue, when Jiyeong Mun, top prizewinner at the 2015 Busoni International Piano Competition, performs Book II of Iberia.)
Pierri's grace and occasional freedom in musical momentum was well suited to both Albéniz's España, Op. 165, and the Prelude and Sevilla from his Suite Española, Op. 47.
Discrete amplification captured the clarity of the instrument without the fingerboard sounds that often punctuate the playing. Pierri dug deep only in the flamenco earthiness of Sevilla.
Where the guitar differs from the piano most is in its populism and portability, a combination that has made it a strong musical bridge, not least between Spanish speakers in the Old and New Worlds.
The second half of Uruguayan-born Pierri's recital featured the music of Paraguayan guitarist-composer Agustín Barrios and had a distinctively New World sensibility.
Where Albéniz only hinted at folklore, Barrios incorporated it freely. Pierri's well-curated sets of miniatures interspersed folkloric waltzes and the barcarolle Julia Florida with the religious inspiration of El ultimo tremolo and Oración por todos and the imitative Las Abejas, a musical evocation of bees in flight nearly equal to the up-tempo efforts of Paganini and Rimsky-Korsakov. It was an altogether satisfying portrait of the composer.