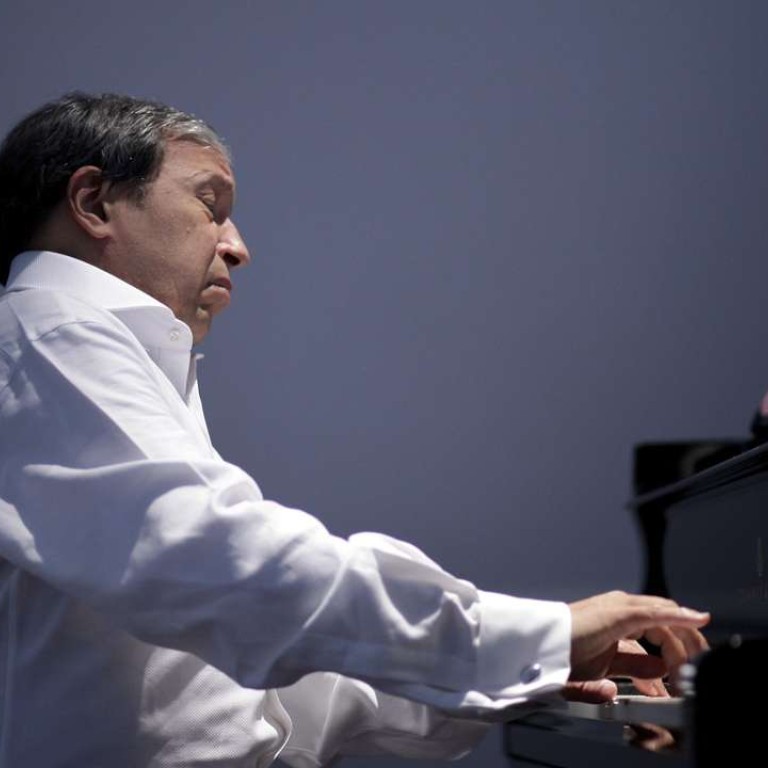 How pianist Murray Perahia seeks out the message in music he plays
Works don't just have a beginning and an end but an internal structure and a context, acclaimed musician discovered during a forced hiatus from playing, as he tells Victoria Finlay ahead of Hong Kong concert
When American pianist Murray Perahia was four years old, he went to kindergarten in the Bronx, New York. But there was a problem. He couldn't speak a word of English and the only language he could speak, was ancient.
"I'd only ever spoken Spanish – the Spanish of the Jews," says Perahia. The language, still spoken by the descendants of the Jews who had been banished from Spain in the 1490s, is the Spanish of Cervantes, a very old language.
"In a way it's responsible for my music because my kindergarten teacher saw I couldn't speak English and I didn't have any connection to the other kids but she knew I was taking piano lessons and encouraged me to play. And she in a way sparked my music. She encouraged it, and [when I was six] urged us to go to another teacher."
Today, at 69, Perahia is an acclaimed concert pianist and conductor. In a rare interview ahead of the release of his latest recording with Deutsche Grammophon on October 7and a Hong Kong concert on October 9, he recalls how he made his Carnegie Hall debut when he was 17, performed with the New York Philharmonic Orchestra a few years later before winning the prestigious Leeds piano competition in England in 1972.
That prize, and his subsequent performances and development as a musician, Perahia says, led to so many bookings that the only time he has paused for breath since that Leeds result was read out to a rapt auditorium was when his right thumb became infected in the early 1990s and he was forced to spend two years without performing.
He spent the time exploring something that had always intrigued him: how each great piece of music is not just linear, going pleasingly from the beginning to the end, but has a complex, wonderful internal structure, where notes and themes and tones are linked in complicated ways, which seem to add a quite extra dimension to the experience of performing and listening.
Looking at music in that way requires time and study, and also a kind of abstract, holistic thinking that Perahia has continued to work at in the decades since.
"We all want music to be a message, to have an inherent truth to it … Intellectual is the wrong word but a reasoned approach that has to do with the laws of music, the laws of counterpoint, the laws of theory," he says.
"And to do what the composers were interested in;the education they had, where they have been."
His upcoming recital includes four works by Brahms as well as Haydn's Variations in F Minor and Mozart's Piano Sonata No 8 in A Minor, and culminates in Beethoven's thunderous Hammerklavier sonata.
"The Mozart piece was written around the time that he saw his mother die," Perahia says. "The whole piece is a romance – he'd fallen in love with Aloysia Weber and wanted to travel round Europe with her. But the middle section I am convinced is the story of how his mother died and death appears like the Commendatore [scene] in Don Giovanni; a severe force that takes the person with him."
When Perahia plays that music he does not relate to that scene personally, he says: "For that one I'm seeing Mozart's scene, not my own. Although for some pieces it is personal sometimes."
The Hammerklavier sonata is more complicated, he says. "It's a portrayal of a cosmic force, like Niagara Falls, or a tornado. Implacable, without mercy."
Towards the end of the interview, which takes place in an informal sitting room at the front of his house in London, I ask if I could see his piano.
He jumps up and guides me through to a much bigger drawing room, which has a Steinway piano looking in the direction of the garden "though I can't see much from here", he says.
"It's very used," he adds, putting his hand gently onto it. On the music stand, jostling for space, were three different scores for the same piece – Beethoven's Opus 111, "the last sonata he wrote". On the floor beside the stool is a fourth score, a facsimile of Beethoven's own manuscript.
"That's just me," Perahia says. "That's how I am."
It's partly to study it to know more about it, but he also just enjoys seeing Beethoven's handwriting "and to see the strength. It's just very beautiful".
On the top of the piano is a complete English edition of Beethoven's annotations – underlinings, margin notes – in books he is reading around the time he wrote the 111.
"It's very spiritual. Beethoven was a believer in God. And these books he underlined are all about God."
We walk back through his study – "my favourite room" he says – which is shelved to the high ceiling with manuscripts, and is equipped with some serious listening and recording equipment. The drawers that aren't packed with notes are full of CDs, and there are some shelves stacked with vinyl records.
"I do listen," he says, "but not so much to the records any more." He pauses.
"YouTube," he grins. "It's marvellous. You can listen to whatever you like."
Johann Sebastian Bach: The French Suites is out on Deutsche Grammophon on October 7
Piano Recital by Murray Perahia, Cultural Centre Concert Hall, Sunday, October 9, 8pm. Tickets: HK$250 to HK$650. Inquiries: 2268 7321
This article appeared in the South China Morning Post print edition as: moments of clarity