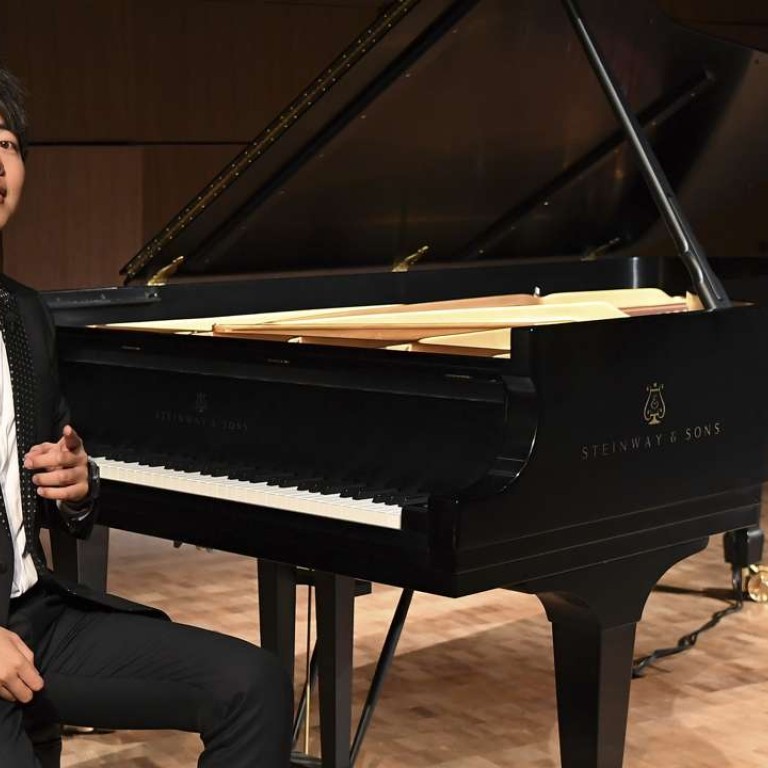 Lang Lang finds a New York state of mind well outside his comfort zone on new CD
The Chinese star is 'insatiably curious', so an album of songs with an Empire State theme and encompassing artists as diverse as George Gershwin, Lou Reed and Jay Z isn't completely surprising
During his musical career, classical pianist Lang Lang has interpreted many musical titans including Beethoven, Chopin, Liszt, Tchaikovsky and Rachmaninov. Now he's gleefully taking on Jay Z.
The Chinese superstar has recorded a new crossover album in which he tries to capture the spirit of New York, including doing a cover of the rapper's Empire State of Mind, with its lyrics "Welcome to the melting pot, corners where we selling rock."
"I'm really always curious to hear different kinds of music and different kinds of music-making," says the 34-year-old concert pianist. "I think it's important to show the other side that we are creative people."
His 10-track CD New York Rhapsody has versions of Tonight from the musical West Side Story, Moon River from the film Breakfast at Tiffany's, the Eagles' New York Minute and a piece based on Lou Reed's Dirty Boulevard.
It's a bold move, even for a musician who has tried to push classical music out of its elite bubble and embrace other kinds of sounds. For that, Lang Lang was encouraged by projects from other crossover stars such as Luciano Pavarotti and Yo-Yo Ma.
"All those things are so inspiring because they are still following in the traditions and they are still treasuring the traditions, but, at the same time, putting out a statement to the world like, 'Hey, guys, try this flavour' – I like that attitude," he says.
Lang Lang, who has been a friend of Herbie Hancock for several years, recorded a version of George Gershwin's Rhapsody in Blue with the jazz icon in 2012 but it took longer to find other collaborators and the right producer for an entire album.
In the end, he enlisted Andra Day, Jason Isbell, Jeffrey Wright, Kandace Springs, Lindsey Stirling, Lisa Fischer, Madeleine Peyroux and Sean Jones. Grammy-winning producer Larry Klein, who has worked with Peter Gabriel, Tracy Chapman and Joni Mitchell, came on board to pull it all together. He did so at first a little reluctantly.
"I'm not a big fan of the genre of classical crossover records. And that's putting it mildly. I don't think I've ever liked one," he says. "I really thought, 'Oh, god, there's about 3,000 ways to do this wrong and maybe one way to do it right.'"
Klein came up with the idea of a tone poem for New York, with Klein explaining the significance of some songs to Lang Lang, and the pianist, who has shared stages with Metallica and Pharrell, pushing into other genres. At one point, Lang Lang wanted to do a Lil Wayne song.
"The best thing that I can say about him is that he's an insatiably curious guy. He's an open soul," says Klein. "It was a big growth experience I think for him to learn about all sorts of things and for me as well because he challenged me in some areas."
Lang Lang first encountered classical music as a three-year-old watching Tom and Jerry cartoons and by the age of five was performing in concerts. A few years later, he was chosen to attend a prestigious conservatory in Beijing.
Lang Lang has a matinee-idol popularity in the classical world. He gets occasional criticism from more conservative listeners for his dramatic playing style, but there's no denying his skill and influence. In China, the so-called "Lang Lang effect" is credited with encouraging more than 40 million children to learn to play the piano.
In person, he's funny and relaxed. A sports nut who travels constantly, he has lent his name to perfumes, watches and sneakers. He embraces social media, lends his efforts to teach kids music and wants the classical world to learn from sports, fashion and entertainment.
"We need to be a little edgier," he says. "Of course we will keep playing Beethoven and we will keep playing Mozart and we will keep playing Chopin. That's what we do. At the same time, we need to inspire the world."
This article appeared in the South China Morning Post print edition as: Lang Lang takes bite of Big Apple