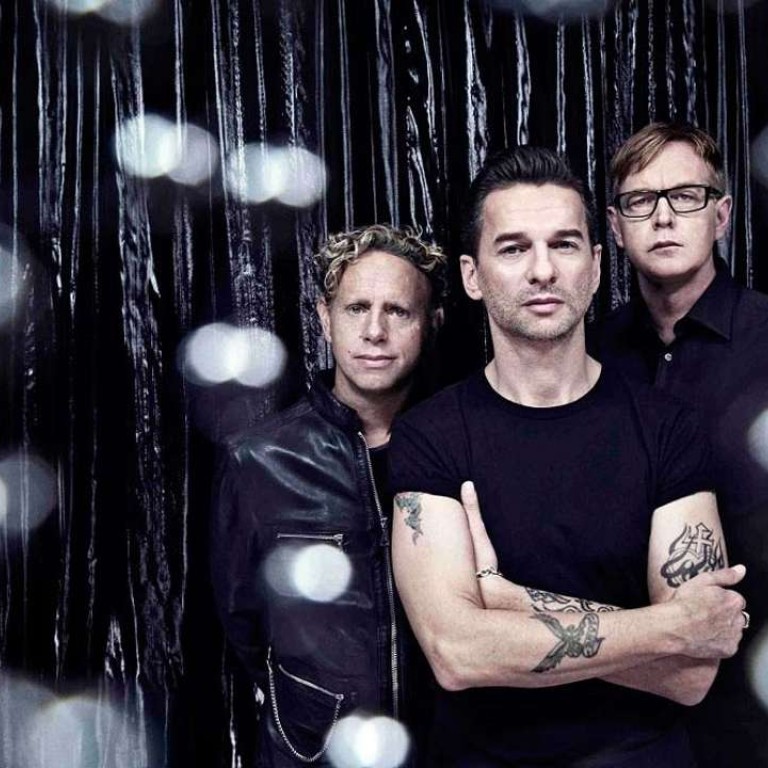 As Depeche Mode finish off 14th studio album, they talk fame, pressure and Brexit
The British electronic music pioneers, who helped bring experimental sounds to the mainstream, have just announced 32 European dates, with more international dates expected
Readying a new album and stadium tour next year, Depeche Mode feel free. The British group, who helped bring electronic music into the mainstream with a flurry of hits, are finally setting their own pace.
Spirit, the first Depeche Mode studio album since 2013, will come out in the first half of next year, with the group announcing a 32-city, 21-country tour across Europe starting in May. The shows together could pull in more than 1.5 million fans, even before the dates in North America and Latin America that are expected later next year. Depeche Mode appeared live in Hong Kong in 1994, but there is no word yet on another visit in the future.
But the group are relaxed. "I think there is more freedom at the moment," says keyboardist Andy Fletcher at a press event in Milan where the group are announcing their plans. Milan of course was the location for one of the band's numerous live albums.
Martin Gore, also a keyboardist and the group's main songwriter, says Depeche Mode grew accustomed to cranking out albums annually in the early 1980s after the band's birth in Basildon, east of London.
"To put an album out every year, that's quite a lot of pressure, you need a lot of creativity, and maybe you can do that when you're younger," says Gore, 55. "I think, when you get older, you need more time if you want to keep the standards of the record."
Amid rapid advances in electronic music, Gore says that Depeche Mode were attentive to staying up to date on technology – and were proud of rejuvenating the group's fan base.
"We are fortunate that we keep appealing to young people. It's not just the people who grew up with us and were fans of us in the 1980s," Gore says.
Depeche Mode have not yet finished recording Spirit, which will be their 14th studio album. They are working out of studios in Santa Barbara, California, where Gore lives, and New York, the home of frontman Dave Gahan.
The band have taken advantage of breaks to work on side projects. Gahan, through solo albums and the group Soulsavers, has turned to a heavier, bluesy rock sound that is apparent on late Depeche Mode albums, while Gore in his solo work has experimented more widely with electronic sounds.
Depeche Mode triumphed with a string of hits in the 1980s and early 1990s such as Just Can't Get Enough, Everything Counts and Personal Jesus. At first they were synonymous with danceable synthpop but gradually adopted a darker sound.
"We helped to make electronic music acceptable," Gore says. "When we started out it was a constant battle. People didn't take electronic music seriously, it was considered like a novelty that wasn't real music and that would go away very soon.
"Now it's just so prevalent, for good or for bad, we've helped to get it to this point," he says with a laugh.
Depeche Mode see one of their legacies as bringing over listeners of other genres, including rock fans who would have rarely stepped into a dance club. "One of our legacies is to make electronic music popular to the masses," Fletcher says.
Fletcher, who has taken on a side career as a DJ during Depeche Mode's hiatus, joked that the group had a rule to record albums during every US presidential election.
Depeche Mode completed each of their last four albums amid US presidential campaigns, as evidenced by the four-year gap between each of them.
The group are rarely considered political although one of their best-known songs, People Are People, takes on prejudice and the early album Construction Time Again tackles poverty and environmental degradation.
Gore and Fletcher again have questions about the world's direction. Both are distraught by Britain's shock June 23 vote to leave the European Union.
"The whole world is in a mess. I think Brexit happened for the same reasons Donald Trump is doing so well," Gore says. "It's frightening – there are a lot of people that are not happy with their lives and don't know quite how to express that, and they go to weird options that are not necessarily good options."