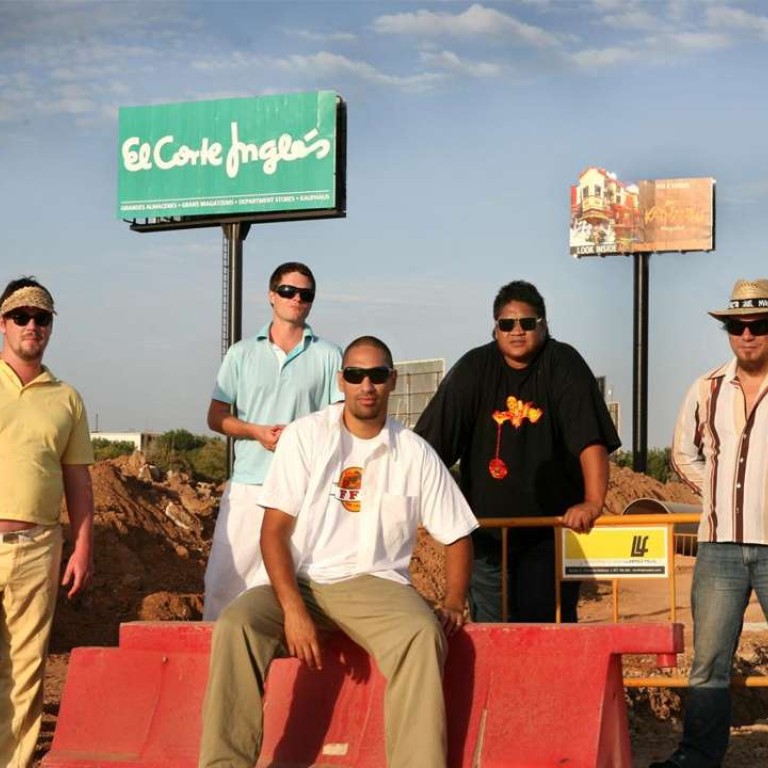 Clockenflap party rockers Fat Freddy's Drop promise unique Hong Kong versions of songs
New Zealand band's loud, raucous live shows prove the perfect way to stay afloat in a music industry suffering from declining record sales, says saxophonist Scott 'Chopper Reedz' Towers
Every Clockenflap throws up a surprise people's champion that's talked about long after the festival has finished – more than even the headliners. Young British rockers The 1975 were one. The large ensemble The Turbans were another.
What they've all had in common is a certain party spirit that lifts a festival from merely a gig to an event. One band that fits that description on this year's bill are New Zealand favourites Fat Freddy's Drop, the seven-headed soul party animal that puts the fun in funk.
"I think 'party band' is a name we're happy to have – that's what we bring; a lot of energy and a party atmosphere," says the band's sax player, Scott Towers, much better known to the band's fans over the world as Chopper Reedz.
You've probably guessed by now that Fat Freddy's aren't a band who do serious music, unless you count their serious attitudes towards having a fun time. With a name that cheekily references drug culture and a comic book character from the American underground, their focus is entirely built around the principle of giving their fans and themselves a good time.
Their jumping blend of soul, jazz, reggae, techno and flat-out rock has been delighting audiences at home and in Europe since the band was put together in 1999 by singer Dallas Tamaira and his musical buddy, Chris Faiumu. At least that's how their mums know them. To diehards fans of the band, they're Joe Dukie and Mu, the heart and brains behind the band that are starting to rival even the legendary Crowded House for the title of New Zealand's biggest band.
The nicknames are a key part of the band's character. Each one has a different meaning. Reedz' was adapted for his instrument after the band watched a TV show about notorious Australian criminal-turned-children's-book-author Mark "Chopper" Read.
"I had a hangover and Read came on the telly and the guys in the band just said that was me. The name stuck."
It's a story that illustrates Fat Freddy's refusal to play by anyone else's rules, a refusal Reedz says has paid dividends. "We've never had to compromise," he says from his home in Wellington. "I think we broke the mould for kiwi bands – we let New Zealand bands know that they should trust their instincts and do their own thing."
While Fat Freddy's Drop have released four big-selling studio albums (including 2005's
Based on a True Story
, which beat the Finn brothers' band to take the title of the nation's biggest selling debut album) it's as a live act that Freddy's really come into their own.
If you took a pinch of Madness, a dash of the E-Street Band and a spoonful of Chic you'd get something approximating the slap-about antics due to appear on Saturday's lineup at this year's festival.
"We started out as a live band and we thrive on the stage," said Reedz. "We have a set and we have markers so we know where to put the showbiz bits, but everything in between is open to interpretation. Our intention is always to make people dance and sing."
The band's live reputation is built on a determination to make every show memorable, he adds. While each member brings their own contribution to the team, they all work as one. After 17 years on the road, that's something they've honed to a fine art, he says
"I used to be in jazz bands, but this is a band that operates closer to the jazz ethos of rewriting the rules every time. It's something you have to practise a lot to get right.
"Sometimes the experimental and exploratory stuff doesn't work, but when it does, it's amazing,"
Fat Freddy's live reputation has ensured they've outlived many of their studio-based contemporaries as the global musical industry has transformed from a record-selling to a brand-selling business. They've been able to carry on doing their thing as if the tectonic changes brought by the digital revolution hadn't actually happened.
"We're really fortunate because the changes have worked in our favour," says Reedz. "We were always a live act and now, with playing live the only way to make a living in music, we're well placed. Not everyone else has been on the road all the time like us, the changes in the industry have definitely separated those who can deliver from those who can't."
Typical of a band that lives on the road, the band's songs are written on the road and that also adds to the electrifying live shows.
"Our songs are very much works in progress," says Reedz. "We write them on the road and they are continuously reborn onstage each night.
"The version of songs we'll play in Hong Kong will be different to the version we play elsewhere. It means one day we'll play a song in a dub style and if we think it doesn't work, we might change it to a techno style and see if that works. It makes things very exciting."
Fat Freddy's Drop, Nov 26, Clockenflap, Central Harbourfront. Get the full line-up for
Clockenflap 2016