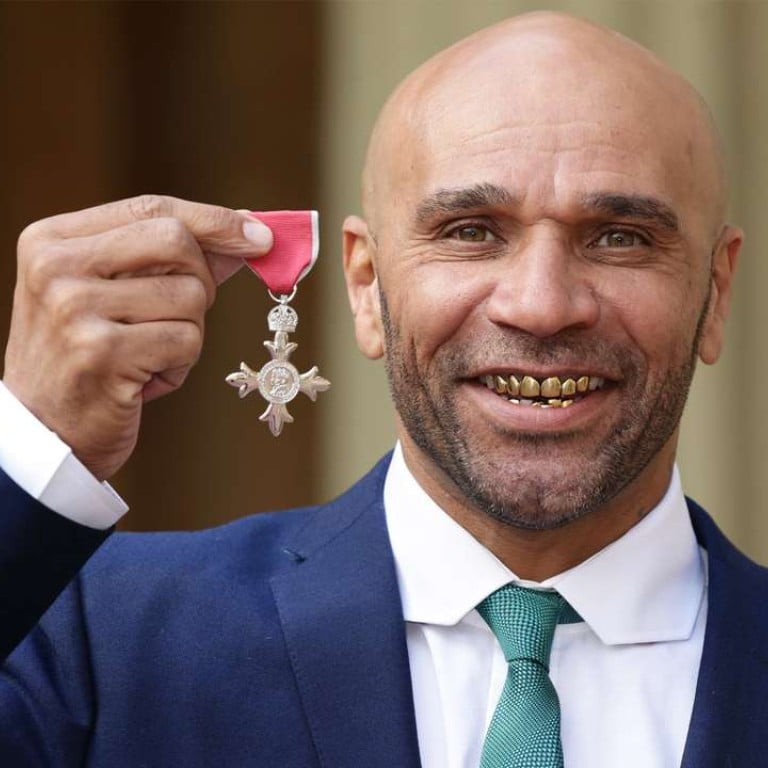 Goldie's never lost for words, but legendary DJ's talents can do the talking
As drum 'n' bass pioneer returns to Hong Kong for another gig, Richard Lord finds there's much more to the artist than a motormouth at full speed
It's mandatory, when interviewing drum 'n' bass legend Goldie, to note his quite ridiculous levels of conversational energy.
Speaking with him involves not so much asking questions as occasionally muttering agreement amid his motormouth stream of consciousness, and then going with the flow as he skips from one subject to the next, proffering opinions with a disarming honesty, a confrontational verve and a certain rhetorical flourish – one that features a lot of swearing.
Here he is on the pleasures of DJing, for example: "I go a bit mental. Rather than just pushing buttons, you need to try harder to be more diverse. When I play in Hong Kong I go alternative, from Wu Tang Clan to Blue Monday, and then for the last 45 minutes, if they deserve it, I play beautiful drum 'n' bass. I like to reel people in. I have people say to me: 'I don't like dnb, but I like what you're playing'."
But then Goldie – who spins on November 4 at the W Hotel – has a lot to talk about. The man who revolutionised music when he more or less invented drum 'n' bass, one of the most durable and influential electronic genres, is also an accomplished artist with a background in graffiti, a classical composer and arranger, TV presenter, label owner (he has run the Metalheadz label since early in his career) and actor (including appearances in 1999 Bond film The World is Not Enough, 2000's Snatch and British mega-soap EastEnders in 2001 and 2002) – and at age 51 shows few signs of slowing down.
It was quite a journey to get here, though. Raised mostly in children's homes and by foster parents in the UK's West Midlands, Goldie (born Clifford Price) flourished first as a visual artist, becoming a well-known face on the graffiti scene across the UK during the 1980s. That led him to the world of music, with his Damascene moment coming when he was introduced by his then girlfriend, the late DJ Kemistry, to the emerging jungle scene, which spliced old-school rave sounds with reggae-influenced bass lines and high-speed sampled breakbeats.
Goldie then changed the course of musical history not once but twice. First, his 1992 track Terminator pioneering the technique of time stretching, effectively creating drum 'n' bass in the process. Then, three years later, he massively upped the ante with the lush, symphonic, multi-textured album Timeless (1995), which took the genre to an entirely new level, with more complex song structures (such as on the track Inner City Life) and compositional techniques and a wider palette of musical influences.
With its strict genre requirements, drum 'n' bass didn't look a likely candidate for longevity, but it's still throbbing merrily away at a frenetic 170 beats per minute more than two decades later, and Goldie is the man responsible.
His "difficult second album" was 1998's Saturnz Return, which received a fair bit of critical flak, particularly the opening hour-long orchestral opus Mother – not that Goldie cares. "Mother is something people can't swallow," he says. "It was about me visualising my connection with my mother, my journey through her belly, and it's 60 minutes long – it was never going to be understood by the masses."
He believes his forthcoming 16-track double album, Journeyman, which he will be performing at Ronnie Scott's in London in February, is his best release yet. "It's better than Timeless. It's my magnum opus. Everyone who's heard it's telling me it's the best thing I've ever done. Timeless is like the little sister, but Journeyman is the big brother – it's what I'll take to the grave."
A regular visitor to Hong Kong for DJ gigs, Goldie says that his artwork – he specialises in insouciant, finely detailed, hyperreal portraiture with clear graffiti influences – has also proved popular with collectors in the city. The impulses behind music and art, and the creative processes involved are, he says, indivisible for him.
"The layers you get in graffiti, the ornateness, you can hear it in my music. I paint with my music. It's a form of synaesthesia," he says.
His background in graffiti has given him artistic adaptability, he adds. "I know my style back to front, and I can adapt it in whatever way. A person who's been doing graffiti for 30 years can adapt to any form of art. But if you give someone who's been through a proper art education 50 cans and tell them to paint a wall, the result will look s**t."
Goldie's articulate prolixity makes him a natural for TV, and he started early. Bombin', a 1986 film, brought hip-hop luminaries from New York to the UK and stars of the UK graffiti scene to New York, including Goldie, who went on to live there for a while. In 2008 there was Maestro, a reality TV show in which he and other celebrities were trained to conduct an orchestra – he came second – while for Classic Goldie (2009) he learned to compose an orchestral piece. For a musician of a naturally symphonic bent and a long-term fan of classical music, it was a natural fit.
"I did Maestro – it was like 'Let's see if this guy can conduct and become a monkey on a barrel' – purely to get to Classic Goldie: to show how someone who can't read music can adapt the work of Sibelius," he says. "It was a really good exercise for me. You give me an orchestra, I'll write you a symphony."
Then there was 2011's Goldie's Band – By Royal Appointment, in which he trained young musicians for a performance at Buckingham Palace; he received an MBE for services to music and young people in 2016. "I'm about investing in a generation for tomorrow," he says. "I had a lot of good art teachers invest in me."
And his classical odyssey continues with performances of his orchestral version of Timeless, alongside the UK's experimental Heritage Orchestra; he says he's very keen for it to visit Hong Kong.
"Now you've got so many adults making music for kids. All this technology and you're doing nothing with it. When we play Timeless live, it's really live, not just a monkey pushing buttons. I want people to experience the power of a real orchestra."
Goldie, Nov 4, 10pm, W Hotel, 1 Austin Rd West, Kowloon Station, HK$250 (advance, www.ticketflap,.com), HK$400 (door). Inquiries: [email protected]