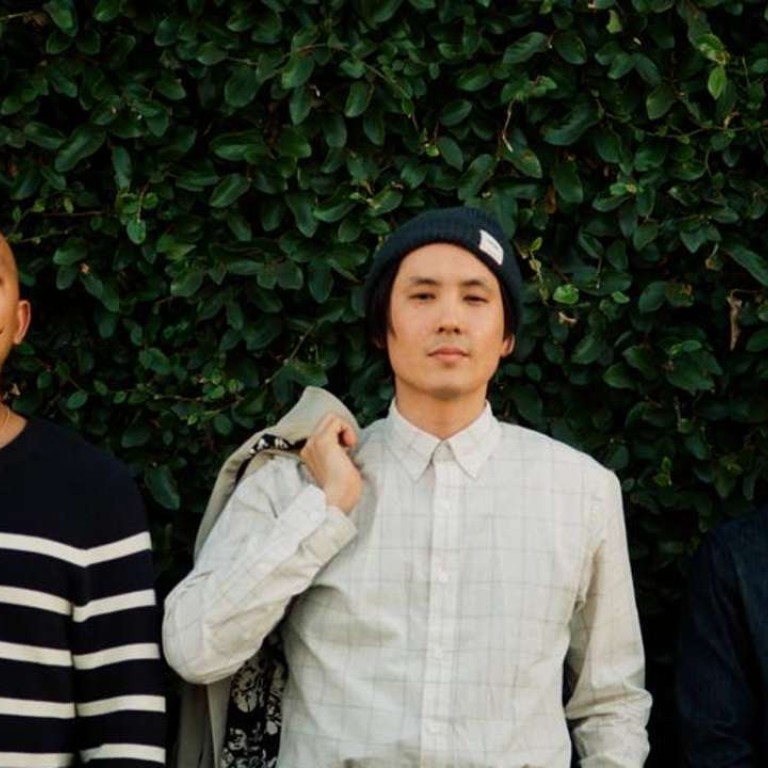 Far East Movement want to be a bridge between global cultures
The Asian American trio have a long list of collaborators on their latest album, Identity, from K-pop superstars to some of the hottest names in US music
Glance at the Billboard Hot 100 and you'll notice that a lot of those hits have something in common: guest appearances. Combining artistic talent and fan bases now seems a sure-fire way to gain publicity.
Hip-hop/EDM trio Far East Movement are used to working with musicians from all genres. Justin Bieber, Pitbull, Tyga and Snoop Dogg are among the many household names who appear in their discography. This Asian American trio, which consists of Kev "Kev Nish" Nishimura, James "Prohgress" Roh, and Virman "DJ Virman" Coquia, could easily be described as pioneers. They are best known for being the first Asian American group to top the Billboard Hot 100, with Like a G6 in 2010.
Far East Movement recently released their fourth full-length album, Identity, and it again features a wide range of guest artists from around the world. The track list features K-pop icons such as Chanyeol of EXO, Tiffany of Girls' Generation and Hyolyn of SISTAR, in addition to US stars Tinashe, Soulja Boy and Elijah Blake. This album also marks Far East Movement's debut on their own label, Transparent Agency.
The recent single, Freal Luv, which features Chanyeol and Tinashe, is a collaboration with EDM producer Marshmello and highlights the Los Angeles-based Far East Movement's mission to connect artists from East and West.
"A lot of the time artists get approached to collaborate with Western artists, or other artists, and it's more of a company move. The company wants to get them on an ad, or featured for the international market," says Nishimura.
"But we took a different approach. We flew out to Seoul just to visit each artist several times and get into the writing process. Through that, each song, the collaborations feel comfortable. The artists are proud of the collaboration and process as well. A lot of artists just email a track, get the vocals back, mix it and put it out, but that definitely wasn't the case with this project."
Producing a track with multiple artists was a challenge. Making Freal Luv "was a real journey for the team because of all the names attached. We feel that everyone attached are part of the next generation and that they are the best at what they do. The paperwork on a track like that is just massive. It was like an Indiana Jones map, we constantly flew back and forth," adds Nishimura.
Nishimura stresses repeatedly that all collaborations on the new album came organically, and that nothing was forced. "In every country we went to, we would proactively look for artists to meet and learn from. In Korea, China and Japan, we made some amazing friends in the music industry. We first met Chanyeol through a show we did on MTV in 2013, and ran into him again this year. His voice has got this really deep tone, that is in our opinion super rare. We literally flew back [to Seoul] twice just to get [his part] finished," he says.
The album has been well received by critics and has put the outfit back on the Billboard dance/electronic charts for the first time in two years. Meanwhile, K-pop sites have been clamouring for more information on the collaborations, and the release has further cemented Far East Movement's global appeal.
"Bridging the gap between artists in the East and West was a big experiment. We're seeing that people of all ethnicities have been receptive to the album, even though some of the songs are in Korean. [The video for Freal Luv] was released via Spinnin' Records, which mainly has EDM fans in Europe, and they've been receptive to the Korean language. We hope people will see in the next 10 years that this was a step towards bridging cultures," says Nishimura.
At first, Nishimura was not even sure, on a personal level, that a fourth album was a possibility for Far East Movement. "At one point, we just kind of wanted to not make music any more. We took a lot of bashing for being at a major label. Different executives told us that Asian Americans weren't marketable, that we should change our name, that our name didn't make sense, and that it was the worst name for an artist," says Nishimura.
Instead of waiting for the mainstream music industry to catch up with them, Far East Movement took their DIY-approach to music to a new level – they created companies that could produce their own materials and take on projects for other artists. Transparent Agency is not their only business venture. BrednButter is their in-house EDM/dance label, Proper Form is their ad agency and ISAtv is a joint media venture with Asian American filmmakers Wong Fu Productions. ISAtv is Asian American entertainment, created by Asian Americans for Asian Americans.
"We felt we had to build it ourselves since society wasn't fully ready. When we were catching steam, people didn't know what Far East Movement was, when they realised we're Asian, it was definitely a shock," he says.
If nothing else, Identity is a Far East Movement in itself, and defines what Far East Movement means as a name – a bridge between two cultures, which was what the trio set out to accomplish since the beginning.
"[In Far East Movement], we have Korean American, Japanese American, Chinese American and Filipino American identities. Even though many Asian Americans were born and raised in the US, that's not how everyone views us," says Nishimura.
"You get treated like a foreigner, but I was raised on a farm [in the US]. I pay taxes like everyone else, abide by the rules and love where I live. With this perspective, it's in your heart to sometimes show all these different cultures. [The world] is becoming more and more bridged, and this album is definitely symbolic of that."