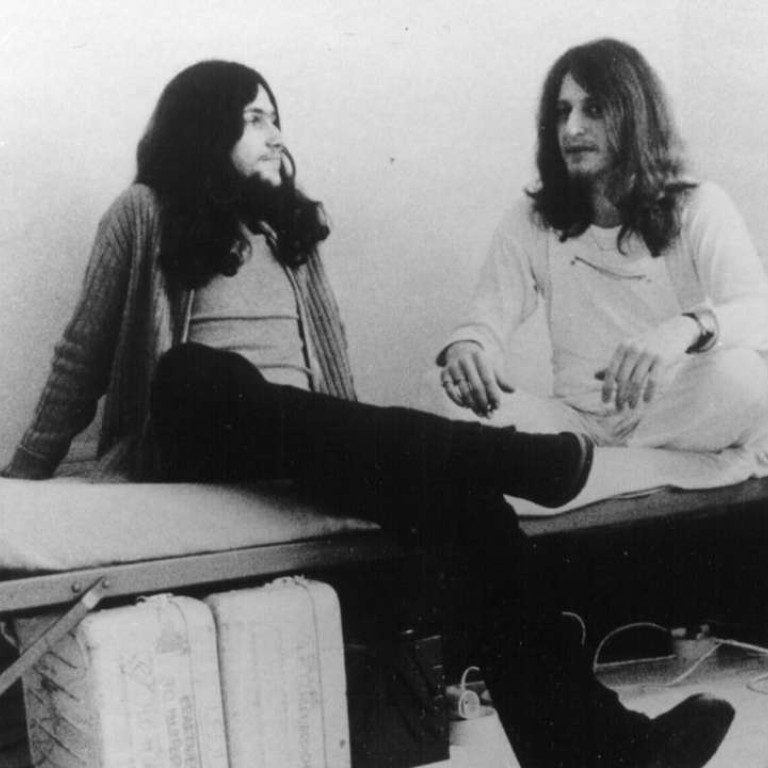 Krautrock legend Michael Rother looks to future as much as past in concert
Now 66, Hong Kong-bound former Kraftwerk, Harmonia and Neu! guitarist says he and bandmate Klaus Dinger had no idea they were making history with their remixes, ambient sound and proto-punk
Experimentation is in Michael Rother's blood. The Krautrock legend, who was half of the seminal Neu! and a member of the almost equally seminal Harmonia, as well as spending some time in the ridiculously seminal Kraftwerk, is 66 now, but when he plays live – as he will at Kitec in Hong Kong on November 8 – he still likes to take a few liberties with his songs.
"For me it's important to have the freedom to move things around," he says. "It would be very boring to try and recreate the originals. It's not a nostalgic show: it's about the future as much as the past."
His performance at the Kowloon Bay venue, part of a China tour that follows a previous visit to Beijing and Shanghai in 2014, kicks off a sort of slow-motion festival in Hong Kong celebrating krautrock, the hugely influential, stripped-down form of deconstructivist rock that emerged in Germany in the late 1960s and shaped the future of everything from ambient electronica to punk and indie rock.
Rother's gig is followed in December by one by his former Harmonia bandmate Hans-Joachim Rodeleius, then in January by three Manuel Gottsching concerts: as a solo artist, and then with his classic Krautrock outfits Ashra and Ash Ra Tempel. The festival is rounded off in February by the visit of madly prolific electronic music pioneers Tangerine Dream.
Krautrock as a genre was actually a British invention, a term coined by the music press to describe the massive flowering of experimental rock talent in Germany, based on a mild ethnic slur, and then appropriated by Germans as a badge of honour.
It drew on jazz, modern electronic classical music, psychedelia, funk and numerous other sources, but it was more an attitude than a musical style: taking rock music apart and reconstructing it in a distinctively German fashion – not dissimilar to what Germany did to techno when it got hold of it – and in the process constructing a kind of anti-rock that rejected its blues origins.
Rother says he grew up loving artists such as the Beatles and Jimi Hendrix, but his own music sounds absolutely nothing like them.
By stripping back music to its essentials, Neu! and other Krautrock pioneers, in particular Can and Faust, questioned what was essential to music and by extension what music was. They frequently reduced the dominant melodies and harmonies of Western pop music to an overdubbed guitar drone, placing the emphasis instead on sonic texture and tone; and reduced traditional song structure to a single uninterrupted pattern laid over a monotonous beat, often the driving, propulsive so-called "motorik" rhythm that was a Neu! hallmark in particular.
In doing so they presaged both ambient music and numerous contemporary electronic music genres, and punk and much of the post-punk and indie rock that followed.
"Many musicians were affected by the strange turmoil in Europe and the US in the late 1960s," says Rother. "With the conservative powers that took over after [the second] world war, the cultural idea in Germany was to be safe and not to take any risks. But the German youth had different ideas. For me personally it was a development from when I was 15 and happy to be a copycat: I learned to play the guitar to sound as much like my heroes as possible. In the late 1960s that lost fascination for me. Gradually I started steering away from the cliches of rock and pop music.
"I was feeling very lonely. I was not sure if I could find any people who had the same approach, free from blues structures and based on a Central European idea of melody and harmony. So I was lucky to meet the Kraftwerk people. Another musician asked me to go and play with them one day. I wasn't sure whether to go – I thought the name was silly – but I decided to join them, and it was really a crossroads for me."
Musical differences with Kraftwerk founder Florian Schneider, however, drove Rother and fellow band member Klaus Dinger to form Neu! It was a fruitful musical partnership – the former a master of melody, the other rhythm – but a challenging personal relationship, with the late Dinger a notoriously spiky character. While still in Neu!, Rother formed Harmonia with Hans-Joachim Roedelius and Dieter Möbius of fellow Krautrock act Cluster. Along with later member Brian Eno, they created a more ambient, melodic, pastoral sound.
In Hong Kong, Rother will be playing works by both Neu! and Harmonia, as well as music from his various solo albums.
Rother says his biggest musical breakthoughs came on the second and third Neu! albums, a time when he says they had no idea they were making musical history. Side two of Neu! 2 (1973) featured some of the first ever remixes, with speeded-up, slowed-down and generally interfered-with versions of the songs Super and Neuschnee. The move was widely derided at the time, but critical opinion has performed an about-turn since.
"Neu! 2 was recorded on a 16-track, where the first album was recorded on an eight-track, which gave us much more chance to add colour and detail, and that takes more time," he says. "We had just about enough money to record for one week, and the first side took nearly all that time. We realised we had one more night and we needed a second side. We both liked those two tracks and thought we could do more with them, and then Klaus started this crazy session, playing them at the wrong speed and kicking the turntable. We were desperate, and out of that desperation came these radical manipulations.
"We were quite sure that the audience would not follow us, and unfortunately that was the case. It really was a commercial and critical disaster – we got a bad kicking from the critics."
Two years later, Neu! 75 was divided into two sides, one featuring Rother's more ambient compositions and the other Dinger's furious proto-punk, that both shaped music for decades to come. The secret of the album's success, says Rother, is that although the two men were expressing very different emotions, they still shared a musical vision.
"The two sides would not be the same if we had contributed ideas and sounds to each other's songs. Contrary to popular belief, we never argued about music – we liked each other's ideas very much."
Michael Rother, Nov 8, 8pm, Music Zone, Kitec, 1 Trademart Drive, Kowloon Bay, HK$480, Cityline