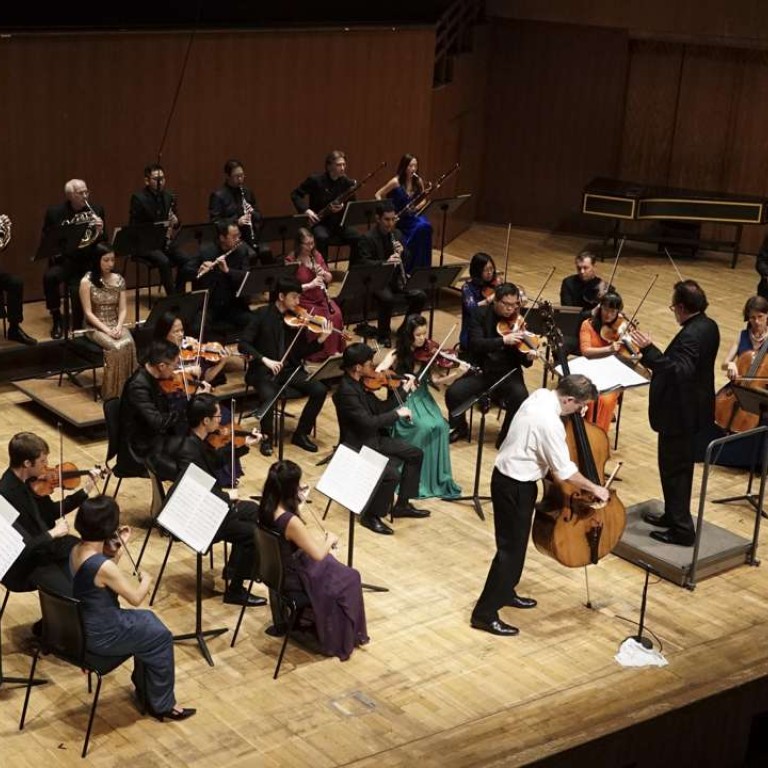 Review

|
Arts review: Edgar Meyer and CCOHK – double bass virtuosity
The renowned bassist is a master of genres and dips into bluegrass, jazz, blues and Hadynesque playing in a performance that outshone the orchestra
Despite the temptation to quote a retro bubblegum hit, Tuesday evening's concert at Hong Kong City Hall wasn't all about that bass.
Edgar Meyer may play the largest member of the string family, but like the handful of his colleagues with successful solo careers, he is not defined by it. Even when Meyer dips into the stylistic ticks of his instrument – the plucked stride of a jazz player or the bent tones of the blues – those traits are repurposed for a greater musical goal.
His two concertos for double bass on Tuesday's programme with the City Chamber Orchestra of Hong Kong made a certain point. No one has ever made the case for Giovanni Bottesini's double-bass concertos as music for the ages, but they duly serve their purpose.
Meyer's strongly lyrical rendering of Bottesini's second concerto broke free from bass's usual depths, spending much of its time in the cello range. Occasional flights of virtuoso fancy were worthy of any violinist. With closed eyes, a listener could be blissfully unware what instrument was in the spotlight.
Meyer's own Concert No. 1, which ended the programme, was a century removed from Bottesini and yet similar in showcasing both composer and soloist.
Meyer, before bursting into the public eye with his Grammy-winning
Appalachia Waltz
collaboration with Yo-Yo Ma and Mark O'Connor, was much in demand as Nashville session player, and it's safe to say both his playing and his compositions freely steal from every genre he's ever encountered.
The concerto's first movement was rich in the blues. The melancholy second movement channelled Haydnesque themes through a Piazzolla tango. The third tore off on a blistering run of solo bluegrass and fiddle-tune fingering, with the orchestra coming in mostly as musical punctuation. The piece was both a contemporary statement and a throwback to an era when soloists didn't just perform from a set list of standard pieces but actually wrote their own. Even in structural terms, Bottesini might shake his head at Meyer's ingredients, but he would certainly recognise the recipe.
Unfortunately, those moments when Meyer was on stage were the only times that the evening truly caught fire.
The orchestra, under guest conductor Marco Boni, opened with Luigi Boccherini's Sinfonia in D minor, La Casa del Diavolo, spending much of the first movement trying to find the centre of the pulse, let alone a crisp rhythm.
Alfred Schnittke's Suite in the Olden Style, a sincere baroque pastiche more representative of neoclassical Stravinsky than Schnittke's own irony-laden postmodernism, opened the second half of the evening with a backward glance that set the stage perfectly for Meyer's Concerto. The playing, though, was plagued by a liberal sense of pitch, and Schnittke's dissonances remain effective only when the rest of the playing is firmly in tune.
Edgar Meyer + CCOHK
City Chamber Orchestra of Hong Kong
Hong Kong City Hall Concert Hall
Reviewed: November 8