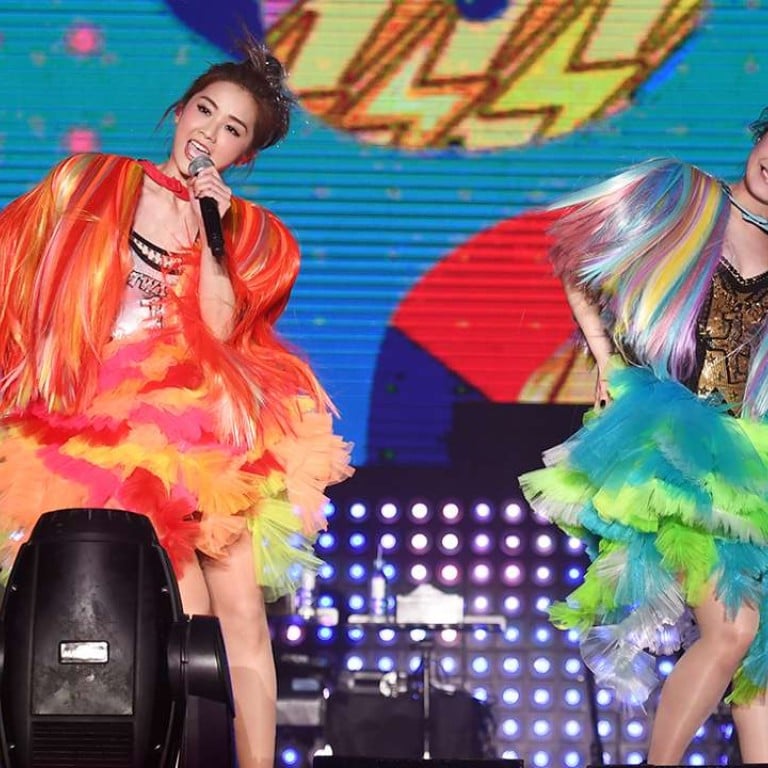 Hong Kong Canto-pop duo Twins' Macau gig to celebrate 15 years in music
Charlene Choi and Gillian Chung's 50th concert together will be their most ambitious show yet, although they won't be drawn on the details of what their fans can expect
Canto-pop duo Twins were mostly dismissed as one-hit wonders when they first emerged 15 years ago, a pair of manufactured idols who achieved stardom not because of their talents but because of their looks and the backing of a powerful record company.
But a decade and a half on, Twins are still going strong. Charlene Choi Cheuk-yin and Gillian Chung Yan-tung have shed their image as innocent schoolgirls and evolved into two elegant and mature women. Choi has become an award-winning actress for her role in Herman Yau's Sara (2015) and Chung has developed a huge following in China. They have outlived many of the other Canto-pop groups who arrived around the same time, such as the nine-member female outfit Cookies, and their concerts continue to sell out.
"We understand that this is something of a miracle," Choi and Chung say in a joint e-mail interview ahead of a huge concert in Macau next weekend. "We are very glad to be a Hong Kong pop group with 15 years of history. Our fans have been very supportive along the way, having faith in us and giving us a great deal of confidence to carry on.
"Sometimes we go our separate ways to take on different jobs, but we always reunite from time to time to bring something new to our fans. Still, many groups in Hong Kong last much longer than we have because they have a strong team spirit. They are our role models."
The past year has seen Twins busy on their latest reunion concert series, titled Twins LOL Live Around the World. The tour began last year's New Year's Eve at the Hong Kong Coliseum – the fifth time the pop duo have staged a solo concert at the Mecca of Canto-pop.
They then toured Guangzhou, Shenzhen, Foshan and Shanghai, and on November 26 they will descend on The Venetian Macao's Cotai Arena. The Macau show, which will feature a new catwalk design that brings the singers closer to the audience, isn't just their most ambitious production to date – it will also be their 50th concert.
When asked what fans could expect at the Macau show, Choi and Chung say: "Our new Canto-pop song Thanks for Not Loving Me and the Mando-pop song We are Gorgeous Singles are on the list, but we don't want to reveal what new tricks we will be unveiling in Macau. We hope our fans can find that out for themselves."
While Twins might be keen on promoting their new titles, fans might want to immerse themselves in the pop duo's classics. Over the years, Twins have released 12 Canto-pop albums and four in Mandarin, as well as an array of EPs, compilations and live recordings. Their chart-topping hits, mostly related to young girls' attitude towards love and romance, play a major role in the shared memories of Hong Kong youth in the 2000s.
Their early hits include Open Love, Secret Love, Tutoring Institute (2001), an upbeat song questioning why young people are not taught how to love in school, and A Boy in a Girls' School (2001), a portrait of girls' obsession with a newly arrived male student. There's also Love Is Bigger than the Sky (2001), detailing girls' yearning for love, and Red Eyes (2002), a sad song about break-ups that helped mend many broken hearts during karaoke sessions.
Choi and Chung say they are proud to have played an integral part in their fans' lives.
"Fifteen years have passed in a blink of an eye. We witnessed our fans grow up, from studying in school to getting jobs. Some of them are even married and have babies," they say.
With the backing of local entertainment giant EEG, many may think Twins have simply sailed through their career, but it was nearly brought to an end by two events.
First came the 2008 Edison Chen sex photo scandal. In one of the Hong Kong entertainment industry's biggest upheavals, Chung appeared in explicit photos taken by Chen, with whom she had been romantically involved. Twins were forced to make a public apology – despite the fact they did nothing wrong.
Two years later, Choi and singer Ronald Cheng announced their divorce in a tearful press conference – although they had never told their fans they had been married in the first place.
But the Twins have survived, because they have stood by each other over the years. They are planning to release a new studio album next year.
"We are very compatible. We listen to each other and take advice from each other. We never argue because we always find a solution after listening to each other. It feels natural for us to continue our journey together."
Twins, Nov 26, 8pm, Cotai Arena, Venetian Macao, Cotai Strip, Macau, HK$380-HK$880, Cotai Ticketing and HK Ticketing