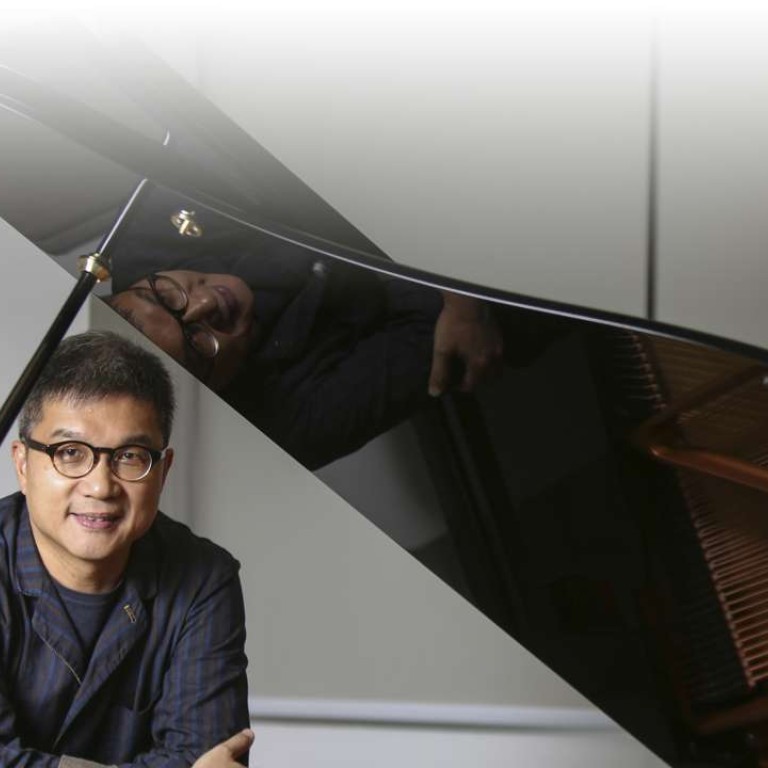 Hong Kong composer Chan Hing-yan on the multiple strings to his bow
Professor of composition's new work for huqin and orchestra – the centrepiece of Hong Kong Sinfonietta concert at Taiwan festival – shows his ability to mix poetic Chinese themes with Western techniques
Chan Hing-yan, one of many Hong Kong composers with Western musical training, stands out for his ability to mix poetic Chinese themes with Western techniques.
A composition professor at the University of Hong Kong, the 53-year-old has been commissioned by major arts groups and companies including the Hong Kong Sinfonietta, City Contemporary Dance Company and the Hong Kong Arts Festival, and his works have been performed for international audiences.
His music uses images from nature and classical references to suggest a mood.
Ethereal is the Moon is the latest instalment in the composer's "moon series", and will be the centrepiece of a Hong Kong Sinfonietta concert in Taiwan this weekend. Also on the programme are Ravel's Piano Concerto in G and Shostakovich's Symphony No 9.
Chan's work is written for orchestra and huqin (a family of Chinese bowed string instruments) and will feature Taiwanese erhu soloist Wang Ying-chieh.
Chan says the series – which began with Enigmas of the Moon written in 1998 – is inspired by a big, "stunning, shocking" moon on the prairie that he saw when he was studying at the University of Illinois Urbana-Champaign in the United States in 1996. To express his ideas, the composer often turns to musical and poetic references.
In the five-movement Ethereal is the Moon, he borrows motifs both from Western and Chinese works to create something fresh.
"In the second movement I quote Purcell, a very famous aria called When I am Laid in Earth, because the title of that movement [Moon-embalmed, a Dead Flower Lies in State] is about dead flowers being buried," explains Chan, who was named best artist (music) in the Hong Kong Arts Development Awards in 2013. "In the fourth movement I quote Puccini's very famous string quartet Chrysanthemums, and I also quote an erhu piece [that was] about the moon."
Having written two works for sheng for the Hong Kong Sinfonietta in recent years – Hark the Phoenix Soaring High for Sheng & Orchestra (2010) and 'Twas the Thawing Wind for Sheng & Orchestra (2012) – Chan, who is the orchestra's current artist associate, returns to the huqin (Enigmas of the Moon was for huqin, cello and orchestra). He says his first instrument was the erhu (the "violin" of the huqin group) and writing for the orchestra and erhu has always been something he has had a passion for.
"I always write for it very differently, because I know the instrument so well, and I do want to contribute something to the erhu repertoire," he says.
Although Chinese instruments are roughly similar to Western instruments, it is a mistake to think you can apply the same techniques, says Chan.
"You can't treat the erhu like a violin. You can't treat the mouth organ like a harmonica. At the same time, if you use the Chinese instrument like a solo instrument, then you have to know it even better, in order to demonstrate the 'tricks' and effective performing techniques."
Since many Chinese composers are trained in the Western system, he says, "If you use the Western way, Western thinking, to apply to the Chinese instrument, sometimes it may not work."
The composer attributes the fluid meld he achieves between Chinese and Western elements to the music he has heard and studied over his life. "A composer can't regret his own identity or aural memory. I don't consciously plan the proportion [in which] I use these musical elements."
He calls himself an eclectic rather than a dogmatic composer, and when asked about atonality, says: "I won't reject any language. I would say I'm a more eclectic composer.
"The first movement [in Ethereal is the Moon] is about a horse – you know the Chinese erhu has a lot of horse racing pieces. I didn't quote a horse-racing piece, but I incorporate a lot of these horse-racing techniques in the first movement. So I would say I am more an eclectic composer than an atonal composer."
The programme the Hong Kong Sinfonietta will perform this weekend as part of Taiwan's fifth Hong Kong Week will also feature in the 2017 Hong Kong Arts Festival, with Colleen Lee Ka-ling playing the Ravel concerto. Like Chan's piece, the French composer's work is not primarily about the performer's virtuosity.
"The [concerto] has a shining quality as well intimacy and excitement, but when compared with other virtuosic piano concerti, it is not the most demanding one," says Lee, whose former teacher studied with Vlado Perlemuter, who was a student of Ravel. The award-winning pianist was the Hong Kong Sinfonietta's artist associate between 2010-2011.
For the future, Chan has "a lot of projects in mind". He mentions operas based on novels by Hong Kong writers, or certain historical figures from the late Ming dynasty.
"They were artists, but they were confronted with a change of moment – a big change, just like in Hong Kong. But different artists took a different approach so as to protect their artistic integrity and also to protect their creative life," he says.