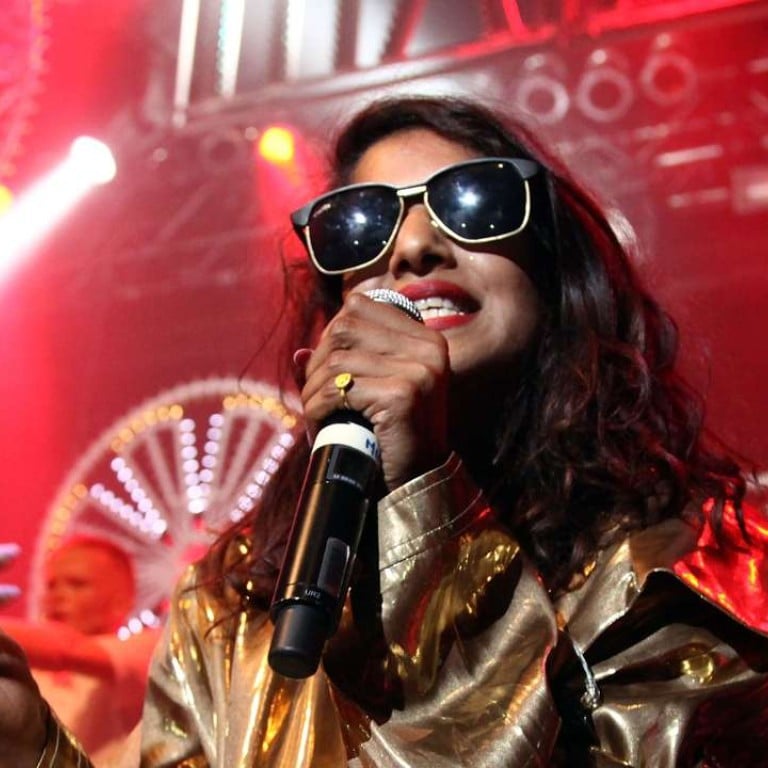 Saturday at Clockenflap Hong Kong - the acts to see, from M.I.A. to Fantastic Day
Assuming you'll have got over the first night on the harbourfront, if you were there, we've mapped out your Saturday at the festival, from brunch to that crunch decision: which of the day's last acts to watch
Hong Kong's biggest outdoor music festival, this weekend's Clockenflap is a sprawling event, with almost 120 acts performing across the three main band stages, two electronic stages, two theatre venues and two immersive entertainment spaces.
To help you navigate the event and give you the most 'Flap for your buck, we've pored over the schedule and put together some suggested itineraries. Here are our recommendations for Saturday at Clockenflap, day two of the festival.
12pm
Get fuelled up for the day (or soak up the excesses of the previous night) by heading straight to the food bazaar for a bite, or to the Kuuchi Cafe for a coffee and a browse through the nearby craft market. Ease you way into the day – it's going to be a big one.
1pm
Clockenflap wouldn't be what it is without some quirky and unexpected attractions – and Sophia the robot fits that description this year. Created by the Hong Kong-based tech firm Hanson Robotics, Sophia is an interactive android brought to life via lifelike facial expressions and an impressive vocabulary, and she'll be on display on the FWD Stage.
1.30pm
Hang around the FWD Stage for some sunny reggae vibes courtesy of Sensi Lion. Quite likely the only reggae band in the world who sing in Cantonese, this six-member Hong Kong outfit are disciples of Jamaican dub reggae pioneers such as Lee Perry and King Tubby. Lively up yourselves!
2pm
Just starting now on the KEF Stage are Fantastic Day, a Hong Kong band heavily influenced by British new wave and indie rock. The popular Hong Kong band have released two albums of original tunes full of harmonies and fuzzy guitars, and are likely to get a warm reception as the day starts to get going.
2.30pm
The first big act of the day on the Harbourflap Stage is Malaysian singer-songwriter Yuna. This talented indie-pop and soul artist was mentored by Pharrell Williams, has recorded with the likes of Usher and DJ Premier, and is likely to win a lot of new fans when she performs for the first time in Hong Kong.
3pm
It's time to head back to the KEF Stage to catch the enigmatically named No Party for Cao Dong, a post-rock/indie metal outfit from Taiwan who have been hotly tipped by festival organisers as a band to watch.
3.30pm
Now that your ears are buzzing, make your way to the Silent Disco, which has become an institution at Clockenflap. Put on your headphones and you'll have a choice of two channels – right about now you'll have to decide between local DJ/producers Casey Anderson and Barnaby Bruce.
4pm
In what will be a festival highlight for many, the wistful Jose Gonzalez will be performing on the Harbourflap Stage. The Argentinian-Swedish indie folk singer-songwriter will be making his first appearance in Hong Kong since 2009, and his many fans will be holding out for a rendition of Heartbeats, his famed cover version of the classic by The Knife.
4.30pm
Time for a little breather, so head towards Club Minky (perhaps grabbing a late lunch at the food bazaar on the way) and stretch out on the grass while you enjoy the outrageous Yeti's Demon Dive Bar. This Australian duo – described as the love child of the Rocky Horror Picture Show and The Mighty Boosh – were a huge hit at the Edinburgh Fringe earlier this year.
5pm
Start making the trek back to the Harbourflap Stage so you can secure a prime position for Fat Freddy's Drop. These Kiwi party starters have released four albums combining soul, jazz, reggae, techno and flat-out rock, but are best known for their infectious live show – so push your way to the front.
6pm
By now, GDJYB – another standout Hong Kong post-rock-band – should be in full swing on the KEF Stage. This experimental outfit have become local indie icons by producing complex maths rock that almost veers into jazz territory, and are another Hong Kong band hotly tipped by festival organisers.
6.30pm
As the sun sets, it's the ideal time to head to the Electriq dance tent and catch a live set by British electronic producer Lone. With a sound that encompasses breakbreat, hip hop and house, Lone already has six albums under his belt, and will be the first international artist appearing at Electriq today.
7pm
Just a stone's throw away is the Robot Stage, where Guyana-born dub reggae king Mad Professor will be at the controls. Mad Professor is one of the greatest living reggae artists – having worked with many of the genre's most influential figures, including Lee "Scratch" Perry and Sly and Robbie – and even remixed an entire Massive Attack album. Essential.
7.30pm
It's now time to head back to the Harbourflap Stage, where London Grammar are likely to draw a massive crowd. This British trio have enjoyed a swift rise to stardom since emerging in 2013, performing sold-out shows in the US, Europe and Australia, and even making an appearance at Glastonbury. This will be their Hong Kong debut.
8pm
British-born, New York-based artist Blood Orange (also known as Dev Hynes) will be bringing some urban vibes to the FWD Stage. Hynes has penned tracks for an impressive array of artists, such as Solange Knowles, FKA Twigs, Florence and the Machine, and Kylie Minogue, and his Blood Orange project – focusing on R&B and electronica – has won him a new army of followers.
8.30pm
After several years of being described as Asia's next big thing, Indonesian band The Trees & the Wild are now breaking through to the big league. This five-piece outfit from West Java produce an ethereal blend of post-rock and ambient music with a distinct Indonesian influence, and will be in fine form at Clockenflap after honing their live show at festivals throughout Europe and Asia.
9pm
Fans of electronic dance music would be mad to miss the Electriq performance by DJ Nick Hoppner, who is the co-founder and former boss of the in-house record label at infamous Berlin nightclub Berghain. Even if you can only spare a few minutes, swing by to discover why Hoppner's home city remains the nexus of the global electronic music movement.
9.30pm
Congratulations – you've arrived at the most difficult decision of the festival: whether to finish the night with rapper M.I.A. at Harbourflap, Taiwanese singer-songwriter Cheer Chen at the FWD Stage, British post-rockers 65daysofstatic or world music collective The Turbans at Club Minky. Our tip? M.I.A. making her Hong Kong debut on the festival's main stage will be hard to beat.
Get the full line-up for Clockenflap 2016