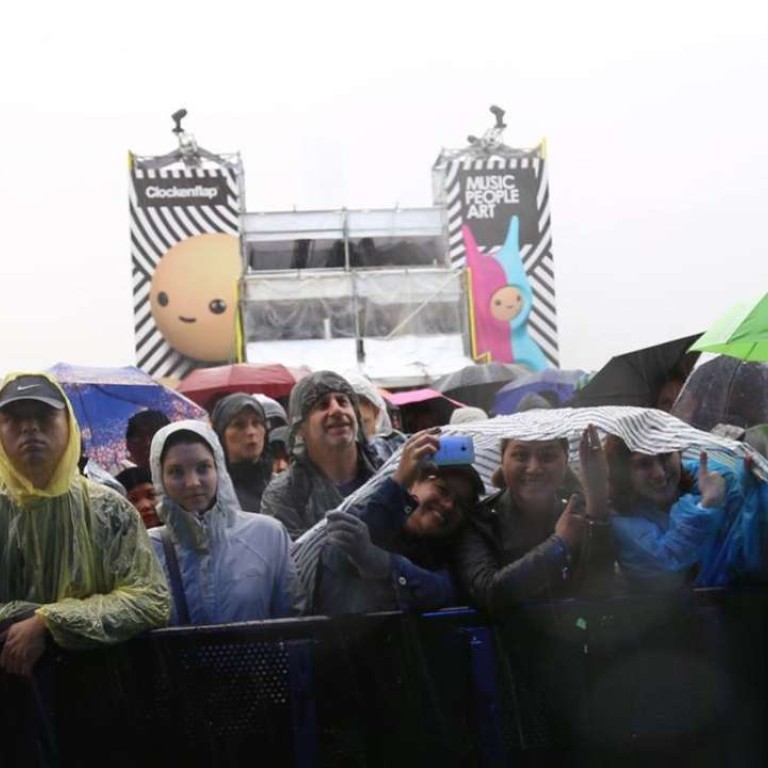 Clockenflap 2016: latest coverage of Hong Kong's biggest music and arts festival
Get updates as big-name overseas headline acts and local leading musical talents take to the stage at Hong Kong's Central Harbourfront.
Tens of thousands of music fans are being treated to three days of techno, house, funk, reggae, rockabilly and indie rock as Clockenflap 2016 takes flight in its new Central Harbourfront location.
​
Huge international acts such as original superstar DJs the Chemical Brothers, Icelandic post-rockers Sigur Ros, British-Sri Lankan rapper M.I.A. and legendary US funk pioneer George Clinton go head-to-head with the likes of Hong Kong's DJ Ocean Lam and Cantonese thrash metal band Charm Charm Chu.
The SCMP will bring you all the action via FacebookLive throughout the weekend.
Day Three
Blue skies promised a drier start to day three at Clockenflap, after a wet Saturday night failed to dampen spirits.
Watch: Crowds pour in on final day of Clockenflap
Music director and festival co-founder Justin Sweeting took reporter Rachel Blundy on an exclusive backstage tour of the main Harbourflap Stage before the day's acts kicked off.
Watch: Backstage at the Harbourflap Stage
Day Two
British-Sri Lankan rapper M.I.A brought Saturday's rain-soaked proceedings to a close with a blistering performance, her first in Hong Kong and China, which was described as being "boom, boom, boom" and "bouncing".
Taiwanese singer-songwriter Cheer Chen also drew the crowds to the FWD stage with a slighty more mellow set.
Watch: Reporter Rachel Blundy chats to fans awaiting M.I.A
Watch: New Zealand party rockers Fat Freddy's Drop
Watch: the rain has not dampened festival-goers' spirits
Bursts of heavy rain and cool winds welcomed the dozens of artists performing at nine different stages on Day Two of the Clockenflap festival.
Jose Gonzalez drew a large crowd of umbrella-wielding fans to the main stage with his multi-layered acoustic sounds earlier.
Watch: Jose Gonzalez talks to the SCMP Lifestyle reporter Rachel Cheung
The covered stages have been very popular with festival-goers on Saturday, especially those who were a little unprepared for the wet weather.
Watch: Bernice Chan talks to Crimes Against Pop and sees how people are enjoying day two
Day One
Legendary funk pioneer George Clinton and ethereal Icelandic rockers Sigur Ros brought Friday night to a close with their contrasting but equally mesmerising sets.
Watch: Funk pioneer George Clinton talks to Jarrod Watt ahead of his Friday night Clockenflap performance
Many fans, who clearly could not make up their mind who to see, were spotted dashing between the two stages during the evening.
Watch: Bernice Chan talks to restaurant owner Bobsy Gaia
The various dance tents and art installations dotted around the Central Harbourfront site proved popular with the Clockenflap faithful.
Watch: Hong Kong DJ Janette Slack in conversation with the SCMP as the gates open
Watch: Malaysian singer Yuna talks to the SCMP on the eve of her Clockenflap debut