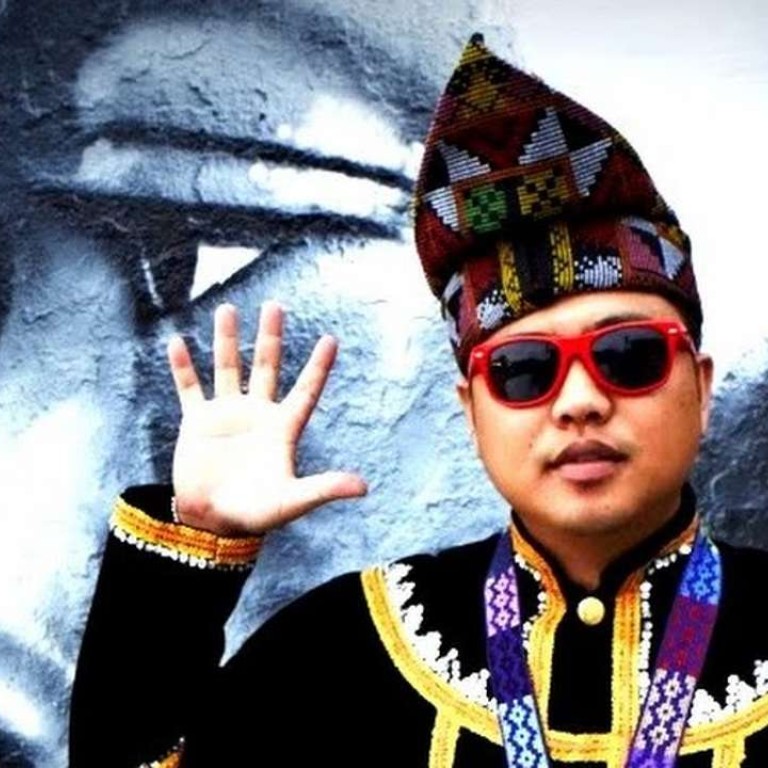 Malaysian DJ samples indigenous music to spread land rights message in Sabah, hit by deforestation
Hip hop DJ Atama Katama is giving a voice to the voiceless in his homeland in Borneo, where palm oil and timber firms exploit indigenous tribes' ancestral land
Atama Katama had spent a decade through the 1990s DJing hip hop at clubs across Malaysia, Singapore and Thailand when a fellow DJ asked him a question that sparked his curiosity about his indigenous roots in the Malaysian state of Sabah.
"Your father is the Bob Marley of Sabah. Have you ever thought of putting all the musical instruments your father taught you into your own music?" Atama recalls his friend asking.
Atama, who was born Andrew Ambrose but goes by the indigenous name given to him 12 years ago, likens his father, the late indigenous singer-songwriter Ambrose Mudi, to Elvis Presley, Bob Dylan and Frank Sinatra. He had grown up among musicians, touring with them from the age of three.
He broke away from DJing and began sampling music by indigenous musicians from Sabah, adding a hip-hop beat and rapping his own lyrics, launching in 2005 an album titled My Tribal Roots.
It was after the album landed him in a stressful copyright court battle with a record company that Atama began digging deeper into his culture in Sabah, his homeland of rainforest and remote beaches on Borneo island.
He learned more the about Sabah indigenous peoples' struggle for land rights against companies exploiting their territory for palm oil and timber, and he began using his music to campaign for their rights and raise awareness of the issues.
"When I see the community being treated like this by companies – going and just taking their land – it's the same feeling from my court case, with the company trying to rip me off and steal my stuff," Atama says on the sidelines of a meeting of networking group the Asia Indigenous Peoples Pact in the Thai city of Chiang Mai. "So I decided to go full on and fight for indigenous rights."
Today, Atama is among a new breed of indigenous activists, reaching out to young people through art, film and his own music – a catchy, danceable fusion of old-school indigenous songs with hip hop and rap.
At home in Kota Kinabalu, the capital of Sabah, Atama has connected with local activists who bring remote villagers to court in the city to fight for land rights. Their court victory celebrations, in particular, have included cultural performances that demonstrate indigenous identity through art.
From the Philippines to Brazil, indigenous peoples – living in resource-rich areas and lacking land titles or knowledge to defend themselves – are often at the centre of violent struggles for land against governments and companies exploiting land for mining, agricultural and infrastructure projects.
In My Tribal Roots, Atama says, each song has a short interlude of a father telling a bedtime story to his son about indigenous peoples, "instilling the idea of preserving culture and identity and not forgetting who you are".
He has hosted local filmmakers to introduce them to indigenous communities, and teamed up with activists to form a film collective called Waris Sabah – "the descendants of Sabah".
From 2006 to 2009, Waris Sabah listened to indigenous peoples' concerns ranging from corruption to illegal logging, and worked with them to create 25 short films on these issues, screening them for the communities.
"I see this as amplifying, giving voice to the voiceless, disseminating injustices to the greater community, and creating understanding and solidarity," Atama says.
His latest project was a commemorative song titled Ini tanah kita, or "This is our land" – launched in 2014 in New York at the United Nations World Conference on Indigenous Peoples.
"This is our land", Atama says, describes the struggle of indigenous peoples against "a disease called greed".
"Forests are being molested, our resources uprooted, our land is being raped, and our rivers turned murky. Our peoples have become fearful and angry as their futures ... their customary lands, are now submerged in floods.
"But here we are on the world stage – let's not just stand and watch, let's talk and defend our lands while we are dancing this song together."