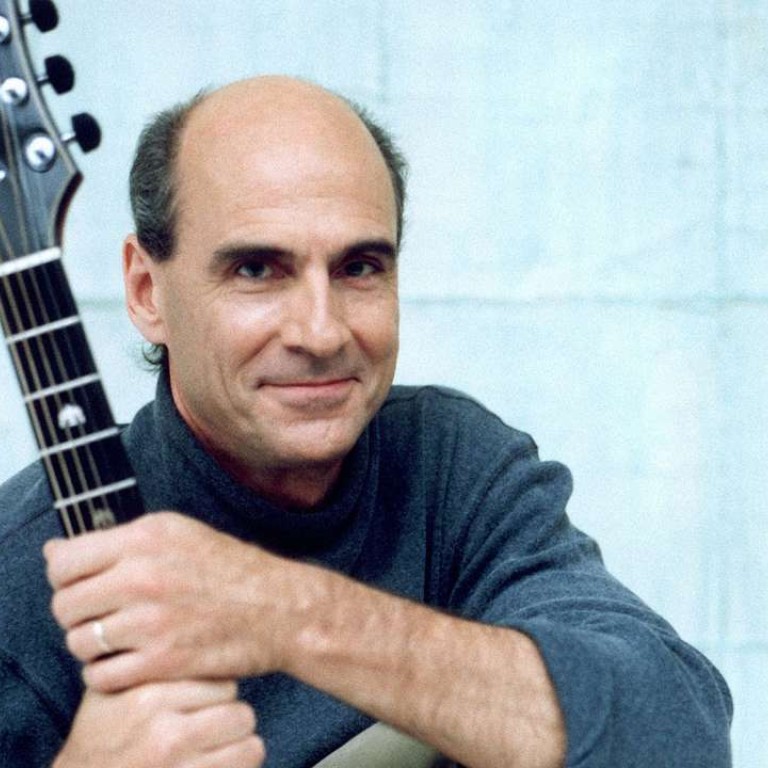 James Taylor's strength was melancholy; now he must cope with contentment
Singer-songwriter behind hits such as Sweet Baby James and Carolina In My Mind is heading to Hong Kong for a concert, his dark days of drugs and alcohol distant memories
His brain was frosted with morphine, his heart petered, but his lungs remembered to breathe. Simple as that. He was dying – there were multiple times when he was dying – but his lungs always kept working, every time.
And that's why he is sitting in California, many years later, sober, in a hotel bungalow that costs thousands of dollars a night. Instead of being dead at 22 or 27 or 33, like many of his artistic peers who sought solace in drugs, James Taylor, 68, fetches from the coffee table a crinkled printout of his discography: 18 studio albums and about 200 songs spanning 48 years of platinum-certified celebrity.
He knows that some songs are better than others and that some songs were better written than they were recorded. Shed a Little Light, for example. The Frozen Man. Those sessions didn't hack it. He thinks he came close to success with Gaia and achieved it with Never Die Young and Enough to Be on Your Way. There are a few others.
"Sweet Baby James and Carolina – I'm still proud of those songs," says Taylor, who will be appearing live in Hong Kong at the Convention and Exhibition Centre on February 23. " Sweet Baby James maybe more, because it's kind of a Chinese puzzle."
Anyone younger than 50 is forgiven for not knowing this: James Taylor was a babe. A 190 cm stalk of corn and sensitivity. Flowing chestnut locks. A demure pornstache. A way of picking the strings of a guitar as if he was fingering the valves of your heart. Put some sky-blue denim on him, lean him against a wooden post, tell him to look straight into the camera and good night, you moonlight ladies.
Taylor's second album - Sweet Baby James, the one with the words "fire" and "rain" on the cover – sold 1.6 million copies in its first year. By March 1971, he was on the cover of Time, illustrated as a Christ-like, post-Woodstock troubadour under the headline "The New Rock: Bittersweet and Low."
"I find comfort in fatalism and inevitability ... in things like earthquakes and eclipses of the moon because I have no hand in them," Taylor, then 22, told Time. "They relieve me of responsibility."
Taylor first studied classical cello, which explains his bass-cleffed, self-taught style on the guitar: He thumbs a bass line while picking the melody with his first three fingers. His first concert was Peter, Paul and Mary in Raleigh. At 14 he wrote his first song, and it married the white gospel of North Carolina to the Episcopal hymns at boarding school.
As a suicidal 17-year-old boarder at a school in Massachusetts, Taylor checked himself into McLean Hospital, where there were screens on the windows but a solid structure to the day. After graduating from the hospital's high school, he split for New York to become a professional singer-songwriter. He found heroin in Greenwich Village in 1966.
The Rolling Stones released Paint It Black that year, and Taylor, now 18, heard the musical appeal of gloom. But his hard living outpaced his songwriting. He did a lot of drugs. Passed out on park benches. Invited sketchy characters to crash in his apartment. He began flirting with death, but his lungs kept breathing. He called home in 1967 and his father heard the distress in his voice. Ike Taylor went to New York to rescue him, to bring him back to North Carolina for treatment.
After rebounding, Taylor's next move was to London, where he busked beneath overpasses and petitioned record companies. His New York bandmate Danny "Kootch" Kortchmar connected him to British singer Peter Asher, who worked at Apple Records and played Taylor's demos for Paul McCartney.
When the Beatles weren't recording "The White Album," Taylor used the studio to make his self-titled debut.
Though not a sensation, the album included key calling cards such as Carolina in My Mind. Taylor's music fused the hymnal to the blues, rock 'n' roll to country, Robert Frost to Woody Guthrie. His debut got him a record deal stateside with Warner Bros.
In 1971, with Janis Joplin and Jimi Hendrix dead, folk rock neutralised acid rock. Taylor released his third album, whose 10th track was aware of its own melancholy: "Why is this song so sad?" With Carole King, Joni Mitchell and Carly Simon, Taylor made yearning a national pastime.
Mitchell backed Taylor's vocals on Long Ago and Far Away, and Simon did the same on One Man Parade. Taylor reciprocated on A Case of You, which is probably about him, and Waited So Long. Taylor and King duetted at Carnegie Hall, and in response to his Fire and Rain – "I've seen lonely times when I could not find a friend" – she wrote You've Got a Friend.
Taylor dated Mitchell and then, in 1972, married Simon.
He kept using. His lungs kept breathing. His greatest hits came out in '76 and went platinum. In '79 Taylor drank himself into a depression in Montserrat. In 1981, Simon filed for divorce, and, the next year, Taylor's friend John Belushi overdosed at the Chateau Marmont. Taylor sang That Lonesome Road at his burial on the Vineyard.
Belushi's death rattled Taylor in a way that nearly dying never did. His friend Michael Brecker, the jazz musician, took him to his first Narcotics Anonymous meeting. His second wife, Kathryn, whom he had married in 1985, gripped his hand through detox and withdrawal. Taylor has been sober ever since but retains the shame and regrets of his habit. They are artistic inspirations and reminders of fallibility in a world that adores him.
In this California bungalow, Taylor is gracious but makes little eye contact. He is serene even as he fidgets. He is master and journeyman, penitent and shaman, depending on the moment. "Music suggests an order to the universe that sort of ..." – Taylor stutters for 10 seconds, searching for the verb, thinking of the science of rhyme, the algebra of harmony, the way his songs tell stories and stir nameless feelings – "... precedes human consciousness. It's true to the physical laws of the universe as well as an emotional set of values. And for that reason it does lift you out of the prison of the self."
James Taylor is no longer trapped there. He is now in multiple halls of fame, has figured out the work-life balance and has even released a Christmas album. He travels with a nail kit, to keep his digits in picking shape, and is routinely performing. Taylor Swift, an admirer and namesake, has brought him onstage at her concerts. He keeps his iPhone ready to record, because lyrics and melodies still come to him out of the blue.
Much of Taylor's best music burns on alienation, on loneliness, yet he's now dogged by contentment. He appreciates that his bittersweetness has, over the years, become a balm.
"People come to me all the time and say, 'This is the soundtrack of my life'," Taylor says. "What we do with popular culture is we're building our mythology, our own personal mythology. A soundtrack. We will subscribe to a number of celebrities or actors or movies or songs that really represent us. And then you can sort of channel that a little bit, when you need it in your own life."
Taylor then refers to his most famous song as if it's a socket wrench, or a broom.
"I think Fire and Rain has been useful to a few people."
James Taylor & His All-Star Band in Concert, Feb 23, 8pm, Convention and Exhibition Centre, 1 Expo Drive, Wan Chai, HK$488-HK$1,088, HK Ticketing. Inquiries:
http://www.hkticketing.com/