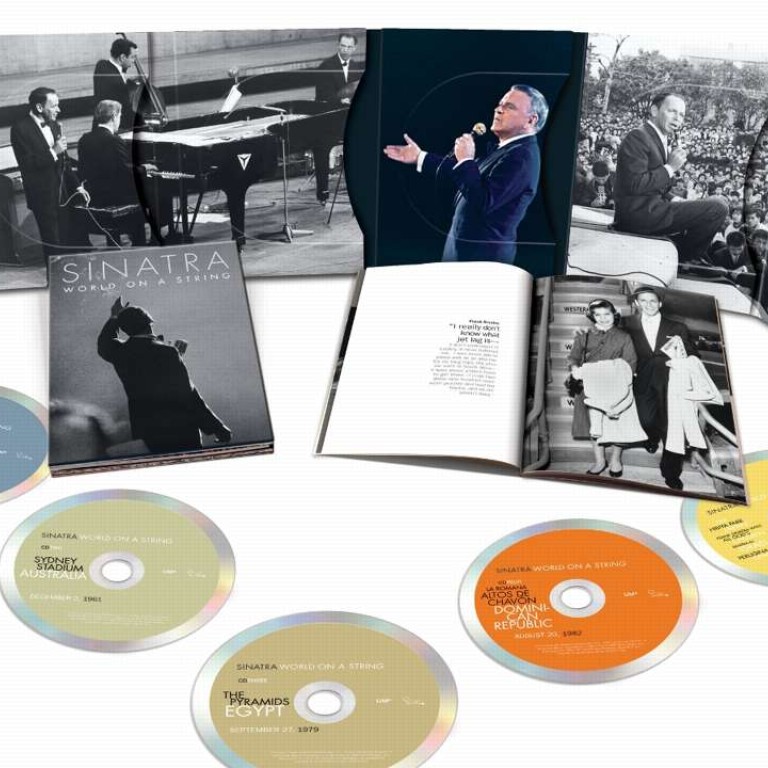 Bowie, Sinatra and Dylan among new box sets out for Christmas
From hip hop to power pop, jazz to soul, classic rock to classical minimalism – there are plenty of fresh box sets coming out in time for Christmas. Here are 12 you might want to consider for the music lover in your life
When it comes to gift-worthy box sets of music, we're in the era of both less and more.
Less, in the sense that, at this point in the digital age, how many major artists have not already had their bodies of work excavated? More, in that labels have answered that question by packaging complete album collections on CD and vinyl while digging deeper for rarities and creating multidisc sets built around classic albums.
As a result, there are more boxes than ever to choose from. In addition to those reviewed here, there's a 60-disc Elvis Presley The Album Collection; a five-CD set that expands upon The Who's My Generation; the Miles Davis Quintet's Freedom Jazz Dance, which tracks the trumpeter from 1966 to 1968; and Van Morrison's It's Too Late to Stop Now, Vol. II, III & IV, which goes deeper into a 1973 tour.
On then, to an alphabetical list of the best rock, pop, hip-hop, jazz, country, and classical box sets this holiday season. Many of these boxes can be sampled, in part, or whole, on streaming services such as Spotify and Apple Music.
Bad Boy Entertainment, 20 Years: The Box Set (Bad Boy/Rhino): whether branding himself as Diddy, P. Diddy, or plain-old Puffy, Sean Combs has kept his Bad Boy label going for two decades, lately having success with Janelle Monae and French Montana. But the Bad Boy brand is ultimately about the Notorious B.I.G., who dominates this five-CD box, which mixes in hits by Faith Evans, Ginuwine, Black Rob and Mase.
The Band, The Last Waltz, 40th Anniversary Edition (Rhino): the legendary farewell concert at San Francisco's Winterland Ballroom, made into a 1978 Martin Scorsese film featuring Muddy Waters, Bob Dylan, The Staple Singers and more. This four-CD set, remastered by Robbie Robertson, includes a Blu-ray of the movie, which has stood the test of time because, unlike most music docs, it actually shows musicians performing complete songs.
Big Star, Complete Third (Omnivore): this three-CD, 69-song excavation of the achingly brilliant Memphis power-pop band's never-completed 1978 album is an ideal example of how a reissue can illuminate the recording process and deliver satisfying surprises. Complete Third super-serves its audience by chronicling Alex Chilton's mental dissolution on songs presented in beautifully fragile demo form and more fleshed-out but still-fractured versions.
David Bowie, Who Can I Be Now? (Parlophone): this 12-CD box, which the artist planned before his death, focuses on Bowie's mid-1970s "plastic soul" period. Much of that took place in Philadelphia, with the Sigma Sound recording of the previously unreleased album The Gouster, which morphed into Young Americans, and the David Live in-concert set recorded at the Tower Theatre.
Bob Dylan, The 1966 Live Recordings (Columbia/Legacy): many have claimed to "rock the world", but Dylan's transformative '66 tour was the real article, presented here with 23 shows on 36 CDs spanning stops in the United Kingdom, Europe, Australia and the United States. For certain, it was the loudest, rudest and most insanely perverse concert set his folk-purist fans had ever witnessed. (The first of the two London shows is also newly available, separately, as The Real Royal Albert Hall 1966 Concert.)
Keith Jarrett, A Multitude of Angels (ECM): it is 1996, and pianist Jarrett doesn't yet know he has chronic fatigue syndrome. Nevertheless, he packs up a Sonosax DAT recording machine and wills himself through solo concerts in four Italian cities. The results, captured on this recently released four-CD set, are shattering. Never has a pianist skidded across so much cultural landscape. There are Baptist moments beside Muslim ones. Bach riffs cohabit with the spirit of the Great American Songbook. The tracks meander to Jarrett's whim with catchy names like Part 1. The maestro of the solo concert still yammers along with his piano, sounding like Steven Spielberg's E.T. going through puberty. Yet the effect is pretty sublime.
Otis Redding, Live at the Whiskey A Go Go, The Complete Recordings (Stax): is Otis Redding the greatest of soul men? Redding can't be beat for raw emotion and an unfailing sense of decency. This three-disc set contains the entirety of a 1966 three-night, seven-show stand that aimed to break the Georgia-born powerhouse with the white "love crowd" that he would entrance the next year at the Monterey Pop Festival. Almost perfect, but grows redundant with multiple versions of many songs.
Lou Reed, The RCA & Arista Albums Collection (Legacy): remastering his ouevre was the last project the Velvet Underground leader completed before dying in 2013. This 16-CD set includes 1975 noise fest Metal Machine Music and 1978's talky live album Take No Prisoners, both doubles, are outliers. But there are many formidable others, beginning with the 1972 pop breakthrough Transformer.
Steve Reich, The ECM Recordings (ECM): why only three CDs for the 80-year-old minimalist composer? Reich spends years at a time on his pieces, chooses his performers carefully, and makes sure all factors are pointed toward allowing his music to induce contrapuntal ecstasy. And though many composers need years before their pieces find their legs in performances, these early first-outing recordings are indeed fully realised and show how Reich envisioned them when they were close to being new. The Music for 18 Musicians and Tehillim recordings represent key turning points in his output, not to mention landmarks in a musical manner than many thought would be a passing fad but which has become some of the most distinctively American music yet written.
DJ Shadow, Endtroducing: 20th Anniversary Endtrospective Edition (Universal): an in-depth exploration of the 1996 debut album by the hip-hop innovator born Josh Davis, a masterwork that made the Guinness Book of World Records as the first album made entirely of samples. The six-LP vinyl box includes a collection of new remixes by Hudson Mohawke, Clams Casino and others that is also available separately.
Nina Simone, The Philips Years (Universal/Verve): after several low-budget but vital recordings for Colpix, the Philips label in Europe (starting in 1964) took this brilliant iconoclast global for seven albums – here newly repressed in classic LP vinyl – with bigger budget sessions that sometimes lavished her in strings and echo chambers. Boxed-set embellishments are zilch here. Now looming almost as large in death as in life, Simone deserves better.
Frank Sinatra, World on a String (Universal): the concept of this four-CD, one-DVD box is Sinatra live around the globe, from Monte Carlo in 1958 to Egypt in 1979. Sound quality is not always ideal, but Ol' Blue Eyes' vocal mastery is on display in a variety of settings, with big bands and small combos. Oddities include a series of TV commercials for Italian chocolates in 1962 and an earnest documentary about a tour of Israel that same year. The liner notes are maddeningly non-specific, with uncaptioned photos.