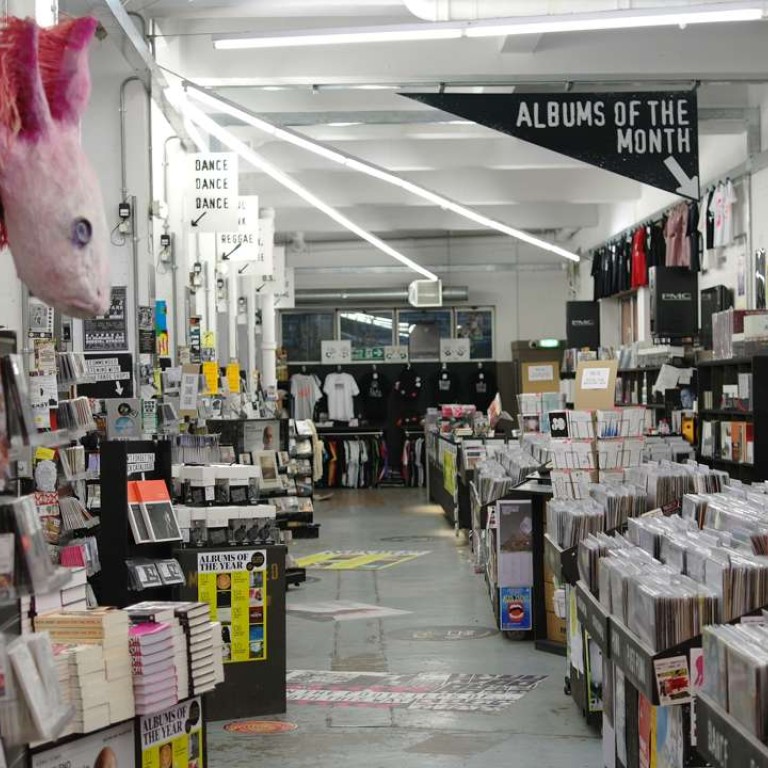 Vinyl records outsell digital downloads for first time in UK, with buyers spanning the generations
No longer just a niche market for aficionados, vinyl album sales have undergone a resurgence as teenage buyers seek music that's collectible
It was once a pastime dominated by audiophile dads and nostalgic hipsters. But last week, the amount of money spent on vinyl records in the UK overtook digital downloads for the first time.
Vinyl sales hit £2.4 million (HK$23.5 million) last week compared with the £2.1 million made from digital music purchases, further proof that record shopping has gone mainstream.
The interest in buying a physical format of music on vinyl has rebounded in the past 12 months. This time last year, the sale of vinyl albums reached £1.2 million, while digital sales were £4.4 million. Vinyl has also experienced eight consecutive years of growth, despite almost dying out around 2006.
Kim Bayley, chief executive of the Entertainment Retailers Association, attributed the surge in part to the number of places now selling records across the UK. An increasing number of vinyl-only record shops have opened, while supermarkets and high street shops now stock records.
Bayley said vinyl had experienced a particular boost in the past week because it was becoming an increasingly popular choice for Christmas presents.
"The vast majority of releases are coming out in vinyl now," says Bayley. "It used to be that only heritage acts or niche albums would come out as a record, but now everything does – pop albums, compilations, film soundtracks, all genres."
The top 10 records sold this week speak to the variety of people now buying vinyl. Kate Bush, Amy Winehouse and Busted are in the chart, alongside the Guardian of the Galaxy film soundtrack and Now That's What I Call Christmas compilation album.
Bayley adds: "We have a new generation buying vinyl, lots of teenagers and lots of people under 25, who now want to buy their favourite artists on vinyl and have something a bit more tangible, a bit more collectible. People have become keen to support their favourite artists by buying into that ownership concept. It's very difficult to demonstrate your love of an artist if you don't have something to hold on to."
Sean Forbes, who manages record shop Rough Trade West in London, which has been selling vinyl since 1979, says there has been a "massive increase" in people buying vinyl and that new racks had been put in all Rough Trade shops to meet demand.
"Now it's everyone who comes in to buy it, from 10-year-olds to 90-year-olds, we get the whole breadth," says Forbes. "We now get a lot of people come in with their kids, and mum and dad want to start them off with a starter pack of good records. But you also still have the 65-year-old man who smells of weed who will always come into a record shop, stand around and then ask for something you haven't got, and then leave. So it hasn't changed completely."
He says record companies were noticeably taking advantage of the renewed interest in vinyl and hiking prices, adding that "the mark-up on vinyl now is ridiculous". However, he says people are increasingly willing to spend upwards of £25 on a single record, and even more for limited editions. Kate Bush's triple-disc live album
Before the Dawn
, which was selling at Rough Trade for £65, had completely sold out in its shops within a day.
Forbes admits he has been surprised by the resurgence in people buying all types of music on record, although he welcomes it as a change from those who, in years past, bought certain heritage albums as a memento rather than to listen to.
"It makes a change from all the people visiting London who always come in just to buy The Clash's London Calling on vinyl, which personally we think is a bit moronic," says Forbes. "And people have always wanted to buy Pink Floyd's Dark Side of the Moon on vinyl, which is also a bit depressing. People will still be buying f***ing Dark Side of the Moon on vinyl when we've all been dead a hundred years."
"