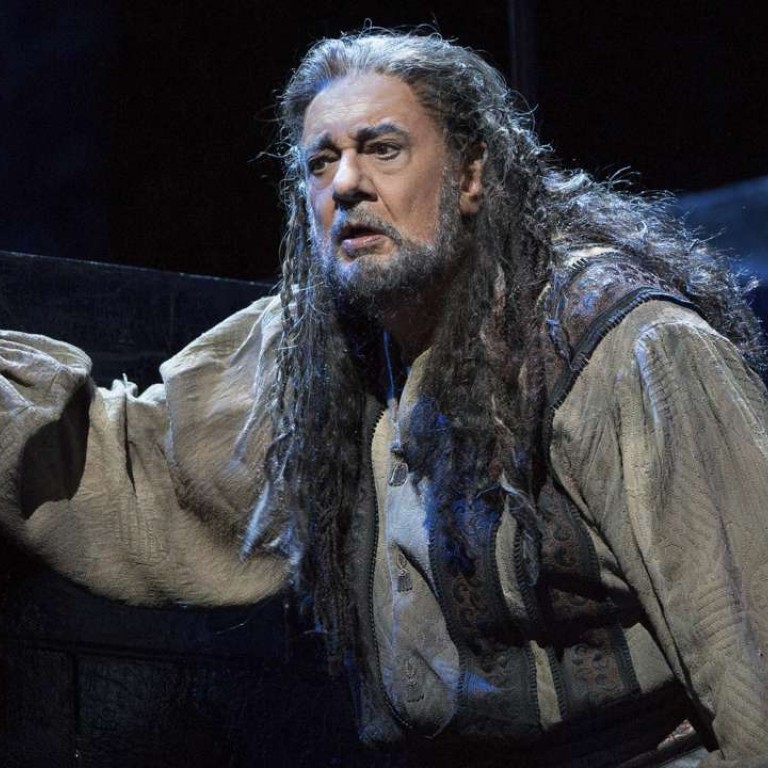 A treat for Hong Kong opera lovers: Placido Domingo in Nabucco at the Met to be screened in HD
Tenor's final performance of the Verdi classic at the Metropolitan Opera in New York is being filmed in HD and will be shown on the big screen in Hong Kong in March and April
After more than half a century as an operatic powerhouse, Placido Domingo might easily take success for granted. Instead, each time he storms onstage as the ruthless ruler in Verdi's Nabucco, he feels he has "more than ever to prove".
"Because there are no excuses right now," Domingo says. "I have made a long and beautiful career, and if I go out there it's because I'm doing it well. Otherwise people will say, 'Why is he doing it,' you know?
"So there is always a reason to have butterflies," he adds, in an interview at the Metropolitan Opera in New York.
Domingo, who turns 76 this month, is enjoying a triumph in Verdi's third opera, which tells the story of the Babylonian tyrant Nebuchadnezzar and his sacking of the temple of Jerusalem. Hong Kong opera lovers will be able to catch this production in March and April as part of ongoing concert series "The Met: Live in HD", with screenings at UA Cine Times, Bethanie Cowsheds, AMC Pacific Place and The Grand @ Elements.
Originally a tenor, Domingo began turning to baritone roles in 2009 as the high notes became elusive. Although his sound lacks the weight and colours of a true baritone, audiences are still eager to see him: his Nabucco performances at the Met, like most of his appearances, have almost completely sold out.
"I think it's a perfect role," Domingo says, because of the variety of vocal and dramatic challenges. "In the first scene, honestly, it's very difficult for the public to hear the baritone all the time. Because he's singing with the whole chorus, but you have to come out strong.
"In the second act you have the chance first with sextet, and then the big sing with the craziness. And then comes the bel canto, the duet, and it continues with the aria and cabaletta."
"The craziness" Domingo refers to is based on a biblical account of Nebuchadnezzar temporarily losing his sanity and living in the wild. Audiences may be startled to see Domingo at one point get down and crawl on all fours.
"He was kind of confused … he was walking on four legs like animals," Domingo says, "and that's the reason I try to do it in the production."
He also sings an entire aria – a plea to God for forgiveness – lying prone on his stomach, not the easiest feat for even a young singer.
"In one rehearsal I was just feeling … all of a sudden, I just went and lay down and I tried it," Domingo recalls. "And I realise that I can sing it this way, and it will be like a prayer. I'm totally lost, God forgive me."
The most famous number in the score is the stirring Va, pensiero, sung by a chorus of Hebrew slaves in Act 3. In Verdi's day it became a rallying cry for Italian patriots seeking to free their country from Austrian rule.
James Levine, who is conducting the current performances, often has the chorus sing it twice, but that's not guaranteed.
"Like all encores, it sort of depends on audience response," says Met spokesman Sam Neuman. So expect an encore during Saturday's HD recording of the final performance – but only if the applause in the house is sufficiently prolonged.
The HD broadcast of Nabucco also stars soprano Liudmyla Monastyrska, mezzo Jamie Barton, tenor Russell Thomas and bass Dmitry Belosselskiy.
This article appeared in the South China Morning Post print edition as: Domingo soars inthe Met's Nabucco