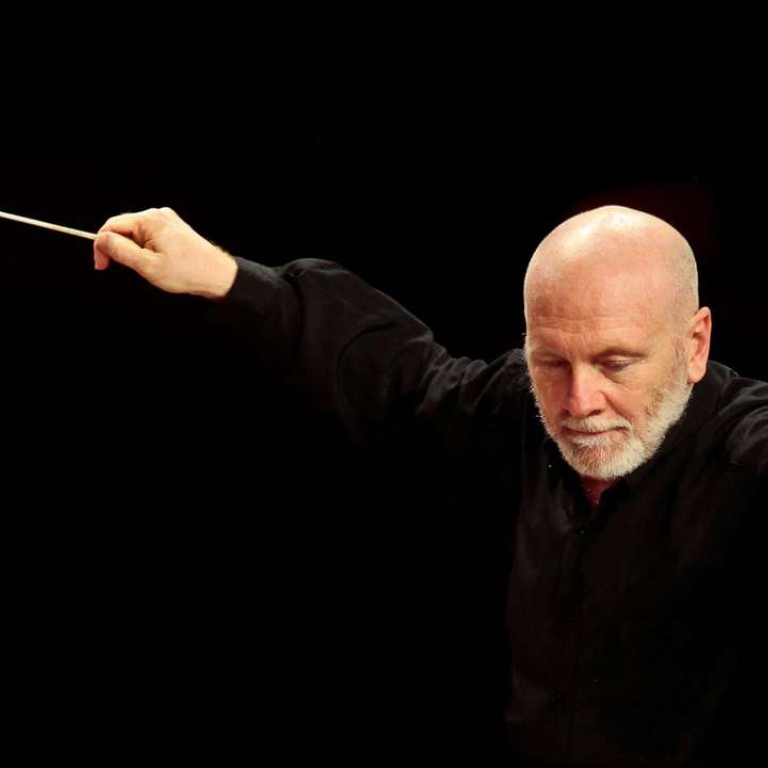 Australian composer Brett Dean wants Hongkongers to open their minds at chamber music festival
The composer in residence at this month's Hong Kong International Chamber Music Festival will see six of his compositions played, and hopes to show audiences how to appreciate new music
New music – two words that strike fear into the hearts of many concertgoers. Unfamiliar, intimidating, even atonal; for those who feel safe with familiar favourites, late 20th and 21st century music can prompt such assumptions.
But Berlin-based Australian composer Brett Dean wants audiences at the 8th Hong Kong International Chamber Music Festival to not only open their minds to new possibilities, but to become virtual filmmakers.
"Audiences are confronted by all sorts of music when they go to the cinema. Some is rhapsodic and film-like, but a lot is not so far removed from contemporary music in the concert hall. I encourage people to imagine something [when listening to new music] – to make up your own film if you like. I think that can help trigger responses and a sense of fantasy.
"New music can be good at that because it is not coming with a pre-packaged set of responses. Familiar music can often remind you of a particular time," says Dean, also a conductor and internationally renowned viola player, who will be the festival's first composer-in-residence.
Dean admits to being a film buff. And he sees a comparison between his role as a composer and that of a filmmaker: "I love film. I love the fact that, like a piece of music, it unfolds in a certain space of time. Filmmakers, like composers, have a concern with how time unfolds, how do you choose it, when do you make a dramatic shift."
One of his first composing jobs was working in improvisation for experimental films. He began composing in the late 1980s while living in Berlin, where he moved from Brisbane in 1985, joining the Berlin Philharmonic Orchestra as a viola player. He stayed with the orchestra for 14 years, and has since achieved critical acclaim for his composing as well as his playing.
Both skills will be in evidence during his residency at the festival, to which he comes fresh from a residency with the Taiwan Philharmonic.
So what can audiences expect? The Australian newspaper's Miriam Cosic described his music thus: "It might take something of the high baroque in one place, of industrial electronica in another, yet it never smacks of post-modern eclecticism or playing about with 'genres'. Rather it seems to channel Dean's own breadth of interests and intense curiosity."
The festival is getting its money's worth, with six of Dean's compositions being performed. He will also participate in a panel discussion about his work in conjunction with the Hong Kong Sinfonietta's performance of his solo viola piece on January 17. He will hold workshops two of his compositions, Testaments for 12 Violas and Carlo with The Modern Academy, for its January 24 concert.
The collaboration arises from his connection with festival artistic director Jimmy Lin Cho-liang.
"We first met when I was visiting Australia, we met again at La Jolla Festival in San Diego about five years ago," Dean says.
The pair discussed a collaboration then and Lin was interested in featuring Dean's music.
He was last in Hong Kong to perform as a soloist with the Queensland Youth Orchestra in 1983. This time, at his request, he will also play his Epitaph, for viola quintet, with the Borromeo Quartet at City Hall on January 21.
Dean has described his compositions as an emotional response to the world, and many have been inspired by the abstract paintings of his artist wife Heather Betts, whom he met when both played viola with the Australian Youth Orchestra. Other inspirations are highly personal, as will be evident to Hong Kong audiences, with Epitaph, which premiered at the 2010 Cheltenham Festival, a memorial to five of his friends who have died.
Sketches for Siegbert, which he will play on solo viola in the Tsuen Wan concert on January 23, honours his late Berlin Philharmonic colleague, "one of the dearest, sweetest people", viola player Siegbert Ueberschaer.
Huntingdon Eulogy, to be played by American cellist Nicholas Cannelakis and Hong Kong-based pianist Evelyn Chang in the January 25 closing concert at Sha Tin Town Hall, is a requiem for a young winemaker Dean worked with at the Huntingdon Estate winery music festival.
But if that all sounds a little bleak, don't worry. These are celebrations of lives, says Dean. They are "expressions of personality and energy, not of something sad, expressions of lives and admiration and positive things that came about from reflecting on someone's life".
Dean's compositions range from a trumpet concerto to a piece for a wind ensemble and a workforce soprano and string quartet. In 2010 his first opera, Bliss, was premiered by Opera Australia and has since been performed in Hamburg and Edinburgh.
Now, he is working on a commission for another opera – Hamlet, to premiere at the Glyndebourne Festival in Britain in June and July and then go on the Glyndebourne tour.
This Hamlet, "triggered by the fact that Heather was doing several cycles of Hamlet-related paintings", will be directed by Neil Armfield. British tenor Allan Clayton will sing Hamlet, with British bass John Tomlinson singing the ghost of Hamlet, and a libretto sung by Canadian writer Matthew Jocelyn. And the new alternative version has ruffled a few feathers, with a Financial Times story about it headlined, "Australian composer Brett Dean messes with the Bard".
For Dean it has been an enormous task. "The reason I am sounding a bit croaky and tired is that I am finishing Hamlet at the moment, hoping that by the time I get to Hong Kong I am a bit of a free agent," he says.
So with it nearing completion is he pleased? "As much as one can be at this stage."
But first there is Hong Kong, where Dean is hoping audiences will be willing to take a chance on the unfamiliar: "I think my music is very lyrical and personable, it is not just about exploring techniques of writing music, it is about an expression of a human ideal."
Hong Kong International Chamber Music Festival, various locations, January 19-25. Inquiries: 9545 6851
This article appeared in the South China Morning Post print edition as: picture this