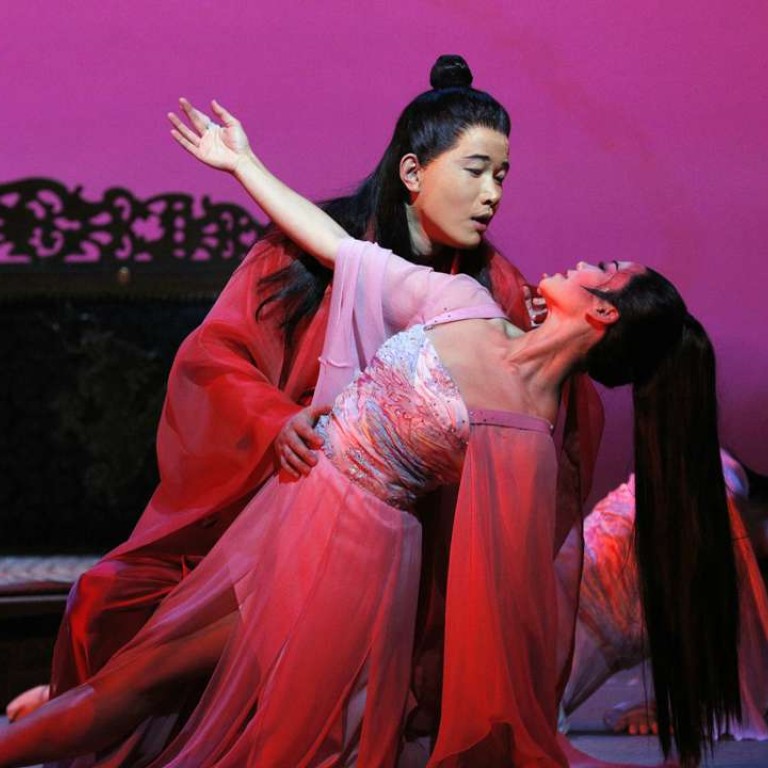 Hong Kong Arts Festival's Dream of the Red Chamber opera accentuates the love story at its heart
Co-production with San Francisco Opera of 18th-century Chinese literary classic is spectacular, with dream team of singers and creators, including composer Bright Sheng and librettist David Henry Hwang
Dream of the Red Chamber – the popular 18th-century Chinese literary classic written by Cao Xueqin – has been told and retold through so many media and art forms that any trip down this well-trodden path risks banality and predictability.
But that has not stopped the San Francisco Opera from adapting this romantic, political tale, which follows the fortunes of several aristocratic families in Qing dynasty China. For its general director, David Gockley, it's high time Western audiences get to know this masterpiece. No expense was spared in forming a dream team of artistic collaborators and star singers, or in crafting elaborate sets and costumes.
Hence all the weighty names attached to the project, including librettist David Henry Hwang, director Stan Lai, composer Bright Sheng and designer Tim Yip.
The guidelines that Gockley set out for composers may be the key to his success at getting new operas successfully produced. He says, "What I have tried to do with composers, including Bright Sheng, is to get them to write in a neo-romantic musical style that the public will embrace right from the start, without having to take university courses."
Premiered in San Francisco last September, the production will be staged as part of this year's Hong Kong Arts Festival on March 17 and 18. The cast will be the same, except for mezzo-soprano Irene Roberts who has other commitments.
Faithful to the novel, Dream of the Red Chamber begins mystically with a stone and a flower that change into human form, becoming Bao Yu and his beautiful cousin Dai Yu. Bao Yu is later tricked into marrying another cousin from a wealthy merchant family. This scheme backfires and leads to the downfall of both families, as they lose favour with the emperor. Although Bao Yu and Dai Yu were destined by heaven to be together, they are tragically kept apart.
In the premiere, Yijie Shi as Bao Yu was youthfully appealing, with a bounce in his step and a silver-toned tenor voice that made him a convincingly love-struck, poetic young man. Soprano Pureum Jo as Dai Yu soared through the high notes with flawless tone, portraying the tragic heroine with grace.
Threads of Chinese and Western sensibility are inextricably woven in this deep rethinking of both opera and the original novel. The spectacular production (with 23 set changes) adds to the unreal effect, with sets that move, float and come apart unexpectedly, and brilliant colours that dazzle the eyes.
Sheng says he first read the novel when he was 12 and has since "kept reading it just for the fun of it".
"Every time you read it you learn something new, and you see the connections, the foreshadowing," the composer explains.
"But it's such a complex, big novel, and if you do it right, it has to be [in the] grand opera tradition. So when [Gockley] asked me, I was a little taken aback. This is not only the most beloved Chinese novel, but also as an opera, how would it work onstage?"
The creative team finally decided the love triangle to form the main thrust of their interpretation. "And then the political intrigues, the economic problems, the personal likes and dislikes, that became the background," says Sheng. "And each of these background elements contributed to the tragic love story."
Musically, Gockley's brief was quite specific: to write melodies and thematic material that become identified with scenes or characters, and with arias, duets and ensembles.
"The other major thing was, I wanted there to be a recognisably Chinese sound in terms of instrumentation and harmonies. To have a sound that an American public would identify with Chinese music."
This co-production between San Francisco Opera and the Hong Kong Arts Festival originated with the Chinese Heritage Foundation, which was set up in 2004 by migrants from Hong Kong who had moved to Minnesota in the middle decades of the previous century and prospered there.
The foundation's mandate is to promote Chinese culture in the West, and they hit on the idea of making an opera. Word got to Gockley, who has an impressive record of commissioning new operas, and he, in turn, recommended Sheng to pen the score.
The Shanghai-born Chinese-American composer is an apt choice given his cross-cultural background. After the Cultural Revolution, Sheng's family moved to New York but despite his talent in music making – Sheng was a prodigy who came top of his class in the Shanghai Conservatory in composition – a career in composing was deemed unpractical.
His father, after a discouraging meeting with the prominent classical artist manager Harold Shaw in New York, wrote Sheng a long letter, saying "Son, I know you love music, but America is a realistic country. They need people to cook Chinese food, they don't need another composer."
"So that was a shock," Sheng says. "I made a resolution, 'I'm going to give myself five years in the US to try to see where I am in relation to American composers, see if I have a chance. If no chance, I probably should be practical, because Chinese are practical.'
"And so I came to the US, and two years later, I met Leonard Bernstein, and he took me under his wing, and I've been very lucky, even during my student years, that I start to have a small career going on. So I never looked back."
Like all major opera productions, Dream of the Red Chamber is expensive and, reportedly, costs US$2 million to stage.
"The budget is huge, but at the end we still ran out of money," Sheng says.
"We don't have enough costumes to change, for example, for the chorus. You have beggars, you have servants and soldiers. The male soldiers come in for just two or three minutes – those are very expensive costumes.
"I won't tell you how much those are worth. It would shock you. But I could tell you they are more expensive than an Armani suit."
Dream of the Red Chamber, Mar 17 and 18, 7.30pm, Cultural Centre Grand Theatre
This article appeared in the South China Morning Post print edition as: state of the heart