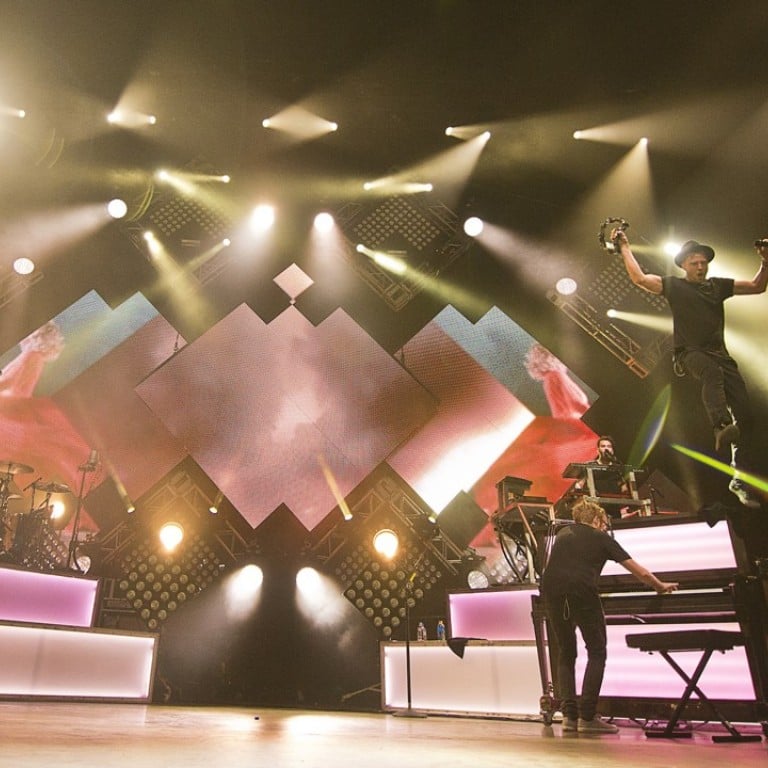 Video
Why Hong Kong is a city to remember for American band OneRepublic
As pop rockers prepare to return on final leg of their world tour, singer-songwriter Ryan Tedder reflects on band's early days, collaborations with Paul McCartney and U2 and his to-do list for Hong Kong stopover
Before OneRepublic became a stadium-conquering band, they were a bunch of fresh-faced dudes living in the same Los Angeles house-share with barely two dollars between them. Fast forward 15 years and four hit studio albums later, and the pop rockers are preparing to perform a second arena show in Hong Kong next week.
After forming in 2002 in Colorado, the band rose to fame on the social media platform MySpace before signing with Columbia Records and releasing the breakout hit Apologize in 2006. Although cash-poor, living in such close quarters meant they could make music together every day.
This formative, creatively fertile period inspired one of the band's latest songs, Rich Love, an ode to the simplicity and brotherhood of OneRepublic in their pre-fame days. "We didn't even need money. We had Rich Love, that's what it was," frontman Ryan Tedder says wistfully.
The chorus line, "We're broke as a bottle of wine", was rattling around Tedder's head last December, but the song finally took shape in February this year. It began life as a guitar ballad, until Tedder sent it off to Seeb, the Norwegian EDM production trio responsible for remixing Mike Posner's I Took a Pill in Ibiza, to inject a little more oomph.
The result is a tropical house banger that wouldn't feel out of place on a junk boat party soundtrack. It's a departure from the anthemic, emotionally heavy songs that characterised the band early in their career, but Tedder was pleased to find that Rich Love and No Vacancy, another "fun, plucky, vibey" new track, fit snugly in their live set. "By the final chorus, everybody is singing," he adds.
As a band, OneRepublic have enjoyed enduring success, but it is Tedder's songwriting career that has been stratospheric. The son of Gary Tedder, a 1970s gospel songwriter, he began playing piano when he was three and wrote his first song aged 15. The triple Grammy-winning 38-year-old is credited with some of the bestselling hits of the past decade, including Leona Lewis's Bleeding Love, Beyoncé's Halo and Adele's Rumour Has It, earning him the title of "the underground king of pop" by Billboard magazine.
In recent years, he has also worked with Ellie Goulding, Carrie Underwood, Kelly Clarkson, MO, One Direction, Ed Sheeran and Taylor Swift. Lately, he's been putting the finishing touches to work with Paul McCartney, U2, Goulding again and Martin Garrix. Not to mention the new songs OneRepublic have released this year, with more on the way.
"I don't ever like to brag," he says from Denver, Colorado, adding that he even changes radio station if he hears one of his songs. Many fans of OneRepublic might not realise the frontman's star-studded songwriting record. But that could change on the current tour, which features an acoustic section where Tedder performs the tracks he wrote for other artists.
"That moment is probably my favourite because I get to sit down and relax. It's so different and a shock to everybody, because they don't realise I wrote those songs. Halo is always fun to play ... it's just a really great song and reminds me I need to write another one, because I know how to do it."
Tedder's relentless work ethic took its toll during the promotion period for OneRepublic's previous album, Oh My My. In April this year, he opened up about his mental health struggles and signposted a change in his band's musical direction in an open letter to fans on Facebook. He revealed that "crippling anxiety" and exhaustion due to non-stop touring had brought him to the verge of a nervous breakdown.
"I looked at a calendar, realised I had been gone 200 days of 2016 and still had three more weeks of being gone. From my family, my wife, my kids, my friends, basically my life. I also realised that had been the last 10 years. At that moment I wanted to quit, and almost did," the singer wrote.
Announcing that streaming services had allowed him to take a more spontaneous, reactionary approach to releasing music, Tedder told fans that the band would be dropping songs at random intervals throughout the year instead of following the usual album model. "We are in some dark times, we wanna make some lifted music that helps people feel happy. Feel connected, feel human, and love each other as much as possible," the frontman's letter continued.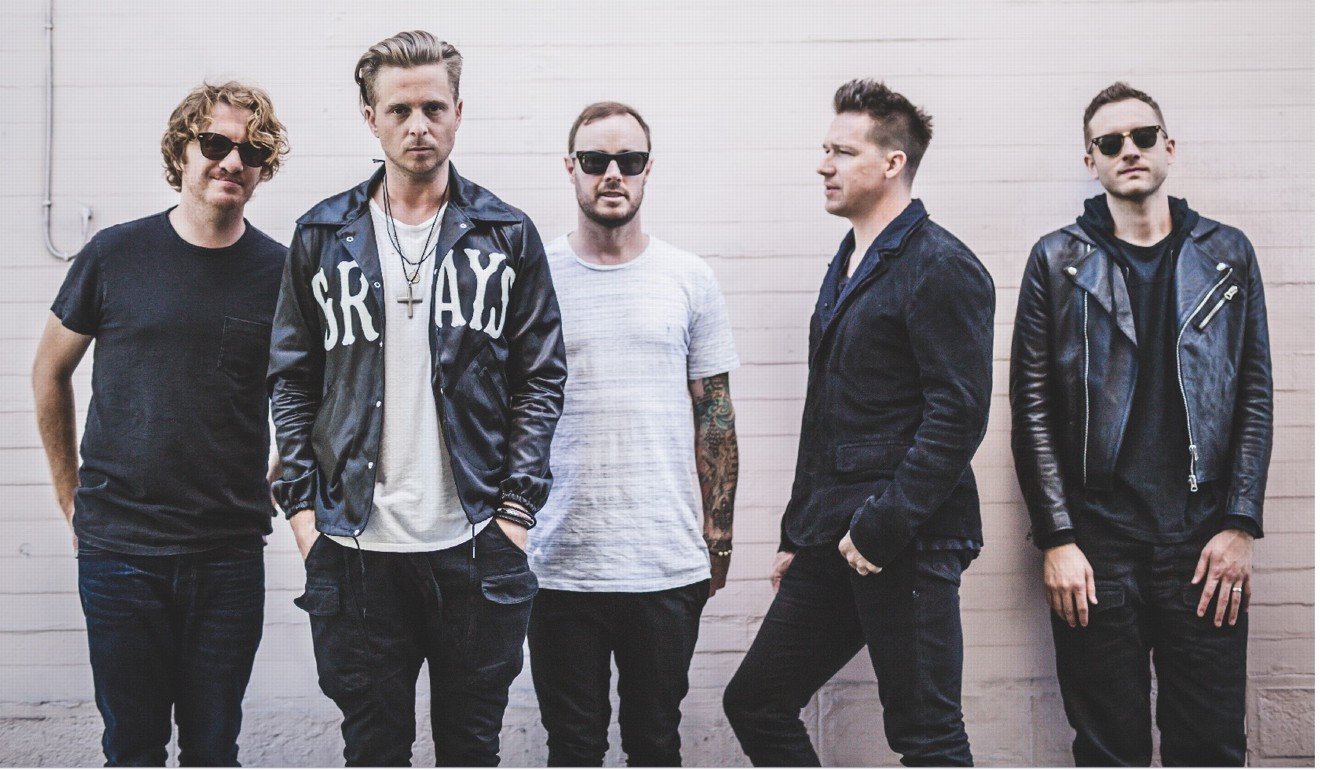 The response from fans was more overwhelming than Tedder could have anticipated; the post garnered almost 45,000 reactions, 3,000 shares, and nearly 4,000 comments of encouragement from fans. "I didn't count on it going viral like it did," he says. "The support has been incredible."
Over a career spanning 15 years, Tedder has become adept at harnessing emotions and crafting them into perfectly poised pop songs. However, he is no stranger to confessional outpourings from his fans, who tell him how much his music means to them. He recalls two recent incidents where strangers revealed how OneRepublic songs affected them in profound ways.
"Two days ago, I had somebody tell me that they were in hospital after trying to commit suicide and one of our songs came on and became their mantra and theme for getting better. He was shaking when he told me. He said he played it over and over for days while he was recovering in hospital," he says.
"And this morning, a guy was driving me to the airport in Salt Lake City and asked if I was the lead singer of OneRepublic. He said, 'I want you to know that your song Stop and Stare is what made me quit drinking. I was a raging alcoholic and my life was going nowhere. That song lifted me out of alcoholism and I listened to it 30 times a day for six months. Now I've been sober for eight years. That song saved me.'"
Touring the previous album may have left Tedder "hating life", as he confessed on Facebook, but he has always had a soft spot for Hong Kong, and can't wait to be back in the city. Talking to the Post as the band prepared to play the last gigs of their US tour, Tedder said he was eager to get back to Asia – even requesting an earlier flight to Hong Kong so he could devour as many sights as possible during a short stay.
"We're going to hit the ground running. I plan on walking all over the city for a couple of days. I want to eat at a bunch of restaurants, see lots of things, take some boats, do some shopping, take in all the sights."
While here, the singer will also have his eyes peeled for another unique souvenir to remind him of one of his favourite cities after scoring some "super rare" trainers last time he was in town.
"Believe me, a lot of cities aren't worth remembering!" he laughs. "But Hong Kong, like London, Paris, Moscow, New York, San Francisco, is one of those cities you want something to remember [it] by. I'm creating a list of all the things I want to do there – like finding some limited-supply shoes or jackets. Something to remember Hong Kong."
OneRepublic, Sep 19, 8pm, AsiaWorld-Expo, Hong Kong International Airport, Lantau, HK$688, HK$888, HK Ticketing
This article appeared in the South China Morning Post print edition as: Frontman reflects on career of more hits than misses