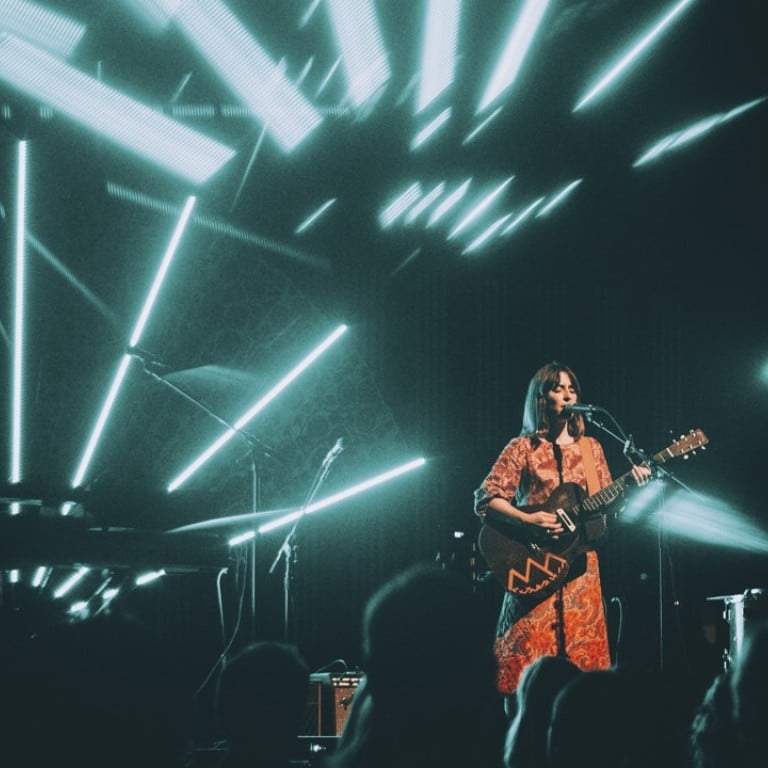 Clockenflap headliner Feist on her Hong Kong debut, Apple and a new musical direction
Canadian singer-songwriter Lesley Feist had a string of folk-pop hits in the noughties, but her latest album is a darker, angry reflection of her state of mind. The contrast will make her Clockenflap performance a compelling one
Clockenflap headliner Feist was once the queen of "twee", the breathy brand of shy and delicate indie. Her string of hits through the noughties were gentle enough to win her pop fans, but sufficiently arch to get her pigeonholed in the alternative camp. It was melodic music with an edge, arty but undeniably safe.
Not any more. After six years in the shadows, during which the Canadian singer-songwriter is said to have gone through a break-up and breakdown, Lesley Feist returned earlier this year with Pleasure, an album so removed from her folk-pop heyday as to sound like a completely different artist.
Pleasure is a collection of bitter songs that sit awkwardly beside the warm jauntiness of her hits from the past decade, promising to make her headline appearance on Friday night at Clockenflap festival one of the most compelling of the event.
"Each album feels like a reflection of my state of mind and state of heart at the time I make it," she responds in opaque style when questioned by the Post on what brought about such a turnaround. "Pleasure was as true to that reflection as the past albums have been."
Feist sat out the start of the new decade after spending the previous few years in a near-giddy whirl of pop success. Her single 1234 was an earworm assault on the charts in 2007, followed by two acclaimed albums and mega sales for her next three CDs. They established her as the Cat Power it was safe to like – a purveyor of intelligent but warm and approachable pop whose meticulously choreographed ensemble dance videos portrayed a joyous free spirit.
In contrast to the music she was raised on – thrash metal – her act was wholesome and jubilant. Even her grungy past of playing in punk bands and sharing a home with shock-rocker Peaches couldn't tarnish her indie-pop princess image.
After touring for her fifth album Metals, fatigue set in and a darkness began to shroud her. Her hiatus seems to have been emotionally gruelling. In interviews, she's only dropped hints at what those years inflicted. Instead she's let Pleasure do the talking.
Brimming with angsty, brittle tracks such as I Wish I Didn't Miss You and Lost Dreams, the album sees Feist revealing a fractured soul, battered by lost love and bitter disappointment. The former track is her angriest yet, with the snarling line "how could I live if you're still alive?" setting the album's tone.
In juxtaposition to its title, Pleasure is a difficult listen. Gone is the delicate folk whimsy of 1234 and in has come raw, stark autobiography. Musically too, the record is challenging: her lost-little-girl vocals of old can still be found in places but this time they're welded to taut, sometimes jarring tracks.
Much has been made of the fact that the album was recorded as the musician's 40th birthday loomed, and there is a definite feeling that success has proven to be an unkept promise. If there is any warmth it's in the sense of relief that the worst has passed, a point she guardedly alludes to.
"The word Pleasure felt aspirational," she says. "It felt that I'd found a key to facing a mountain by not looking up, something like watching each step and calling the mountain just a little walk."
In Feist's take-no-prisoners interview responses there's little sentimentalising over the past and she gives the impression she's taken stock of a lot of things in life, and that she has jettisoned a lot of baggage.
On her fall from the throne of twee, she's terse ("glad to say I've never heard that" word used in such a way, she parries, dismissively) and on her time out of the sun she's cryptic (I was "sat at home watching my tomatoes grow – it was an appropriate ballast to try and find some balance after so much movement").
Even 1234, a song and video so infectiously sweet they were licensed to promote Apple's candy-coloured iPods, comes in for a Feist newspeak reassessment.
"I was quite naive about 1234 and the Apple association," she explains. "At the time I felt grateful for a chance to arrive, long after we shot it, for the video to be seen. My love of that experience with those dancers and with [director] Patrick Daughters motivated me to say yes to what felt like a benign and music-focused object that would give the video a possibility to have its moment in the sun.
"That was a long time ago and for sure my judgment would be different now."
At least she's upbeat about her long-standing association with Canadian supergroup Broken Social Scene, who've just released an album Thunder. And she's also looking forward to pastures new with her first visit to Hong Kong.
"I've played in Indonesia and Singapore in the past and have visited Thailand. I feel fascinated and honoured to have the chance to come back, and to add Hong Kong to the list."
Clockenflap, Nov 17 to 19, Central Harbourfront
HK$930 (Friday general admission) to HK$1,720 (three-day general admission), Ticketflap
This article appeared in the South China Morning Post print edition as: time is ripe for her bitter suite return