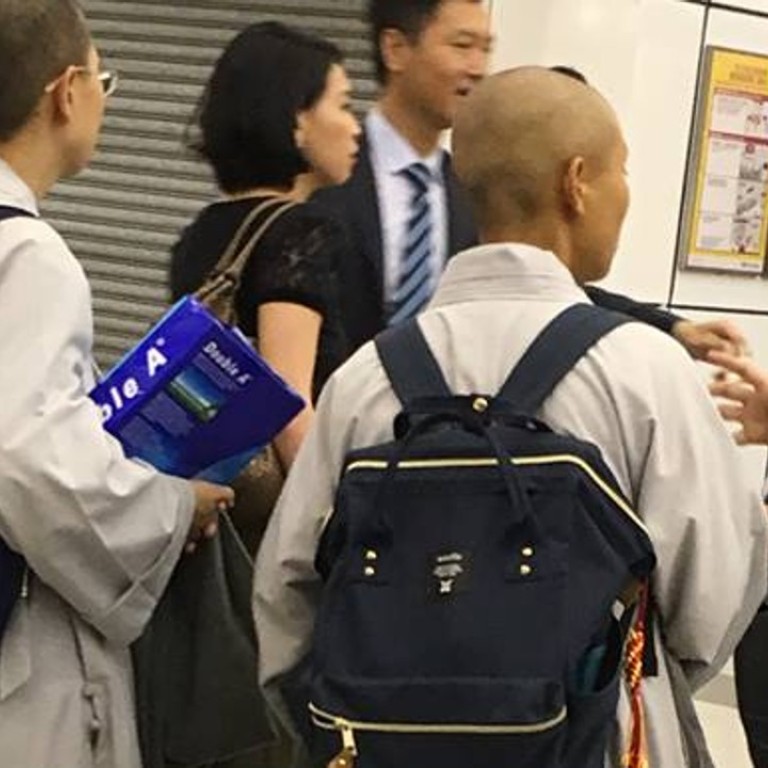 Viral photo nirvana: how a picture of monks in Hong Kong went global
The story behind a photo of monks in Hong Kong toting Nirvana bags that's created a viral internet sensation
It was a photo snapped quickly on his phone while walking to the train – now Hongkonger Gaz Flint finds he has created a viral sensation that has taken off on Facebook, Instagram and Reddit.
"I'd just been to meet a friend in Tai Po and was headed towards the MTR to go home and I saw this group of monks with these bags and I thought it was quite funny. I'm not sure if they were aware of the rock band Nirvana, or if they thought it meant a sense of enlightenment the Buddhists want to achieve, and didn't know that symbol was for the band. I took the photo," he says.
"Later on I was wondering whether I should share it on Facebook. I showed it to a few friends, and they thought it was hilarious and said I had to share it. I posted it on Facebook with the caption 'Wrong Nirvana, guys' and it instantly got loads of likes."
It was when someone took his photo and posted it to Reddit – and Courtney Love, the widow of Nirvana frontman Kurt Cobain, posted it to her own Facebook account – that his photo took off around the world.
"I spoke to the person who put it on Reddit and they apologised, they didn't want to take credit for the photo, so they took it down. Since then I've seen it pop up everywhere. Someone brought it to my attention that even Courtney Love had shared it," he says.
What's it like being the creator of a viral sensation?
"Strange, very strange. I don't know how to describe it. I just keep seeing it everywhere, and my Facebook feed's just going nuts. Every time I check Facebook I've got like 20 updates of people saying 'I've just seen your photo here' or commenting on it. I really did not expect it," he says. But is he annoyed at having his photo credit being removed?
"A little bit. I guess it's just nice to have a photo that I took out there and so many people enjoying it. I messaged Courtney Love to ask if she will credit me on the photo … I've not got a response yet," he replies.
When not teaching English in Hong Kong, Flint is also a musician – and for the record, he attests that yes, he's also a devotee of the Seattle three-piece that exploded upon the world at the dawn of the 1990s.
"I am a big Nirvana fan. I was when I was a teenager. I listened to Nirvana so much when I was a teenager that I don't think I need to listen to them ever again. I did used to have that symbol on a T-shirt, too."