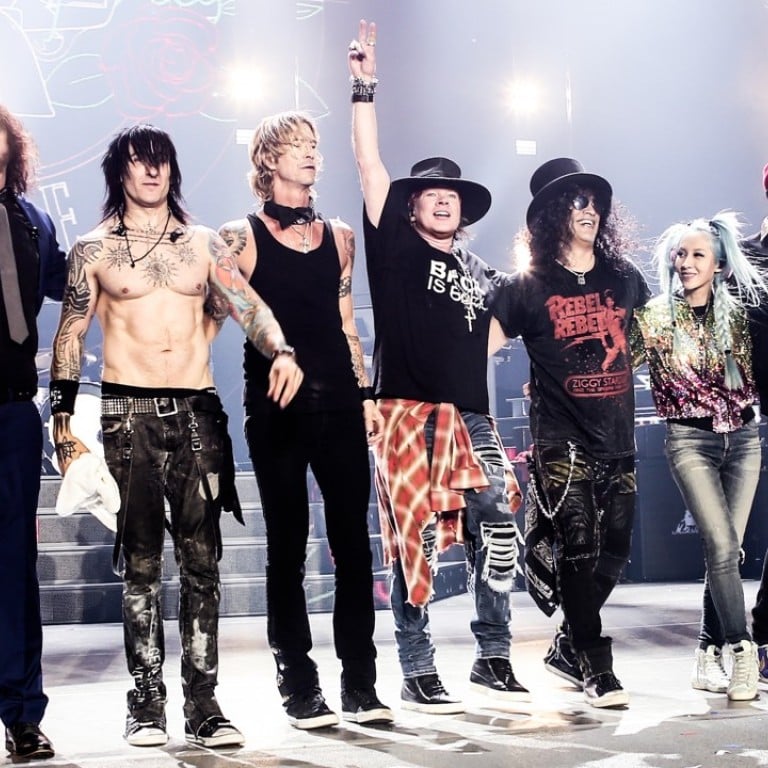 Five of the best Guns N' Roses songs – the '80s revisited
One of the most influential rock acts in the world, Gun N' Roses have written a ridiculous number of legendary songs
Which has surpassed one billion views on YouTube?
It has only been just over a week since Clockenflap finished, but Hong Kong music fans don't have to wait long for their next big concert fix as rockers Guns N' Roses perform in the city tomorrow and Wednesday night.
Formed in Los Angeles, California, in 1985, the band backboned by singer Axl Rose and lead guitarist Slash are one of the most influential rock acts in the world, with their legendary songs matched by the band's amazing live performances.
Their 1987 debut album, "Appetite for Destruction", became the bestselling US debut ever and has sold over 30 million copies globally. Their "Use Your Illusion I" and "Use Your Illusion II" albums, released on the same day in 1991, occupied the top two spots of the US Billboard albums chart upon their release, and have both since gone seven times platinum
Hong Kong diehards will need no introduction to their material, but here are five of their best songs to get you in the mood for two nights of unrivalled hard rock in the city.
Sweet Child O' Mine
A rock anthem if ever there was one. Sweet Child O' Mine was the song that rocketed the band into the big time after its release in June 1988, but remarkably it was only the third single from "Appetite for Destruction" after It's So Easy and Welcome To The Jungle both flopped.
Despite being the band's most recognisable song over the years, not everyone was a fan. According to the 2012 autobiography of the band's bass guitarist Duff McKagan, Slash always considered it the worst Guns N' Roses song.
Mr. Brownstone
Mr Brownstone is another name for heroin – the drug that nearly destroyed the band – and this song was written about its effects on them.
While opening for The Rolling Stones at a show in Los Angeles on October 18, 1989, singer Rose famously said on stage: "Unless certain people in this band get their s**t together, these will be the last Guns N' Roses shows you'll f***ing ever see. 'Cause I'm tired of too many people in this organisation dancing with Mr Goddamn Brownstone."
It apparently got the attention of his bandmates, as Slash, guitarist Izzy Stradlin and drummer Steve Adler promised to clean up.
Welcome to the Jungle
This was the song that injected the band's unbridled and unstoppable attitude into the burgeoning Los Angeles rock scene, and eventually the rest of the world.
The song is about Los Angeles, and highlights the dark side of the city many people encounter when they go there to pursue fame and fortune.
When it was released as a single in 1987, it charted in England but flopped in America. It only became a US hit when they re-released it in October 1988 after Sweet Child O' Mine made it to No 1.
November Rain
As far as rock ballads go this one is up there with the best, so the cigarette lighters and torches on fans' mobile phones will be out in force during this number.
A 1992 single from "Use Your Illusion I", the power anthem broke into the Billboard top 10 and immediately entered music trivia lore as the longest song to make that list, with an original running time of more than 20 minutes.
In June this year the video surpassed one billion views on YouTube, making it the first music video released in the 20th century – and first created pre-YouTube – to join the exclusive "billion club".
Live and Let Die ­
Also from "Use Your Illusion I", Live and Let Die was originally recorded by Paul McCartney and Wings and released in 1973 as the theme song to the James Bond movie of the same name.
Rose has often referred to Live and Let Die as Guns N' Roses' Welcome to the Jungle 2, and it's no surprise as the frenetic original song was perfect material for them to ramp up to their usual unrivalled standards.
The song has been a staple of Guns N' Roses live shows since 1991 and will be a guaranteed favourite in Hong Kong.
Guns N' Roses, Nov 20-21, 7.30pm, AsiaWorld-Expo, Hong Kong International Airport, Lantau, tickets from HK$688