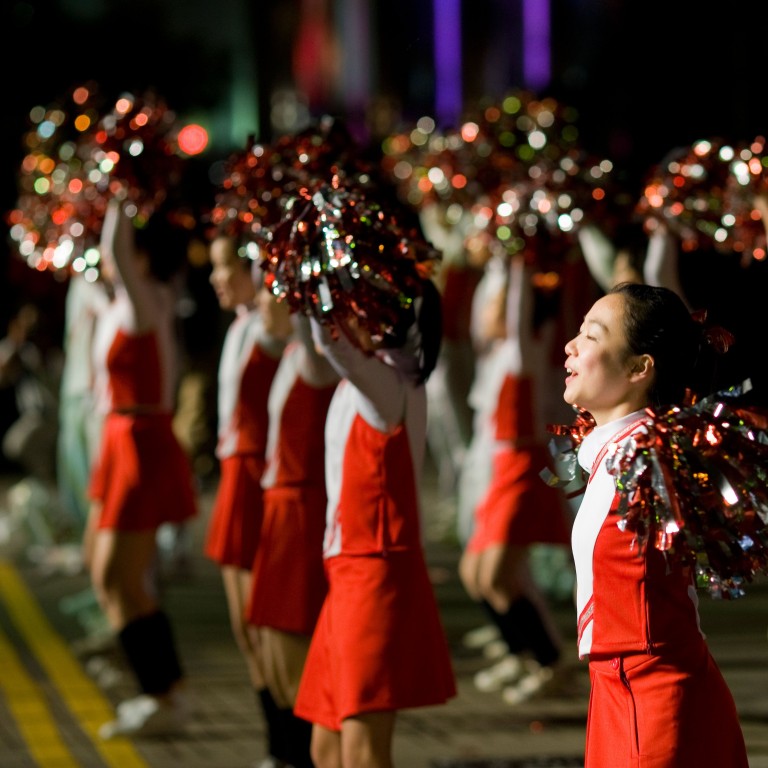 Eight classic Chinese New Year songs to get you in the mood and capture the holiday spirit
From Andy Lau to the Twins, from Sam Hui to Adam Cheng and Liza Wang Ming-chun, here are some traditional new year songs
Common themes are luck and prosperity, and karma and mahjong
Chinese New Year just wouldn't be the same without its traditional songs. For decades, auspicious pop songs resounding with Chinese instruments have been spreading joy and wishing people good health and wealth.
Many of these songs were released in the 1970s and '80s, when Canto-pop began to take off and Hong Kong's economic prosperity increased. The tunes are still widely heard today, particularly in Hong Kong's supermarkets and shopping malls.
Here are eight classics which capture the festive spirit.
Joyful Years
Written in 1977 by Kwan Sing-yau, Joyful Years was part of a Lunar New Year compilation originally sung by Adam Cheng Siu-chau and Liza Wang Ming-chun. The song is widely recognised as the top festive classic because of its catchy melody and auspicious lyrics wishing everyone a happy year ahead.
Fortune God Has Arrived
To many Hong Kong people, great wealth equals happiness – that's literally the meaning of the New Year greeting Kung hei fat choi. Canto-pop's "God of Songs" Sam Hui koon-kit understands the meaning of the saying and turned it into one of Hong Kong's favourite Chinese New Year songs in 1978. While Hui's catchy tune makes this a natural sing-a-long, Peter Lai's lyrics teach us that the Fortune God doesn't just want us to make money – having a good heart brings us good karma.
Spring Blossoms
Also written by Kwan Sing-yau in 1977, Spring Blossoms is a rather poetic song for Lunar New Year, as its lyrics deal with the happiness and auspicious omens brought by flowers blossoming during spring. The song was originally also sung by Cheng and Wang, but it has been covered by many other singers over the years.
Bless You
Written by Canto-pop's most important songwriting duo, the late lyricist James Wong Jum-sum and composer Joseph Koo Kar-fai breathed some fresh air into Chinese New Year with their 1980 offering Bless You, a modern festive song originally sung by Jenny Tseng.
Characterised by a lively melody, the song told Hongkongers that happiness is a state of mind. Here is a version performed by some of Canto-pop's biggest names in the 1990s.
Prosperity
One of Hong Kong's most famous feng shui masters, Mak Ling-ling is featured in this hip-hop track performed by local rap duo Fama. Originally a theme song for a 2007 TV show, Prosperity is not the typical Chinese New Year festive song, but it captures the spirit of people's curiosity about what the future holds.
You Are the Reddest
Red is a highly symbolic colour in Chinese culture. It is related not just to good luck, but also popularity, fortune and fame. Lyricist Wyman Wong explains this in detail in this 2002 song composed by Ronald Ng and performed by pop duo Twins (Gillian Chung Yan-tung and Charlene Choi Chuek-yin). The song's music video features the late Hong Kong icon Leslie Cheung Kwok-wing as the Twins' "grand uncle" – this was his last appearance in a music video.
Burst with Joy
Originally a cover of a Japanese song by performed Mayumi Itsuwa, Paula Tsui Siu-fung's 1979 rendition has become one of the most iconic festive Canto-pop songs. The message is simple: seize the moment and celebrate happiness, which makes it appropriate for all occasions, not just Chinese New Year. The song was given new life in recent years when it became a song to celebrate the pro-establishment camp's loss in elections.
Fat Choi Spirit
Chinese New Year wouldn't be complete without a few games of mahjong. Johnnie To Kei-fung and Wai Ka-fai's 2002 comedy Fat Choi Spirit, which centres around this traditional game, is one of the most beloved festive films.
Its theme song, performed by Andy Lau Tak-wah, not only deals with people's passion for mahjong, but also the right attitude to take at the table: mahjong is not about gambling, but a game that trains the mind and teaches patience.