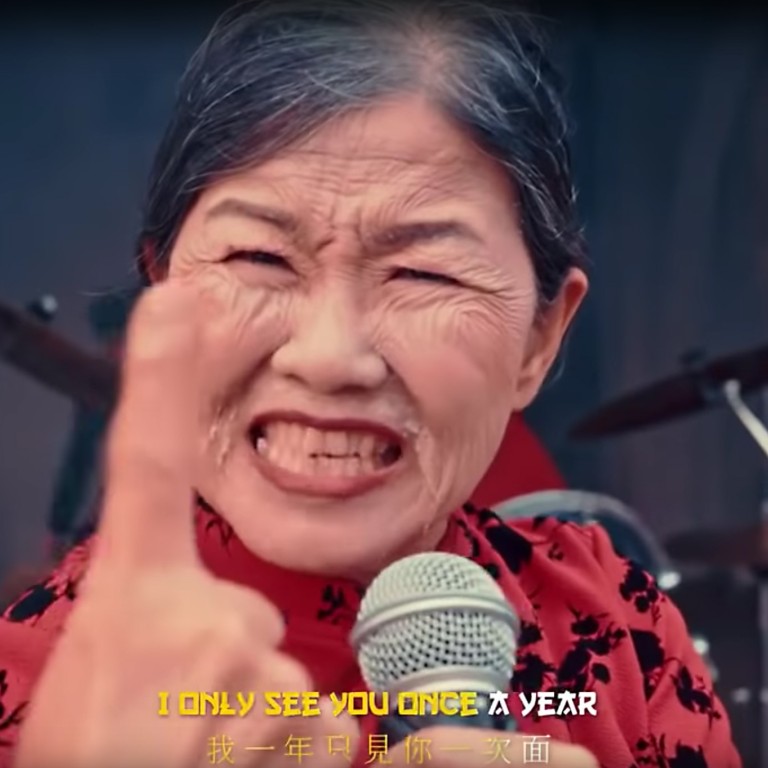 Harbouring any Chinese New Year guilt? This hard core grandma will make sure you never miss a family gathering
Who said older people can't rock out? A Malaysian film collective has created a hilarious spoof metal music video featuring a band of rocking retirees
Their message is to remind youngsters to show respect to their elders
Crank up the volume, start a mosh pit and get ready to open a dark portal to the hottest new metal band on the scene, fronted by … someone's grandma.
Did you make the grave mistake of forgetting to visit your dear old amah [grandma in Hokkien] this year? If so, she's coming after you with searing put-downs in the song Please Come Back Home.
Malaysian film collective Grim Film has welcomed in the Year of the Pig with their hilarious spoof metal music video featuring a band of rocking retirees  scolding youngsters for not showing respect to their elders and visiting as often as they should.
The clip, titled The Most Emotional Chinese New Year, opens with a group of millennials sitting around a dinner table and invoking the wrath of their grandmother after complaining about the "very bad" food that comes with the obligatory visit to relatives every year. A moment of awkward silence follows after a stony-faced grandma places a plate of braised mushrooms on the table – and then all hell breaks loose.
"I am your grandma/ I only see you once a year/ I know you'd rather be out with your friends/ But now you're mine 'til I say it ends," the elderly singer screams, as a grandfather beats out double kick-drum rhythms alongside chugging guitar riffs from two aunties.
Written by Grim Film founder Jared Lee and metal producer Nash Muhandes, Please Come Back Home is actually performed by vocalists Eunice Yin and Esty Richard with the Malaysian industrial metal group Fracture.
Released to coincide with Chinese New Year, the video had users on Chinese social media bent double with laughter, with many commending Grim Film's attempt to lampoon the nagging that will be familiar to those who grew up in an Asian household. "Ah boy! Ah girl! When you getting married? When are you going to make lots of babies?" the singer roars, demanding her grandkids serve her tea before they get their traditional gifts of money.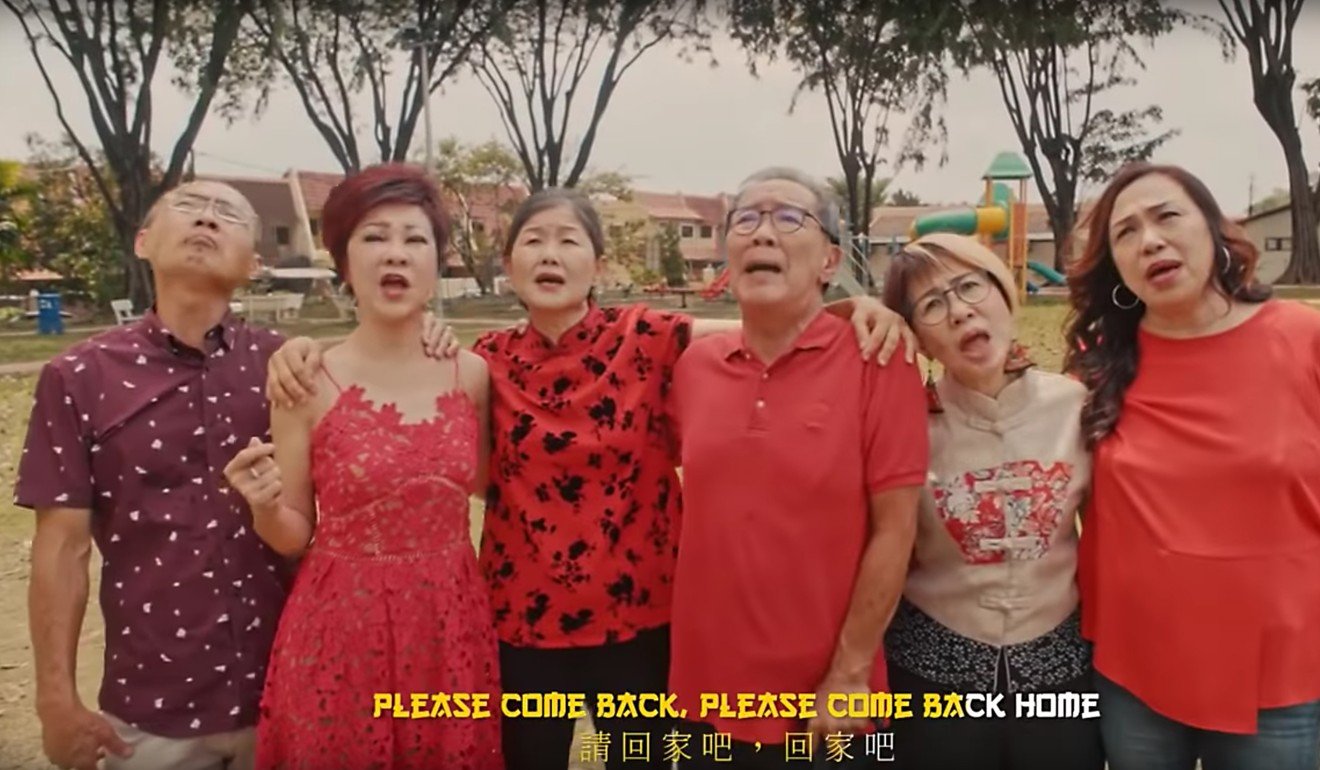 "The inspiration for the storyline comes from the years of repeated lines my mum and aunties [would say], especially during reunion dinners, or Lunar New Year. I thought, 'Why not make fun of my favourite music genre while amplifying the things our aunts, mother and grandmother like to nag about?'" Lee says.
The clip's cast includes Patrick Teoh, an established radio personality in Malaysia, as the "grandpa" on the drums, and actress Kitty See Geok-ping, who plays the vocalist.
To save money, Lee roped in his own mother to play guitar along with a family friend on bass. As it turns out, the actors were as surprised by the finished clip as viewers, Lee says. "Some of the cast didn't know what kind of Chinese New Year music we were making until the video was out. Their reactions were priceless," he says.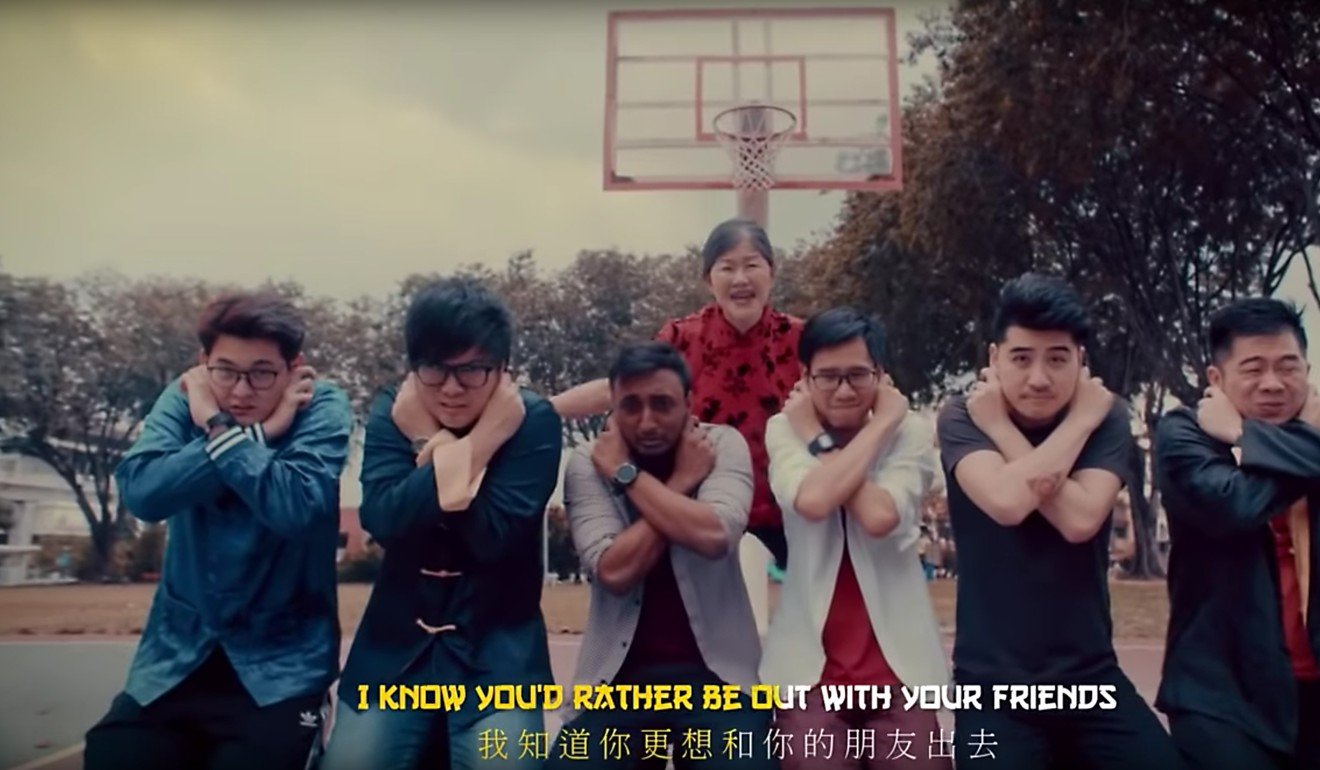 Grim Film has uploaded comedy sketch clips and short films to YouTube since 2011, amassing more than 180,000 followers. Their latest video alone has racked up nearly 50,000 Facebook views.
Despite its funny nature, the clip has stirred up emotional responses from viewers, some of whom admitted that they don't pay enough attention to relatives during festive periods. "I am Chinese, but I haven't celebrated Spring Festival in my hometown for four years, I'm really missing my grandparents," said Weibo user Yuxin Liu. Another commented: "So emotional there's tears in my eyes [sic]."
Lee hopes that his video, which has gone viral in Malaysia, China and Japan, will leave viewers a little wiser at the end. "I hope that people will not just look at the entertainment part of the video, but ponder on the messages within," he says.