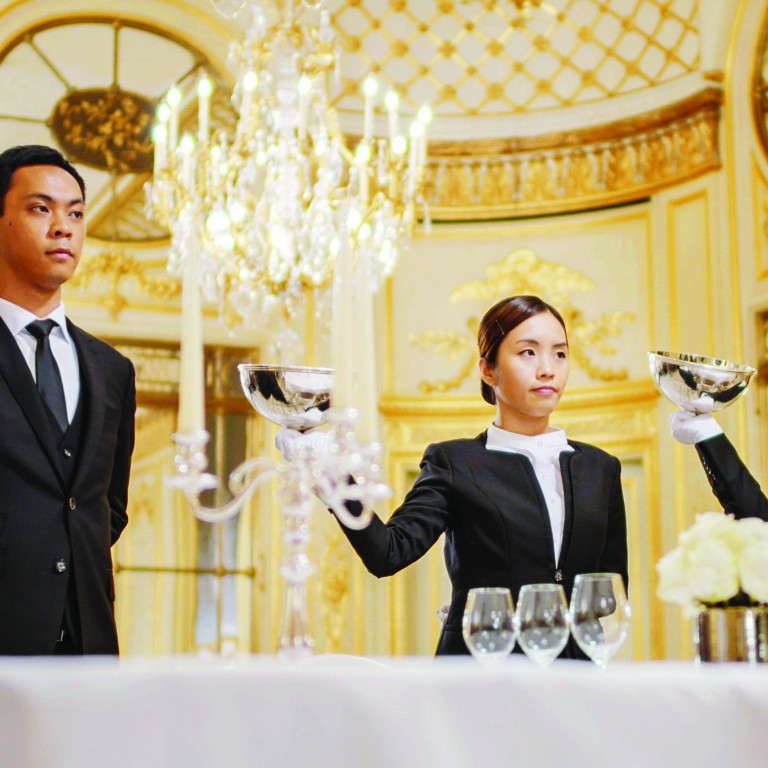 Macau resorts are placing their bets on butlers in a bid to keep guests coming back
Butlers from Macau's resorts are being sent to special training academies to help improve service standards
It's hard to stand out these days in Macau, especially if you're one of an ever-increasing number of resorts staging grand openings every other month. Billions have been spent trying to lure visitors to choose one glittering resort over the next. But is it working? What is it that will keep visitors returning time and again? 
Opinion is shifting on how to best win customers. Now it's not so much about how many gaming tables or opulent hotel suites you can offer, but the standard of service you can provide. 
"With all these new resorts they need to separate themselves from the herd," says Christopher Noble, director of training at The International Butler Academy in China. "Good service will ultimately set them apart from others. I can play baccarat anywhere I want, it doesn't matter where I go, but if the service is really good then that's the clincher." 
Founded in The Netherlands, The International Butler Academy trains potential butlers at the academy's Chinese school in Chengdu, Sichuan province. It opened in July 2014 to cater to the "huge increase" in the super-rich on the mainland, many of whom yearn for royalty-standard service.
"If you walk into a restaurant in America or Europe you will, for the most part, see a much different standard of service to that in China," Noble says. "In China they don't serve with the same passion, energy or commitment – it's just not there and so here at the academy we try to instil that." 
But times are changing, at least in Macau, and with more resorts hoping to attract families and cater to guests outside of the casino gamblers, the emphasis is shifting towards making good service the main selling point.
One such hotel is The St Regis Macao that opened last December. Unusually, for Macau, the hotel does not have a casino but is instead making its signature butler service the focus.
"For St Regis, the butlers are the face of the hotel," says head butler Tony Sharp. "It differs from other hotels where you might see a butler service that's only exclusively available in a club lounge. At St Regis, the butler team is available to every guest in the hotel via a direct button to our butler service desk."
The butler service isn't dedicated in the sense that every guest has their own butler, but every guest will have access to the butler service and it's always there, "it's omnipresent", Sharp says. "It depends on what the guest wants and that's the service we deliver."
It seems a dedicated butler service is arriving just in time to accommodate China's growing number of affluent families for whom service is already a feature in their lives.
"Now you've got generation luxury – people who grew up with money and are independently wealthy and they aspire to have a luxurious lifestyle every day," Sharp says. "These are people who have grown up with someone being of service to them in their household, predominantly a housemaid or driver."
Sharp regularly takes his butler team to visit luxury stores in Macau to familiarise them as to what brands and items there are and what type of people are wearing them.
"You see people who might be wearing a certain watch that's worth six figures then you need to treat that person slightly different," he says. "We're training our butlers to be aware of these things."
For those seeking the ultimate in high-end service, The 13, a new luxury lifestyle destination scheduled to open on Macau's Cotai Strip later this year, is going all out to ensure it offers guests the epitome of world-class service. 
Earlier this year it flew butlers to the famous MCM Palace Consultants in Paris, where they were trained to the highest standards in service, etiquette and entertaining.
"We want to redefine what a luxury experience means to our guests," says Stephen Hung, joint-chairman of The 13. "We are going to exceptional lengths to ensure staff have the highest skills and expertise required. The Butler training in Paris is an example of how we're committed to creating, in Macau, one of the world's leading luxury brands."
Meanwhile, The St Regis Macao is starting out with 40 butlers, which head butler Tony Sharp has personally reviewed and picked himself. A process he describes as "rewarding" as he is able to instil best practices gained over many years in the industry. 
"The people are the soul of the place," he says. "Serving a cup of coffee, unpacking or packing someone's bag, pressing a shirt - it's not that - it's thinking, it's a smile as you walk past, remembering a guest. A guest is a name not a number."
But while Macau is making a concerted effort and investing money in improving service standards, critics believe that it has to be genuine or it will fail. 
"You have to find the people that genuinely want to serve," Noble says. "If your heart is not into it - that will eventually show. You can go into casinos, hotels, restaurants and you can tell if the ownership is truly behind it and investing in service standards." 
Noble believes that dedication from the top down is the most important thing, not just lip service from management.
"Good service is in the way someone walks, how they talk, how they greet people – do they smile, or do they actually smile with the eyes – are they being sincere?" says Noble.
"If I order something and they just place it down on the table and walk away without doing it with grace, style or elegance. That's what you see a lot in China. I can order a beverage and have it served to me in a timely manner, but also I notice that they're just not interested. They need to start training their staff in real service because to survive in Macau, of all places, you need to have good service by this point."