Macau
Get more with myNEWS
A personalised news feed of stories that matter to you
Learn more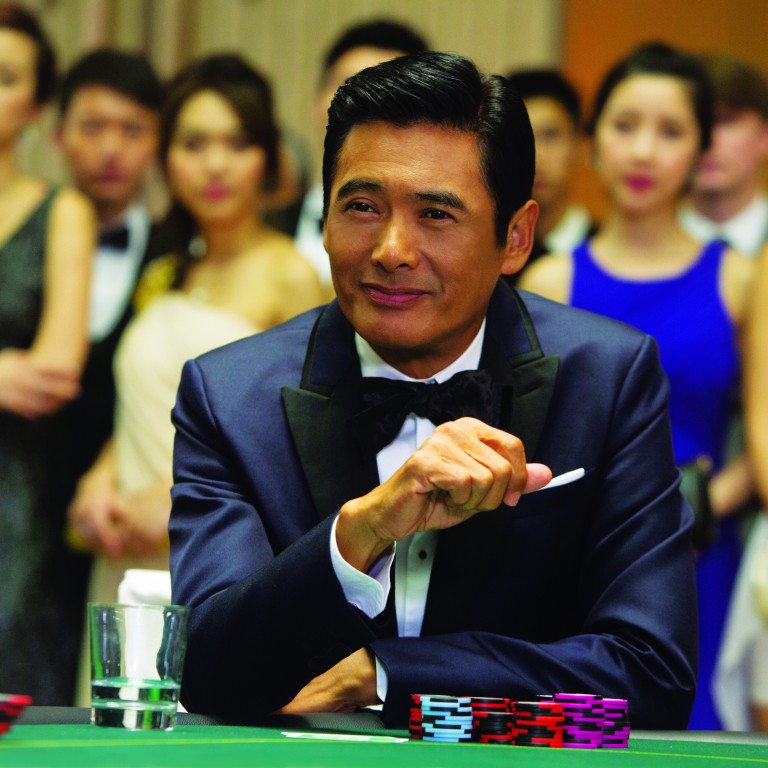 Why Macau is becoming a prime film location for Hollywood actors and the world's top directors
With growing popularity as a movie location for international filmmakers, Macau is on track to become the Hollywood of the Far East
What's one thing that Indiana Jones, Johnny English and James Bond all have in common? They have all been to Macau – having ridden the old turbo cat, taken a taxi to the Grand Lisboa, or hung out in local clubs.
Macau has been a popular location for international filmmakers since the beginning of the 20th century. Once a mere movie backdrop, this gambling centre has in recent years strived to become the Hollywood of the Far East.
In the old days, Macau's exotic glamour and the intrigue of its casinos and gangs were the greatest pulling factors. The city made its first appearance in Western cinema with the French film, Macau, L'Enfer du Jeu, which was later released in 1942 as Gambling Hell, after scenes with the banned leading actor were cut.
However, Macau shot to fame as a Hollywood moviemaking centre with the 1974 James Bond film, The Man with the Golden Gun.
One of Macau's biggest draws has been its flexibility. Indiana Jones and the Temple of Doom (1984) and In the Mood for Love (2000) used the city as a stand-in backdrop for stories that were set in Shanghai and Beijing.
As Macau has enjoyed a more substantial role in actual story lines, such as in Isabella (2006) and Unbeatable (2013), the city has also proved to be filmmaker-friendly.
About 110 filming applications are filed annually, according to the Department for the Promotion of Cultural and Creative Industries of the Cultural Affairs Bureau, which issues filming licenses in Macau. Hong Kong producers make up the largest portion, followed by the mainland, Taiwan and Japan.
"Architecture is one of Macau's biggest strengths as a filming location," says acting department chief Leong Ieng-va. "The city is small, but we have 22 buildings and eight public spaces that are named Unesco World Heritage [Sites]. You will be able to find Chinese temples, Western churches, Macanese residential buildings and modern commercial establishments all in one place."
Macau has an alluring atmosphere, film directors say. Dante Lam of Unbeatable has said he loved Macau's "small-town feeling", while Choi Dong-hoon, director of Korean heist movie The Thieves (2012), remarked that he liked how the city's "establishments look ordinary from [the] outside but stunning when you're [inside]".
One of the locations Choi chose for The Thieves was the SanVa Hotel at Rua de Felicidade. The former private club and hotel dates back to the 1930s, and has a distinct retro mood. Crowds flocked in after Tony Leung Chiu-wai and Zhang Ziyi filmed 2046 (2004), and Leong Lok-sze filmed Isabella, according to the hotel's manager, Anna Yip.
The hotel and its district have a nostalgic ambience that is hard to find elsewhere, Yip says. "We also have strong soft power," she notes. "The tourism board is pushing hard on the East Hollywood image during overseas promotion. With support like road closures and location recommendations, filmmakers just love to come here."
The city is going all out to earn this "East Hollywood" tagline, and the strongest push is coming from the hospitality sector. Grand Lisboa, Venetian Macao, City of Dreams and MGM Macau, which recently hosted Jackie Chan and Fan Bing-bing for the filming of action-comedy Skiptrace, are frequent venues for Hong Kong and Hollywood productions.
"Visuals reach far and deep," says Scott Messinger, senior vice-president of marketing for Sands China. "Having the Venetian Macao featured in major films helps raise the profile of Macau as a world centre of tourism and leisure."
Besides providing the locations, the resort also offers a range of initiatives, including site visits, hospitality, sponsorship and filming coordination. Movies that have been filmed there so far include From Vegas to Macau and the Bollywood movie Housefull. 
Resorts such as the Venetian Macao are also keen to host star-studded film-related ceremonies, such as the Asia-Pacific Film Festival, Asian Film Awards and the Huading Awards.
Recently, Hollywood glamour is more vigorously promoted by Melco Crown Entertainment, who unveiled their cinematically themed resort, Studio City, last October.
With a fully operational TV broadcast studio and retail areas modelled after film sets, the resort promises to offer "movie-star treatment" to its guests. The company also tapped Hollywood icons Leonardo DiCaprio, Robert De Niro and Brad Pitt to appear in a promotional movie under the direction of Martin Scorsese.
Reportedly the most expensive corporate film ever made, with a rumoured budget of about US$70 million, The Audition premiered at the resort's grand opening. If Melco Crown Entertainment and Macau's other tourism heavyweights manage to create the next Hollywood, then the film's opening line could prove particularly apt: "It began in Macau."