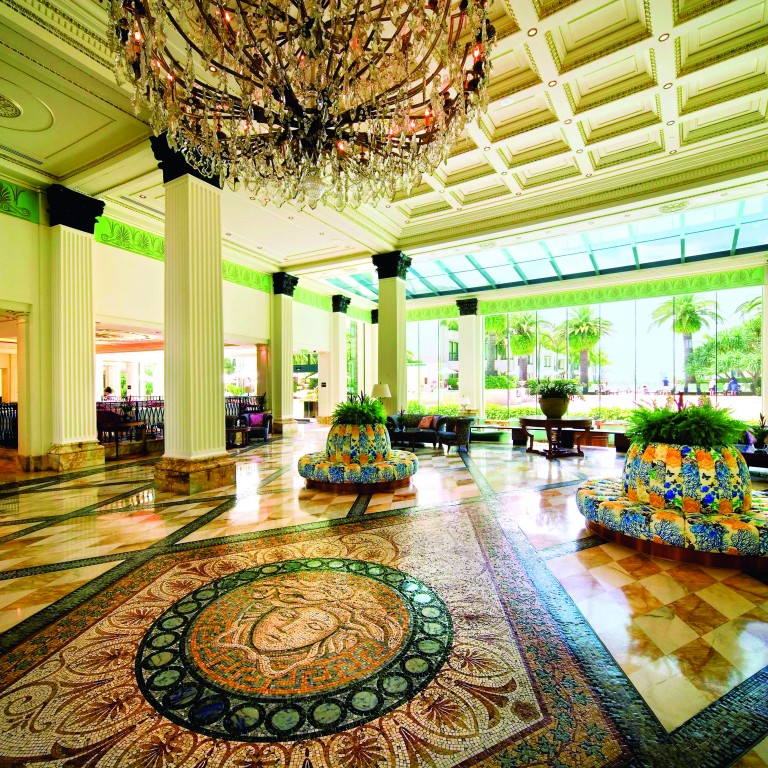 Designers Karl Lagerfeld and Donatella Versace to open hotels in Macau
Lagerfeld and Versace's ventures in Macau enhance the emotional experience that can only be provided by a global fashion house
Next year, if all goes to plan, visitors to Macau will be able to take their pick from any number of top-flight hotels – including Wynn Palace, The Parisian and the ultra-luxurious The 13 – but two in particular are likely to stand out.
Karl Lagerfeld – the creative director of Chanel and Fendi, and one of the most recognised designers in the world – has chosen the city as the site for the first hotel to be designed entirely by him.
The same year, the Versace empire opens the doors to its first Palazzo Versace in Asia in the hopes of replicating the success of its hotels in Australia and Dubai.
Developments in the former Portuguese colony are keeping up with a wider trend in the luxury hospitality industry, whereby renowned designers are lending their names, reputations and aesthetic perspectives to hotels.
The first of these was the Palazzo Versace in 2000, followed by the Armani hotels in Dubai and Milan, and Bulgari hotels in Milan, London and Bali (soon to be followed by Bulgari hotels in Shanghai and Dubai).
It makes sense for a fashion brand to diversify into hotels; luxury houses have had their fiscal challenges, but travel is booming, says United States-based branding consultant Constance Dunn, author of Practical Glamour and extension branding instructor at the University of California, Santa Barbara. Ultimately, it's all about branding.
"While staying at the hotel, the consumer – and guest in this case – is completely immersed in the brand in question," Dunn says.
"This sensory lifestyle experience has the power to cleave a consumer to a brand more potently than a glitzy handbag or bespoke blazer ever could. Remember that branding is not about the object itself, but our feelings attached to it."
Smaller luxury houses such as Missoni and Moschino have established hotels in their own names. Ralph Lauren and Oscar de la Renta have also designed properties close to their own holiday homes to offer the kind of hospitality expected by a couture customer.
Designers are also collaborating on a smaller level, creating a room or two here and there: a suite at the St Regis in New York was fashioned according to the interior of Dior's Paris atelier, all soft dove grey interiors and sparkling tableware in the dining area (and, at US$8,500 a night, the cost of a dress or two from the venerated brand).
The St Regis continues that trend with the Bottega Veneta suites at its locations in Florence and Rome, while style icon Diane von Furstenberg spruced up 20 rooms at Claridge's in London, helpful given that's where she likes to stay when she's on the road.
Lagerfeld has lent his design skills to a number of hotel projects, including the recently unveiled Odyssey swimming pool at the Hotel Metropole Monte-Carlo that features a fresco-style installation portraying Ulysses' journey.
A more interesting dimension to the designer-hotel trend is how it is going beyond the big-name fashion empires.
Other more niche and independent names are starting to bring their vision to the hospitality industry, seeing it as a way to wear a different hat, employ a different skill set and have the property rest on its own laurels rather than because it has a household name attached.
Take George Gorrow, who may not have the name recognition of Michael Kors or Marc Jacobs, but is the co-founder of premium denim line Ksubi which is sold all over the world, including Lane Crawford and I.T in Hong Kong, and which has been worn by Nicole Richie and Miranda Kerr.
Gorrow is also co-designing an eyewear line with will.i.am, but his biggest project has been the creation of the 81-villa Bask Gili Meno Resort in Indonesia, a plush beachclub and villa resort set to open in early 2016 off the coast of Lombok.
"Building a strong hotel culture that's on par with the latest in fashion, design, music, art and food concepts is really what I'm trying to capture with Bask," Gorrow says. His closest cue: runway shows he's produced where performance, music, set design, fashion and art all collide.
"Everything is very approachable. It's about creating intimate moments and experiences and settings that work within the larger space, and then again on an even larger space – the island and the greater experience."
Similarly, a fashion designer who is a household name in her native Colombia and her adopted home of Miami, Silvia Tcherassi, has restored a 250-year-old colonial mansion in the heart of Cartagena, Colombia's Old City, and helped transform it into the seven-room uber-luxury Tcherassi Hotel + Spa set to open in the spring of 2016.
Still, certainly in this part of the world, the bigger the name, the bigger the fuss. Lagerfeld has been building up a portfolio of hotel collaborations but the Macau project – all 20 floors and 270 guestrooms – is the first that he will design fully.
Not only are the Lagerfeld and Versace projects seen as furthering Macau's reputation for blending East and West, but also as an important step in the brands' expansion in the region.
"Palazzo Versace will enrich Macau with a unique property aiming to provide an exclusive experience and become a destination within a destination," says Gian Giacomo Ferraris, CEO of Versace. "At the same time, Palazzo Versace Macau will be a prestigious and powerful window in a priority market for us. I believe that this project will be extremely positive for the Versace brand."
No doubt, when the Karl Lagerfeld and Versace hotels open as part of Lisboa Palace, there will be Michelin chefs galore, lush Chinoiserie elements, and even a wedding pavilion.
Luxury brands, Dunn explains, are in the business of feeding their consumers' emotional and self-expressive desires. The bottom line is that staying in a hotel created by a top brand gives one a feeling of exclusivity that is otherwise difficult to replicate.
"A hotel offers a functional benefit in the form of a roof over our head, a bed and plumbing," she says. "Add a global fashion house at the helm and – poof – suddenly an emotional experience is layered over it as well, elevating the whole thing to an experience. It's genius."