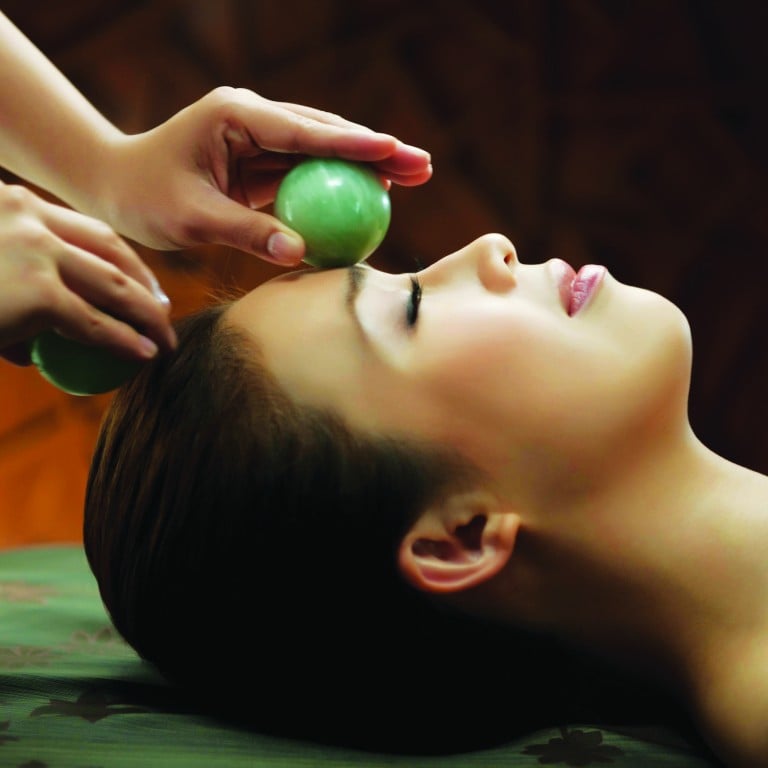 Three of Macau's best signature spa treatments
Macau's unique blend of Portuguese and Chinese heritage is embraced by the local spa scene, resulting in signature treatments that are intriguing guests from around the world
Unlike Thailand or Indonesia, Macau is not automatically thought of as a wellness destination.
Nonetheless, in addition to the standard massages and facials, spas in Macau are increasingly offering signature treatments that are special to the city.
Perhaps the most intriguing of these is the Macanese Sangria Ritual at The Spa at Grand Lapa. Just the name itself arouses curiosity. Comprising a body scrub, sangria bath and massage, it's an intoxicating cocktail of a treatment that, according to its creators, has been a hit with guests from day one.
"We've kept the treatment for eight years and it remains our most popular signature treatment," says Rufino A. Fernandez Jr, senior resort operations manager at Grand Lapa, Macau.
"People keep coming back for it – they enjoy the ritual and the story behind it."
The indulgent ritual lasts for two hours and 20 minutes, and honours Macau's unique culture and history.
"We created the treatment after the handover when Macau returned to China after Portuguese rule," Fernandez says. "We knew that the Portuguese love to drink sangria, and you can get very good wines from Portugal. Similarly, Chinese people like alcohol as well, and so the idea originated from this shared love."
The result is a unique East-meets-West spa journey that, along with an element of fun, offers multiple benefits for the mind and body.
The discovery of the detoxifying and antioxidant qualities of grapes has led to the rise of "vinotherapy," which uses the skin, seeds and stems of grapes in spa treatments.
The Macanese Sangria Ritual is an example of this trend, with its wine bath made of white wine, grape seed, jasmine and rose, which is particularly moisturising for the skin. A glass of sangria is also offered for your tasting pleasure. 
The treatment ends with an 80-minute grape-seed oil massage by an expert therapist using Swedish techniques. "For us, the main benefits of this treatment are the oxygenation of the skin and eliminating the dead skin cells so that they can regrow," Fernandez says. "It's easy to create treatments, but it's hard to create signature treatments that offer something truly local, that truly work, that you can't find elsewhere."
Treatments with a local flavour are also a priority for The Spa at Mandarin Oriental Macau. Its Macanese Dragon Experience more specifically honours the city's Chinese heritage. 
The treatment, lasting two hours, includes a body scrub, a bath in a private whirlpool and a relaxing Chinese lymphatic body massage using specialised massage techniques and Baoding meditation balls to relieve tension. 
Spa manager Genesis Day Lagasca explains: "We warm the meditation balls [so that] they can penetrate a deeper layer of skin. So instead of having a very hard massage, we do a gentle massage, [but] because the balls heat up the muscle, it's akin to having a strong pressure massage." 
The meditation balls also helped to name the treatment. "We use 'dragon' in the title because the Baoding balls represent the eyes of the Chinese dragon," Lagasca says. 
The treatment also incorporates elements of Macau's Portuguese influence, with a full body exfoliation scrub that uses spices found in Portugal. "We've combined both the Chinese and Portuguese elements in the treatment," Lagasca says. "It's very important for us to have signature treatments because it's something unique that you can only find here. It gives our clients a sense of the local culture and heritage." 
The spa's other popular signature treatment, Spices of Portugal, also honours Macau's colonial past, and there is a new treatment on the way, called Taste of the Orient, which will use Chinese acupressure to target and release blockages.
Over at Wynn Macau, Bridget Phillips, the director of spa operations, says: "I think it's tricky when you're talking about mixing spa treatments with the local culture, because … you really need to look at that to make it a real story [that works]."
The Spa at Wynn has found the right mix in its Macanese Massage, which has remained the most popular treatment on the menu since the spa opened in September 2006. "This massage has proven its popularity over the years through its longevity. We've never taken it off the menu," Phillips says.
The treatment lasts for 90 minutes and combines Eastern and Western massage techniques into one flowing movement. There are Chinese acupressure and pressure point movements along with a more Western-style effleurage – a flowing palm movement used mostly in Swedish massage.  
"The Macanese Massage is not based on a Macanese massage technique in the way that a Thai or Balinese massage is," Phillips explains. "What it really is based on is the cultural being of what Macau is. We've really been able to merge together different techniques that bring the history and culture of Macau to this treatment." 
So while Macau might not be a spa destination just yet, it's beginning to make its mark as a place to get pampered thanks to these distinctive cross-cultural treatments.
Moments of bliss
Here's our take on the signature spa treatments offered around Macau: 
Macanese Sangria Ritual  
This treatment uses grape-powered vinotherapy to leave skin noticeably nourished and moisturised. Highlights were the wine bath, the glass of sangria and the privacy of our own suite. 
The Spa at Grand Lapa
(853) 8793 4824
Macanese Dragon Experience  
Highlights were the Baoding balls, which are usually used for meditation but here were warmed up and gently rolled over the body, making for a heavenly experience. The facilities in the couple's private suite are first-class, with a Jacuzzi and stunning harbour views.
The Spa at Mandarin Oriental Macau
(853) 8805 8588
Macanese Massage  
Our therapist had healing hands or years of experience, or probably both. Her massage flowed from head to toe in a seamless experience blending Eastern and Western techniques. 
The Spa at Wynn Macau
(853) 8986 3228