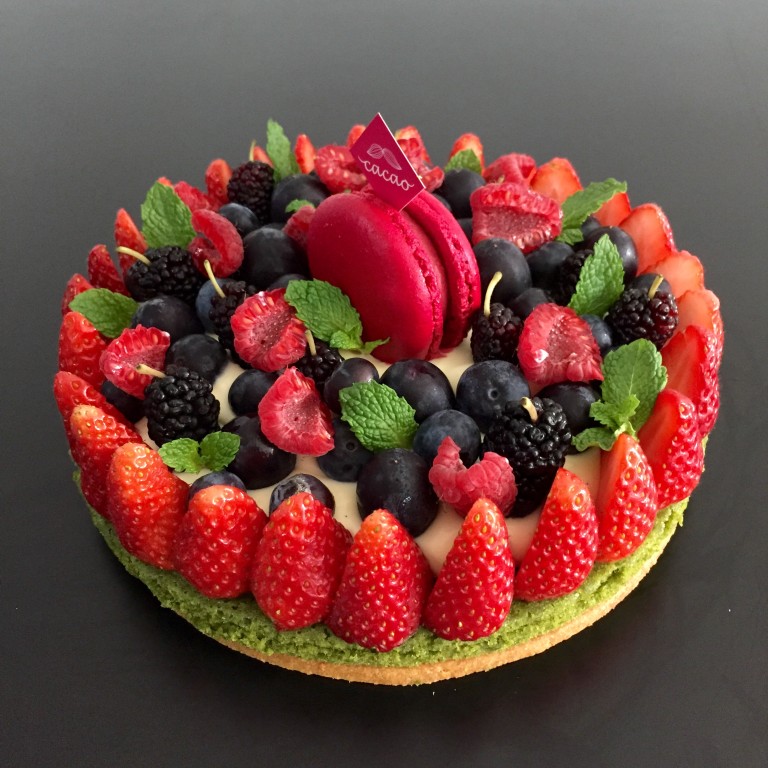 Macau's most delicious desserts and where to try them
Macau's pastry chefs are constantly devising ways of creating desserts that are visually appealing and delicious to taste
Pastry is one of the most dynamic niches in the culinary world. Chefs have to race against time to launch adorable cakes before people turn their attention to other eye-candy. 
Stiff competition among patisseries in Macau ensures that only those creations that look pretty and delicious to taste succeed. 
"In the world of pastry you always have to create new things, otherwise it will get boring," says Holger Deh, executive pastry chef at MGM Macau, who oversees the Pastry Bar, one of the most respected patisseries in Macau. "Here we have the luxury to try and see what the guests are actually taking."
Having worked for the Mandarin Oriental, Four Seasons and Peninsula hotels in eight countries, Deh has only been at the MGM Macau for six months. He has been hard at work since his arrival, infusing millefeuille with vanilla and raspberry mousse for a summery indulgence and launching gluten-free lines with a buckwheat chocolate cake among his creations.
Deh racks his brains to improve the variety on offer. "I will not touch those which are working very well, like the strawberry chiffon entremet, which has been here for ages," he says, before including the signature Portuguese selection with serradura, pear tart and Portuguese egg custard.
Repackaging classic items can make for pleasant surprises. The new Joana Vasconcelos cake, coated with a playful burst of aqua colours, is made to resonate to the "Valkyrie Octopus" installation at the Grande Pracal. Deh takes the best-selling hazelnut milk chocolate cake as the basis, and uses a glossy finish to add to the nutty texture and lure people in. 
"I think the perfect desert has to be delicious, but appearance is equally important as nobody would like to eat something which is not visually nice," he says. 
Specialising in cartoon-inspired cakes, Cacao patisseries stirred up a frenzy when it opened in July last year at Rua da Barca in a residential area, selling out a record 270 pastries in half an hour.
Cake selection is updated on a weekly basis, and French pastry chef Baptiste Brichon always operates at full speed. "Normal cake shops offer the same cakes for three to four months, but it is a bit boring for me," Brichon says. "To change is like a game … this is the fun thing about being a pastry chef." 
It is a joy to see how he spices up traditional macaroons with a half-sugar formula and quirky flavours, such as wasabi, watermelon, durian and tomato. Brichon keeps a drawing book to put cake ideas into accurate measurements. It has already got the Minions, SpongeBob, Japanese comic One Piece, Marvel characters and many more down. 
When ideas come up short, new creations remain possible by adjusting either the cake, the flavour or the face.
"Our best-selling item, the Minions chocolate cake made with sponge, crème vanilla and mousse, used to have a tiger and then a cat's outlook," Brichon explains. Besides this sinful Brazilian dark chocolate concoction, its  piglet cake has also had a makeover, from a combination of coconut jelly and raspberry mousse into a refreshing version with litchi jelly, rice pudding and rose mousse. 
Having worked in London with Michelin-starred pastry chef Damien Piscioneri, Brichon wants to present Cacao as an authentic grab-and-go French patisserie. Ingredients are mostly from France, and underneath the lovely faces made with dyed milk chocolate are French pastry components such as sacher sponge and Italian meringue. 
"I think the secret behind our success is that we have a good mix – cakes in tasty French style and a cute look that suits the Chinese," Brichon says, adding that there is a second outlet near the Ruins of St  Paul's and there are plans to open a branch in Hong Kong soon. 
Another local patisserie, Kafka, enjoyed similar blockbuster success when it opened in 2012. If Cacao causes love at first sight, Kafka appeals more to the sophisticated. 
Having an unwavering passion for dessert, pastry chef Nicole Lei strives to make cakes that evoke a sense of bliss. This motivated her to quit her job to train at Le Cordon Bleu in France. She is forever trying new creations. "We are doing new attempts every single day and it can take as much as a year for a new cake to be launched." 
It took her and co-owner Jerry Lei a year to establish the sort of coffee shop they wanted , which they named after the notable Czech writer from Prague. Everything has been well considered – while Kafka is also the name of a long-tailed bird, the coffee shop hides in a narrow alley in Taipa called Rua de Braga,  meaning the Prague street.
"We want to stay away from the city's bustle and hustle and let people find us and find their cosy personal space," Lei says. "Luckily, we were found."
The cafe exudes an inviting ambience with long tables and lofty designs. Besides sunlight, it is also flooded with Nicole's and Jerry's travel memories.
"A lot of my creations represent memories of my previous trips,"  Nicole says. Signature offers like chestnut cake, lemon tart and St Honoré cake with caramel are French classics, and there's the well-layered matcha cake reminiscent of her time in Paris.
"When I was studying in France, I visited Aoki Sadaharu's cake shop every day after class for the duomo matcha cake. He pairs matcha with red beans and hazelnut, and in my version I add panna cotta to neutralise the strong matcha flavour."
One of the latest creations is "ballet", a cake that skilfully plays with sweetness and sourness featuring Taiwan pineapple, mandarin orange, French cream cheese and a passion fruit marshmallow on top. 
While the size of Kafka's kitchen has put constraints on what it can offer, the team plans to unveil a spacious "dessert laboratory" soon, packed with advanced equipment. Jerry Lei describes it as a dream come true for the passionate chefs. 
"I want to create more, even introducing brunch, home-made bread and stew dishes," Nicole says. "The longer you are in the pastry industry, the more eager you are to try new things and work towards perfection."
CAFE FEVER
A handful of prominent cafe brands have arrived in Macau, so fine pancakes and cafe drinks are right on your doorstep. 
Paddington house of pancakes
Originally from Malaysia, the pancake house came to Macau after Brunei and Singapore. Staying true to its motto "eat your way around the world", it offers different styles of pancakes from around the world, with the signatures being American flapjacks and pancake bugers. 
No 17-B, Calcada do Tronco Veiho, (853) 2893 9248
No 11-A, Patio De Ho Chin Sin Tong, (853) 2832 2943
Caffe Bene
Caffe Bene is everywhere in South Korea, and its first Macau outlet inherits its signature décor to feature a relaxing vibe with wooden furniture and nature-inspired décor. Sit back and enjoy its wide selection of desserts, pasta and thirst-quenching drinks. 
AH & AI, Villa de Mer Building, Rua da Pérola Oriental, (853) 6221 2929
Tom N Toms Coffee
Also from South Korea, this Macau outlet is strong in baked goods, and offers a wide spectrum of pretzels and toast. If you are not particularly into coffee, you can't go wrong with the signature "tomnccino", which offers four flavours chocolate, green tea, walnut and green mint. 
Avenida Do Conselheiro Ferreira De Almeida No 20-B, Regent Court Res-do-chao A, (853) 2856 0160