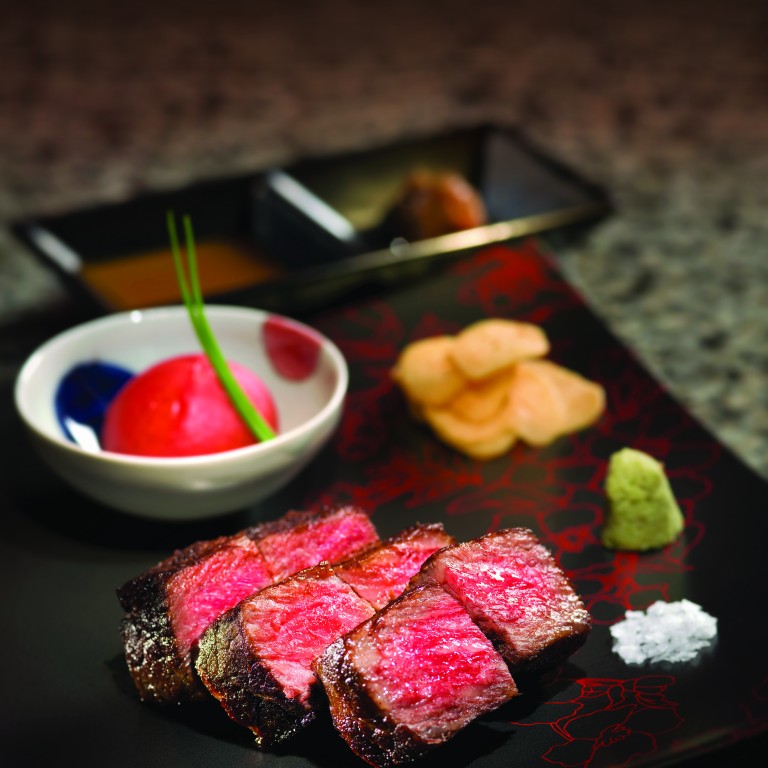 Why Macau has become one of the best places in the region for Japanese cuisine
Macau is developing a reputation for some of the finest Japanese cuisine in the region as more of the country's top-rated restaurants choose the city as the destination for their first branch in mainland China
Japanese cuisine has become something of a phenomenon. Since 2011, it has been benchmarked by the French authority on food - the Michelin Guide ­- as the top ranking cuisine in the world. Japan's capital, Tokyo, has a mind-blowing 226 Michelin-starred restaurants, light-years ahead of its nearest rival, Paris, which has a mere 94.
Macau might not be Tokyo, but with hopes of becoming Asia's premier entertainment capital, offering the finest cuisine is an integral part of that mission and naturally it would have to include some of the best Japanese restaurants in the region.
Mizumi located inside Wynn Macau is one such example. It was awarded a Michelin star last year and was recently relaunched in collaboration with three Michelin-starred Japanese master chefs each heralded in the Japanese culinary traditions of sushi, tempura and teppanyaki.
The restaurant is now confident its guests can expect Japanese cuisine on a par with what they would find in Tokyo. "We have elevated our products, which were until recently, only available in Japan and partnered with three of Japan's most renowned master chefs," says Fabrizio Bosco, general manager of restaurants.
Signature dishes include sea urchin tempura, jumbo fresh abalone tempura, Japanese hairy crab sushi, fatty tuna sushi (toro sushi), tilefish teppanyaki and wagyu beef. "Our master chefs have direct links with some of Japan's most respected vendors, which enable us to tap directly into fresh seasonal resources,"  Bosco says. "Eighteen varieties of fresh fish, hand selected, delivered door-to-door twice a week."
The freshest ingredients, meticulous preparation and the best product quality have long been hallmarks of the cuisine that have helped to propel it to the top. These are also characteristics, especially safety and product quality, which are key to its success among local Chinese.
"I think the reason why Japanese cuisine is so popular with locals is that, firstly, it's very healthy and safe," says Takenori Noguchi, chef de cuisine at Tenmasa restaurant, Macau.  "With Chinese products and food there is often some problems in the news that they are not very safe – so guests are sometimes scared of Chinese products.
"It's not just that Japanese cuisine is safe. I think many local people are also interested in the overall culture of Japan. Cuisine is a big part of the culture, but I think Chinese people appreciate both."
Modelled on the central Tokyo restaurant, which is the city's most exclusive tempura restaurant, Tenmasa Macau has an authentic Japanese ambience with ozashiki (traditional tatami rooms) and an exclusive Sake Bar available for pre- or post-dinner drinks, offering fantastic views of the Macau skyline.
The restaurant has extremely high standards when it comes to freshness of ingredients and the best highly skilled chefs who, like Noguchi, have spent their lifetime dedicated to the craft of tempura making.
"For Japanese cuisine, we say that we are never finished training, even after my 20 years of working in tempura restaurants I still keep trying to improve,"  Noguchi says. However, working in Macau has brought its own set of challenges for chef Noguchi and his team.  "Here in Macau, where it's very humid, we have to use a different mix of oil to better accommodate the climate. It varies from season to season."
Tenmasa's tempura is cooked in a way that ingredients are covered in a thin crispy batter that traps and maintains their original flavours. They are known for using only the freshest fish and cuts traditionally saved for sashimi. Ingredients are flown in from Japan at least four times per week. Working in Macau has also offered the opportunity to try new dishes to cater for locals' keen appetite for seafood.
"There is snow crab only available for three months from October to December,"  Noguchi says. "I make that here and a chef came over from Tokyo, he tried it and then took it back to Tokyo and showed my boss. Now it's very popular in Tokyo too."
Local Chinese are known for their love of all things Japanese, but this has brought greater knowledge of Japanese culture and higher expectations when it comes to the food.
"Around eight or nine years ago, very few guests were visiting Japan. Now, almost every local guest who visits the restaurant has recently been to Japan and is happy talking about where they went,"  Noguchi says. "They know real Japanese food and they expect the same from us."
It's not praise all round for Japanese cuisine though, despite its popularity, Japanese cuisine is often criticised for sticking too much to tradition with little to offer that's innovative.  
"For our restaurant the way we cook tempura is very traditional," Noguchi says. "But restaurants have had to change ingredients because we can't get the same ingredients that we used a hundred years ago. So it's not very innovative, but we do have to move with the times."
One chef that is experimenting with different techniques is Toru Osumi, chef de cuisine at Shinji by Kanesaka at Crown Towers, City of Dreams. It's the first outlet in mainland China by sushi maestro Shinji Kanesaka and has joined the ranks of Michelin-starred establishments after only nine months of operation.
The restaurant prides itself in serving sushi of traditional Edomae style, aiming to offer guests the same authentic omakase experience in terms of food quality, service and ambience as if they were dining in the Tokyo restaurant. Osumi believes the future of sushi lies in a process called ageing that is similar to marination (soaking foods in a seasoned liquid for heightened flavour).
"For tuna I will age for two to three weeks,"  Osumi says. "Other chefs may age for just two to three days, but I am using a new method. I have a machine to take out all the air so that the fish won't spoil and then I cover it in seaweed or some vinegar. The result is that the tuna will have more umami flavour (meaning "pleasant savoury taste" in Japanese). In other restaurants the tuna might not taste as rich, but with our tuna we only need to add a little soy sauce and it's ready to eat because of the ageing process".
Another trend is Japanese fusion cuisines that have been pioneered in recent years by restaurants such as NOBU in Hong Kong that blend traditional Japanese dishes with South American (Peruvian) ingredients. MGM China has announced that their Cotai property, pegged to open in Macau in early 2017, will feature a restaurant called AJI that will specialise in Japanese-Peruvian cuisine (also known as Nikkei cuisine). However, not everyone has high hopes for fusion style restaurants in Macau.
"While I think these fusion restaurants, if they make good food, can be a success in Hong Kong, I don't think the same can be said for Macau,"  Noguchi says. "Japanese fusion doesn't seem to be much of a success here – you tell diners here that it's a fusion cuisine and they are not interested because they are always doubtful that it's not a real taste. After five years or so the new generation in Macau might be more open-minded to Japanese fusion, but for now I don't think there is a big market for it."
THREE OF THE BEST
Our top tips for where to find the most authentic Japanese cuisine in town
Shinji By Kanesaka
Serving sushi of traditional Edomae style, this is Macau's own paradise for sushi lovers. Try chef Osumi's favourite sushi - the sea urchin with rice.
Level 1, Crown Towers, Macau
(853) 8868 7300
Tenmasa
Allow chef Takenori Noguchi and his 20 years of experience to serve up some of the most delectable tempura you will have tried. Chef Noguchi loves to work with vegetables so request some veggies alongside the seafood options and you won't be disappointed.
Level 11, Altira Macau
(853) 2886 8868
Mizumi
Taste the culinary delights from three Michelin-starred chefs, each heralded in the Japanese culinary traditions of sushi, tempura and teppanyaki, under the same roof. A must-visit for all fans of Japanese cuisine.
Wynn Macau
(853) 8986 3663