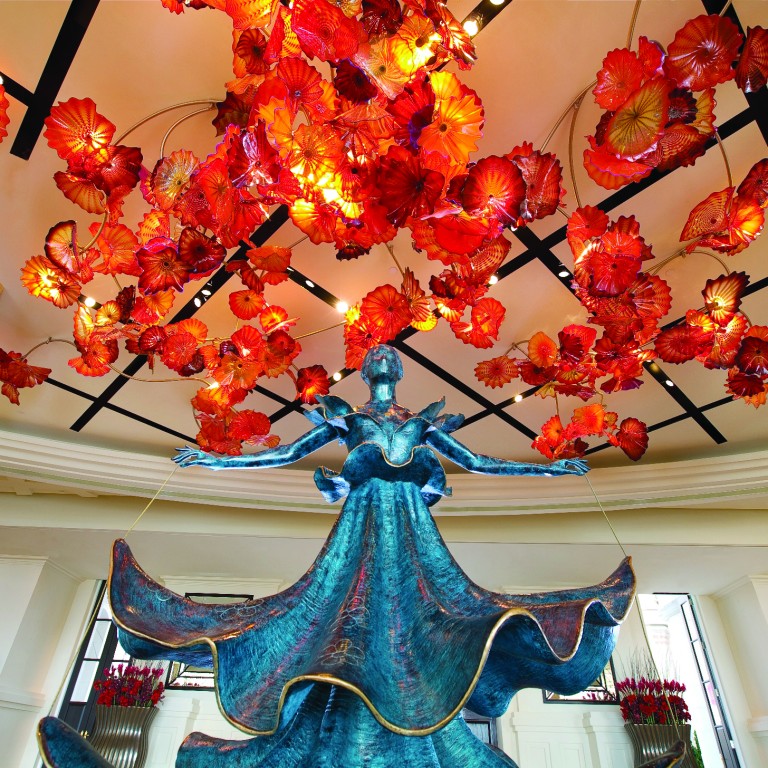 Macau's secret world of rare and acclaimed works of art
Go beyond Macau's gaming tables and slot machines to discover a secret world of rare and acclaimed works of art
Whether it is a piece that people are barely aware of, such as the Forever Handshake sculpture at Sun Yat Sen Park, or the hard-to-miss Crystal Pool at the Galaxy Macau, which cost US$20 million and was designed by four-time Emmy Award winner Jeremy Railton, there are plenty of startling works of art in Macau, hidden in plain sight.
Here is a small selection of the city's more interesting works of art, as well as some pieces that would not be out of place in the world's great galleries and museums.
Salvador Dali sculptures at MGM Macau
One of the most famous artists to have ever lived and renowned for surrealist masterpieces such as The Persistence of Memory with its image of melting clocks, Salvador Dali was a bona-fide eccentric, and his work spanned several disciplines, including sculpture. Two of the Spanish artist's sculpted works are on permanent display at the MGM Macau.
The beautiful Alice in Wonderland sculpture welcomes visitors to the hotel. Writer Lewis Carroll's surreal universe was allegedly an inspiration for Dali from as early as the 1930s but, for this sculpture, the artist has reimagined Alice as an adolescent girl with bare breasts.
In the MGM's lobby is the second Dali sculpture, Dalian Dancer. The bronze sculpture, one of several cast from an original using a process called lost wax, sits under the Fiori di Paradiso Ceiling, a hanging sculpture of hand-blown glass flowers by American artist Dale Chihuly.
Li Xiaofeng's porcelain dress at Mandarin Oriental
Chinese artist Li Xiaofeng uses pieces of discarded porcelain to create beautiful "clothes" that make a statement. The pieces are polished and stitched together with wire to create everything from Chinese dresses and jackets to military uniforms. Li says that because the Chinese eat rice out of ceramic dishes, his "rearranged landscapes" explore the relationship between the bowls and the body.
Li's piece at the Mandarin Oriental is displayed in the elevator lobby. While it is striking, it can be easily missed, particularly if you are rushing in or out of the hotel with luggage in tow. This piece, like all of Xiaofeng's "rearranged landscapes" pieces, is technically wearable.
The Buccleuch vases at Wynn Macau
Steve Wynn is a noted art collector and, as such, his properties are also his galleries. There are several works of art on display at both Wynn Macau and Encore, but perhaps the most striking are the 18th-century Chinese porcelain Buccleuch vases. They are exceptionally rare - one other set of similar vases is currently in the possession of Queen Elizabeth II at Buckingham Palace.
The vases can be found in the lobby of Wynn Macau, and they show eight Taoist emblems that represent the ideal attributes of the Taoist immortals. They were purchased at auction for $US12.7 million, and Wynn has said he bought them as part of his ongoing commitment to return artistic treasures to China.
There are dozens of other examples of fantastic works of art in the city, from the three-metre statue of Macau-born composer Xian Xinghai erected to celebrate 100 years since his birth, to pieces at Galaxy Resort created by Australian artists Suzann Victor and Jade Oakley. Get out and discover these hidden treasures of Macau.