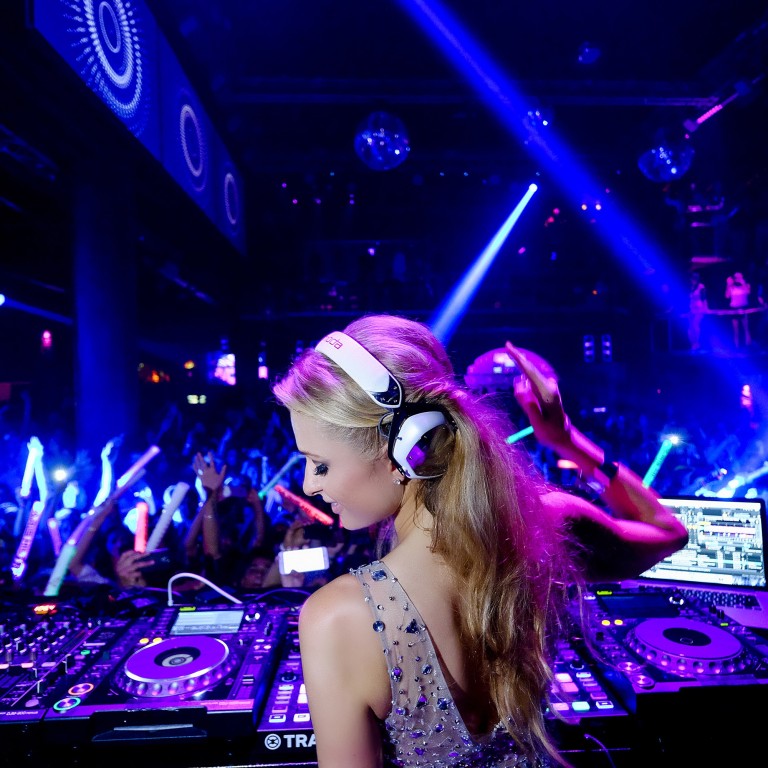 Ahead of her first Macau gig, Paris Hilton talks about her burgeoning career as a DJ
Set to headline Macau's first summer pool party this month, Paris Hilton talks more about her DJ career and defends her entry into dance music
The famous heiress who is the great-granddaughter of Conrad Hilton, the founder of Hilton Hotels, continues her diverse career that has included being proclaimed New York's top "It Girl" in 2001, to starring in her own internationally syndicated reality TV series and even a brief stint as a popstar.
More recently, as an entrepreneur, she's successfully built up her own multi-billion dollar brand with products including perfumes, handbags, watches and footwear.
Her latest venture as a DJ has already seen her secure lucrative residencies at top clubbing destinations in Ibiza and Las Vegas. Her next stop will be Macau as she'll headline Studio City's first summer pool party on June 11.
Most people will know you more as the famous hotel heiress & reality TV star, but what got you into DJing – how did it all start for you?
I've always loved music and been passionate about going to music festivals. The first time I ever DJ'd in front of thousands of people was such an incredible feeling and I loved it so much that I've made it part of my career.
Were you ever nervous or fearful about how people would receive you as a DJ? What has your experience been like so far?
I've had an incredible experience as a DJ, I'm constantly travelling around the world and I perform every week. It's been one of the happiest and most fun times of my life. I wasn't nervous because I've been in this business a long time, and I know that whatever you do there will always be haters, especially if you're successful, and you can't let that stop you. It's really important to follow your dreams and stay dedicated and passionate and believe in yourself no matter what.
What about this description of "raver Barbie" that seems linked to you? Is this some kind of alter ego?
I've always been a fan of Barbie, and so when I started DJing the name 'Raver Barbie' started being used. I think it's fun and cute. I wouldn't say it's an alter ego, but I think it's a fun name if people want to use it!
What are you most looking forward to about headlining the summer pool party at Studio City in Macau?
I've never been to the venue before or performed here, so I'm most looking forward to that, meeting people and seeing how the crowd reacts. I'm super pumped to perform for the people of Macau and create an unforgettable party!
Have you had much of a chance to check out the venue and what are your first impressions of the place?
I've seen some photos and it looks really beautiful. It will be such a fun place for a summer dance party
You've had numerous performances and even residencies across America and in Europe. Do you hope to do more gigs out here in Asia? What do you enjoy the most about performing in this part of the world?
I love performing everywhere. For me, seeing all the happiness and fun that people are having when I perform is so rewarding. I also love being in Asia, for years I've travelled all over the continent for my businesses and I love the people and fans there. They are always so kind and sweet and I definitely plan to come back and do more shows.
Who are some of those that you look up to in the dance music industry?
I have a lot of friends in the industry. Some of my favorites are Tiësto, DJ Chucky, and Nervo. They sometimes come to watch me play and I definitely go and check out their shows. It's important to have a community and support system in this industry. I admire them and what they've accomplished so much.
Macau has been attracting a lot of headline DJs to perform here in recent years, do you think it has potential to become the next big nightlife destination in Asia?
Of course! I know lots of people are going to Macau and talking about it, I think it's going to be a new hotspot for sure!
Would you ever consider doing a residency over here?
Yes, that would be fun! I love Macau!
Have you had a chance to go clubbing yourself here in Macau? Are there any places here that you're keen to check out?
Yes, I was here with Manny Pacquiao for the fight and DJ'd his charity party. I had a wonderful time playing that show and partying with everybody, and David Beckham came to watch my set. I love the energy in Macau; the people are a lot of fun.
 
Pacha Macau Presents: Summer Love Pool Party, June 11 2016
Ticket hotline: (853) 8868 6767  www.studiocity-macau.com