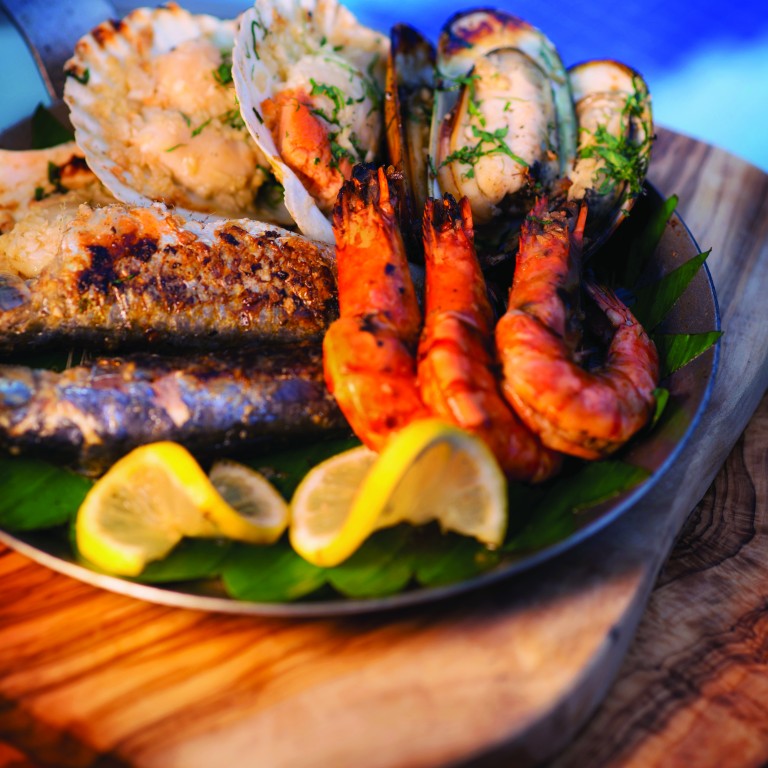 Aloha Macau! Hawaiian cuisine is set to be Macau's next big culinary hit
With many of its culinary influences originating in China, Japan and the Philippines, it looks set to be a hit on these shores too
Think of Hawaiian cuisine, and pineapple-topped pizzas alongside garish, brightly-coloured, cocktails may come to mind, but it would be a mistake to assume that typical beach fare is all it has to offer.
Hawaiian cuisine is enjoying a moment in the sun and dishes such as poké (a cubed, raw fish on a bed of rice, generally tossed in a soy sauce-based marinade) are gaining recognition from here to Europe and mainland America as one of the year's hottest food trends.
"People's perception of Hawaiian food is that if you put a slice of pineapple on it that the dish automatically becomes Hawaiian," says Alan Wong, celebrity chef and one of the co-founders of Hawaii Regional Cuisine. "In reality, not all people in Hawaii enjoy pineapple on their pizza or hamburgers."
Wong, who runs his own eponymous Alan Wong's restaurant in Honolulu, and a favourite haunt of US President Barack Obama, is keen to point out that "Hawaiian" is a term that refers to a specific ethnic group of people and not the entire food of Hawaii today.
"Hawaiian is a specific ethnicity all by itself with its own cuisine," Wong says. The type of food that we serve at our restaurants is called Hawaii Regional Cuisine. 'Hawaii' because it refers to an entire geographic region made up of a variety of ethnic groups and cultures."
Wong was one of 12 chefs who founded Hawaii Regional Cuisine in 1991 to help shine a spotlight on the ethic culinary influences that shape the food in Hawaii and develop an agricultural network where more chefs and restaurants could use food that was grown on the islands.
"What many don't realise is that 66 per cent of the people living in Hawaii are of Chinese, Japanese and Filipino decent," Wong says. "It's very hard to pinpoint what local food is in Hawaii, but most of the ingredients and flavours will be from a mixture of the ethnic diversity found in Hawaii."
These influences came from the Japanese, Chinese and Filipino migrant workers, as well as the Mexican cowboys who looked after the cattle ranches and American servicemen who introduced the locals to spam during the second world war – Hawaiians are the second-largest consumers of the canned meat in the world.
Spam aside, most of the flavours found in Hawaii's cuisine are familiar to Asian diners. With this in mind, and with the popularity of the cuisine worldwide, Wong opened Alan Wong's Shanghai in January and there are plans to open at Studio City in Macau later this year.
"Both Hawaii and Macau are very cosmopolitan, East-West, and international. We hope to bring the flavours of Hawaii to add to the growing global cuisine that is in Macau today," Wong says. Wong recommends the trendy ahi tuna poké, or other classic dishes such as kalua pig, laulau, chilli pepper water, luau stew, poi, salt meat watercress, pipikaula, and lomi salmon. There's also soy braised short ribs with ko choo jang sauce and his signature coconut dessert that are Obama's favourite dishes.
There are signs that the Hawaiian food trend is catching on in Macau too. Earlier this summer, JW Marriott Hotel Macau held a weekly Hawaiian Luau Barbecue Buffet at their main pool area.
"Once summer is around the corner, people in Macau, Hong Kong and mainland will think of having barbecues at nearby beaches so this is the right time to introduce Hawaiian cuisine with the backdrop of beaches and pools," says Yosef Szeto, the executive sous chef at JW Marriott Hotel Macau.
It would appear that it's not just the time of year or the setting that are attracting locals to the cuisine, it's also the taste and seasoning that, in many cases, is already familiar to locals. "Items like roast pork, spam rice and grilled pineapple are considered well-known Hawaiian foods in China," Szeto says. Huli Huli Chicken is also fast gaining popularity because of its flavour and presentation style."
Szeto believes that it's easy for Hawaiian cuisine to appeal to locals due to similar seasoning methods. "Chinese like Kalua Pua'a as it is considered auspicious and a must-have dish at Chinese weddings." However, it's mainly poké (marinated raw fish salad) that is driving attention towards Hawaiian cuisine right now.
I have seen growing interest in Hawaiian dishes, in particular poké," Wong says. "Poké is perceived as a dish that is fresh, healthy, and tasty. As long as the fish is impeccably fresh and of good quality, some believe it to be healthier preparation than cooking the fish. Poke also lends itself to many creative variations."
What is poké?
Traditionally, poké (pronounced POKE-AY, not POKE-EE) is chunks of tuna marinated in soy and sesame.
Poké is everywhere in Hawaii; you can go to the nearest grocery store and find 20 different versions, from octopus with a creamy dressing to avocado poké with sesame oil. When it comes to fish poké, the most common kind is tuna. But don't confuse it with sashimi, tartare, or ceviche.    
Unlike sashimi, where the fish is sliced thin and long, or tartare, where the fish, often tuna, is diced and held together by a sauce-glue, tuna poké is cut into thick cubes and mixed as a free-form salad. It's most similar to cerviche but has more bold, savoury and rounded flavours. The idea of eating a bowl as a meal is a food trend now and people have come to see it as a convenient way to have a meal.