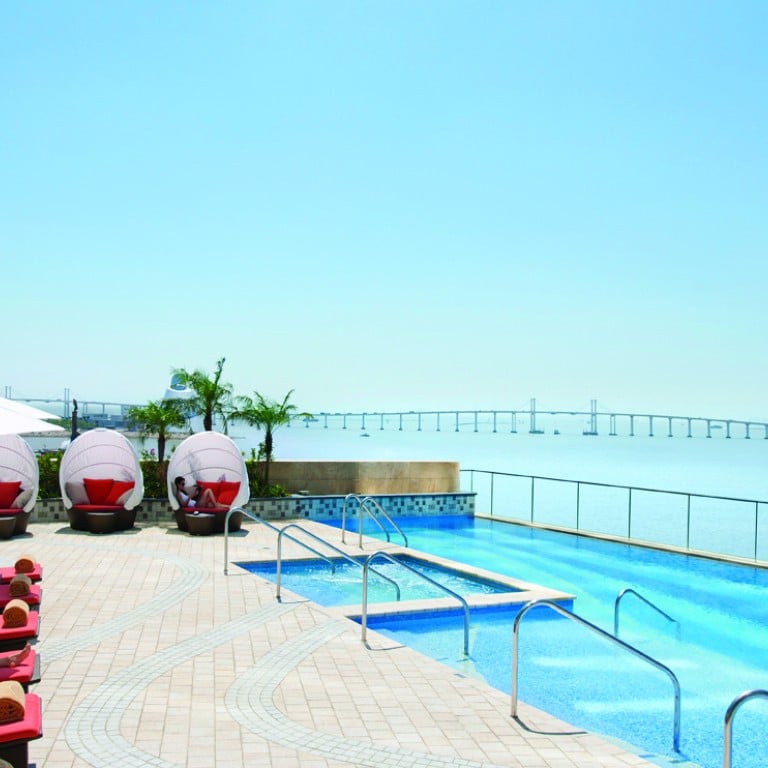 For Macau and other cities globally, branded residences are a growing trend offering buyers a chance to own a piece of paradise
Branded residences are increasingly popular among the world's rich. Matthew Keegan learns how they offer five-star-hotel luxuries and lucrative investment opportunities
One of the drawbacks of having the holiday of a lifetime is the day you have to leave the hotel or resort of your dreams.
Checking out can usher the realisation of leaving an idyll for a more humdrum reality, and the wish that there was some way you could take a piece of its bliss home with you - or even make that destination your home.
However, the wealthy can own such dreams in branded residences that blend five-star hotel and resort facilities with the comforts of home. 
Mandarin Oriental Hotel Group converted some of its suites into branded residences because its guests "enjoyed our services and lifestyle it created", according to its executive vice-president, Richard Baker.
"So when developers asked us if we would be willing to brand some residences and create and manage them, it felt like an obvious progression for our business model," he says.
Branded residences have caught on in recent years, first with luxury hotels, and now some of the world's leading luxury brands, such as Versace, Armani, Bulgari and Ferrari.
"There will always be brands with shareholders looking to leverage their brand capital, but the key is longevity," says Robin Paterson, joint chairman of Sotheby's International Realty.
"Right now, people don't want to feel they're paying a premium just for a name; they want to pay a premium for what that name affords. It's not enough just to provide quality fixtures, fittings and furniture [as these should be standard regardless of a brand] – what really counts is buying something you couldn't recreate by yourself." 
Mandarin Oriental Hotel Group now manages residences in seven destinations, with more in development in eight major cities and resorts internationally. Its first residences in Asia opened in Macau in 2011, with the same services and amenities as its hotels. The group pampers its residences' guests, as Baker explains. 
"[The guests] may want one of our housekeepers to come up and clean their home or for our staff to do grocery shopping for them", he says. "We'll pick the resident up at the airport; we'll deliver their bags to them; press their suits, launder their clothes – there's really not a service we offer our hotel guests that wouldn't be available to residents living in our managed residences." 
Such dedicated service distinguishes Mandarin Oriental's branded residences from others, Baker adds. 
"Increasingly, there are choices out there," he explains. "For the fashion brands and such, that's really more about branding and maybe the design of a unit. However, we're not interested in branding a hotel or residential project if we're not actually going to be involved in managing it."
Wealthy international buyers also recognise that there is more to a branded residence than five-star-hotel luxury at home. Many of these residences are proving to be a great investment that will hold and - in most cases - increase their value. 
"Often you'll find the value of branded residences are compared in global terms to other branded residences, not to the local market, which offers reassurance to those looking for capital protection," Paterson says. Indeed, branded properties normally sell at between 20 per cent to 30 per cent more than non-branded equivalents, according to leading independent real estate consultancy Knight Frank. 
Many Mandarin Oriental Hotel Group customers "have had tremendous appreciations on the value of their residences", Baker says. "I know in New York there were two towers that were built at the same time, very similar in size and décor; one is branded Mandarin Oriental and the other tower isn't, and there's been a premium of up to 20 per cent on those initial sales after a short five years," he says. "So it certainly seems to be the trend that branded residences create more value for resale." 
As the branded residences sector evolves, an equal number of buyers look beyond investment thinking, view their properties as long-term homes, and even take a more hands-on approach in their development and creation. 
Baker recalls "an interesting project in Taipei just recently", in which a customer can buy a whole floor, and configure it in any way they want. "We have a one-bedroom [property] and its 10,000 square feet of spectacular entertainment areas, and [yet] some buyers have chosen to have three or four bedrooms in that space." 
However, while consumers' needs evolve, trusted brands offering a level of prestige, convenience and exclusivity have never been more in demand. 
Exclusivity remains the key for luxury Italian jewellery designer Bulgari's branded residences.
In 2017, the house opens its fifth worldwide Bulgari Hotel and Resorts property, this time in Dubai. Featuring 100 rooms and suites, 20 residential villas and a marina, the 1.7 million sq ft project will be located on an exclusive island development, constructed on reclaimed land off the Jumeirah coastline. Sculpted in the shape of a giant seahorse, the island will connect to the mainland by a single-carriageway bridge. 
"Many features will highlight the Bulgari Residences as an exclusive residential community," says Silvio Ursini, the brand's group executive vice-president. "First and foremost, the location of the island, as well as the situation of the building on the island, ensure restricted access to the Bulgari Residences in keeping with its ultra-luxury positioning – which in effect, reduces traffic on the island." 
In addition, residents will also have privileged access to all the services of the neighbouring Bulgari Hotel, as well as exclusive services including an art curator, personal shopper, hotel butler, personal trainer, private dining, wine sommelier, florist and an image/public-relations consultant. 
"By delivering unparalleled locations, unique bespoke services and distinguished design, we aim at creating a community of like-minded people," Ursini adds.
A branded community lifestyle might sound a new concept to some people, but to others such residences offer the appeal of security, prestige and hassle-free holidays.
Then of course, there are the bragging rights that Paterson believes is still a driving motivation for buying in this still-exclusive, but albeit rapidly growing market.
"Yes, bragging rights are still a huge part of property and a brand affords that added bit of kudos," he says. "After all, everyone likes to own something someone else wants."