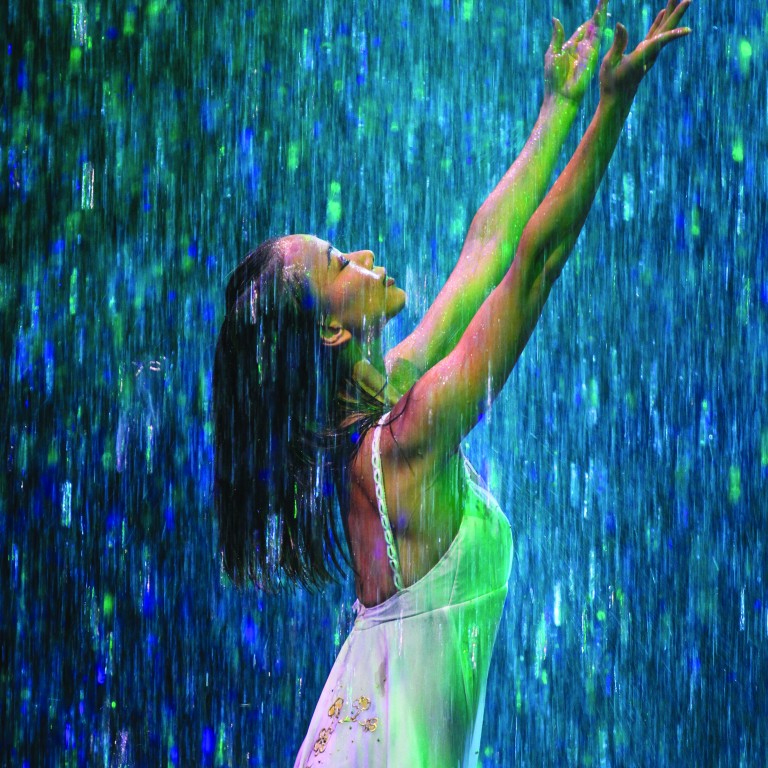 House of Dancing Water star, Faye Leung, on the show that's transformed Macau's entertainment scene
For Faye Leung, the ballerina-turned-star of The House of Dancing Water, performing in the popular show has transformed her own world as much as it has Macau's entertainment scene
There was just one thing missing when Faye Leung, the lead performer in Macau's iconic The House of Dancing Water, joined the live aquatic show. "I didn't even know how to swim – that was a big challenge for me," the dancer says. 
"When I first signed on to appear in the show, I was sent to Belgium to train for six weeks," Leung recalls. "During those six weeks, I had to learn how to swim, scuba dive and catch up with the dancers' act." 
But the intensive training paid off, and Leung became key to the success of the US$250 million production, which celebrated its fifth anniversary last September and has entertained over 3.2 million spectators to date. "It's been a fantastic experience for me. Even after five years and 2,200-plus shows, I still enjoy it so much," she says. 
Leung plays Annie, a princess who holds a central role in a classic good-defeats-evil love story. Annie meets a handsome stranger who, along with the help of the water, a villager and a group of tribal people, rescues her from captivity and a evil queen. The role was custom-made for Leung by the show's creator, renowned theatre director Franco Dragone. 
When Leung is in action, dancing and weaving in and out of the show's many fountains, her moves have a natural and effortless flow to them, much like the water that serves as her stage. But for the former Hong Kong Ballet performer, those fluid moves were not easy to learn. "Being a ballerina, I was used to dancing on a dry stage," she says. "In the first year of the show, I really had a hard time trying to adapt and figuring out how I could use different muscles and different movements to adapt with the water."
And there were quite literally a few slip-ups when it came to making the adjustment. "The stage is slippery because it's wet," Leung says. "Even when it transforms into a dry stage, it's still slippery all the time – we've slipped so many times."
The show is housed in a specially-built theatre containing a central pool that can hold more than 3.7 million gallons of water and 239 automated fountains. "For me, the most exciting element of the show is the power of the water," Leung says. "When you watch the show you don't really feel it - but when you're dancing in the water, every time you catch one of the water fountains you feel the strength of it, and it feels great."
For the Shanghai-born Leung, who was the senior principal dancer of the Hong Kong Ballet from 1996 to 2008, being a lead performer in The House of Dancing Water has opened her eyes. "When I was a ballerina, my world was really small, and when I started working here my vision became bigger. It's not just performing with other dancers - you're performing with divers, acrobats, stunt artists - and so it has really broadened my horizons."
The show features performers in various disciplines from more than 25 countries around the world. She describes the cast as "truly being like one big family", and says learning new skills from them has helped her to continue growing as an artist. 
"I just love to learn different stuff, not just dancing now," Leung says. "I've been learning acrobatics since last year, and I'm slowly starting to build up different muscles and catch up with everyone. Of course, I can't perform what the professional acrobats do in the show, but I just thought to myself that while my body is still able, I don't want to give up - I want to keep learning and pushing myself."
Much like Leung, there seems to be no stopping The House of Dancing Water, which has grown to become the region's most successful entertainment offering. Unlike other performance shows in the city such as Zaia by Cirque du Soleil, which opened at The Venetian Macao in 2008 but closed after poor ticket sales, The House of Dancing Water has gone from strength to strength. 
Leung believes the secret to the show's success lies in its classic love story, the "sheer visionary brilliance of its creator, Franco Dragone", and the fact that it can be enjoyed more than once, with something new to discover at every viewing. "It's very unique, and you don't really get to see everything by seeing the show once. It's the sort of show whereby you can come back and see different aspects of the show from different angles. It keeps you guessing how it's all done. That's the magic of this show."
After more than five years of performing and living in Macau, Leung has no plans to return to Hong Kong. "I gave up everything in Hong Kong and moved to Macau for the show. Macau is my home now, and I'm a Macau resident. I miss Hong Kong shopping, but not much else. I really see that Macau has great potential, and it could be better than Hong Kong."
The show's demanding schedule means that, for Leung and her fellow cast members, performing is a true labour of love. But she believes that their sacrifices have been worthwhile. "I think we all have achieved what we wanted to. All the artists, all the crew and everyone here work really hard every single day. We don't get holidays – when everybody has days off for Christmas and Chinese New Year, we're always working. The most important thing is when we finish the show - we see the audience and they are so satisfied, and that's what makes me happy."
Aquatic Wonders

The House of Dancing Water star is one of the few remaining original cast members and now considers Macau to be her home.
Fast facts on The House of Dancing Water
It's the world's largest water-based show, costing over US$250 million 
It uses 11 hydraulic 10-tonne lifts to convert the stage from aquatic to a solid floor 
The performance pool is capable of holding up to 3.7 million gallons – the equivalent of more than five Olympic-sized swimming pools
The cast's 400 costumes are made from neoprene, a material chosen to withstand the effects of water
The high dive that takes place near the end of the show is done from a height of 24.5 metres