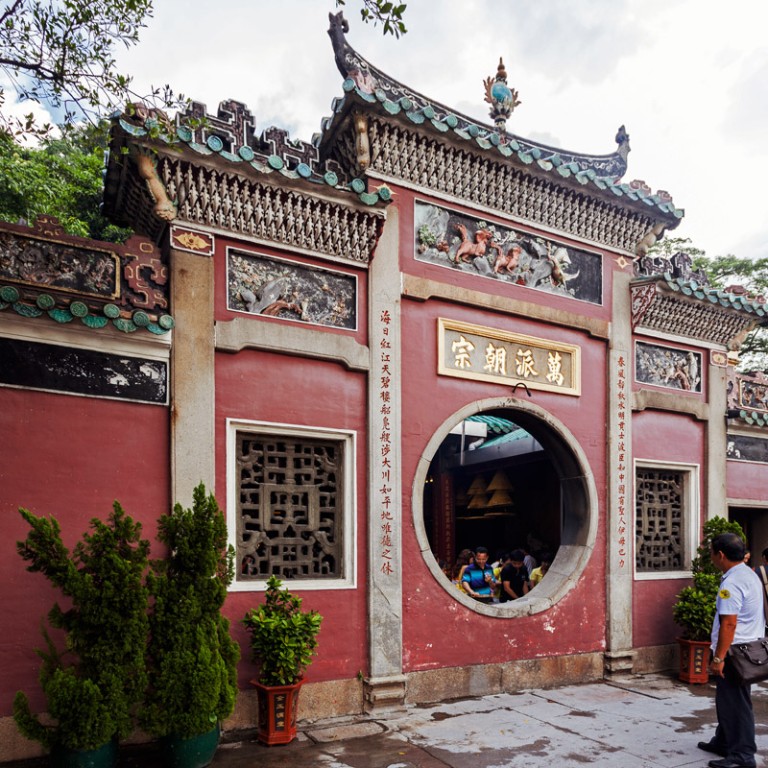 Legend of A-Ma: How Macau got its name
Ancient temple holds the story of how Macau was named
A lot of attention is paid to what's happening inland in Macau, but people rarely cast their eyes seawards.
Nestled in a hillock on the southern part of the peninsula is the A-Ma Temple, otherwise known as Ma Kok Miu. It's the oldest in the city and one of the best known Taoist temples in Macau, dedicated to the goddess Mazu, protector of seafarers and fishermen.
Mazu was known to her family as Lin Mo, a girl born in the Song dynasty (AD960-1279) and who died at the age of 28 in Putian, in China's Fujian province.
During her lifetime, Lin offered her natural born weather forecasting ability to locals and saved the lives of many fishermen from the menace of typhoons. The local people respected her enormously and eventually deified her as "Mazu: Goddess of the Empty Sea". 
The A-Ma temple is believed to have been constructed by fishermen in the year 1488 to commemorate their beloved Mazu.
Today the temple is a destination offering silence and spectacular views. At the main entrance, guarded by a pair of stone lions, the Gate Pavilion is a granite structure 4.5 metres wide. Artisans have produced masterpieces on the granite with scenes of Chinese mythology, animals, and historical allegories.
To this day the Gate Pavilion stands as an architectonic masterpiece and no one can ignore the harmonious lines and the imagination that presided over the composition of the friezes which includes the cornice surmounted by multicoloured tiles of faience.
The temple consists of six main parts: the Gate Pavilion, the Memorial Arch, the Prayer Hall, the Hall of Benevolence, the Hall of Guanyin and a Buddhist pavilion. They make up a series of classical Chinese architectural treasures.
The Hall of Benevolence is believed to be the oldest of the pavilions, dating back to 1488. Distributed in banques all around are chapels and sanctuaries, dedicated to Tin-Hau, Sovereign of the Heavens, whose festivity is observed every year on the 23rd day of the Third Moon.
In the temple yard, engraved on one of the rocks there's a drawing of a boat. It represents a Fukien embarkation. The Fukienese are believed to be the first-ever inhabitants of Macau. They were mostly fishermen and Tin Hau was their goddess.
In the 16th century the Portuguese landed near the temple. They asked the local inhabitants the name of the land, but the locals misunderstood, thinking that the Portuguese were asking for the name of the temple. So they answered "A-Ma-Gau", meaning "Bay of A-Ma", on which A-Ma Temple is located. That's where the name "Macau" is believed to derive. In modern Cantonese, "Macau"  (Ou Mun) means "gateway of the bay".