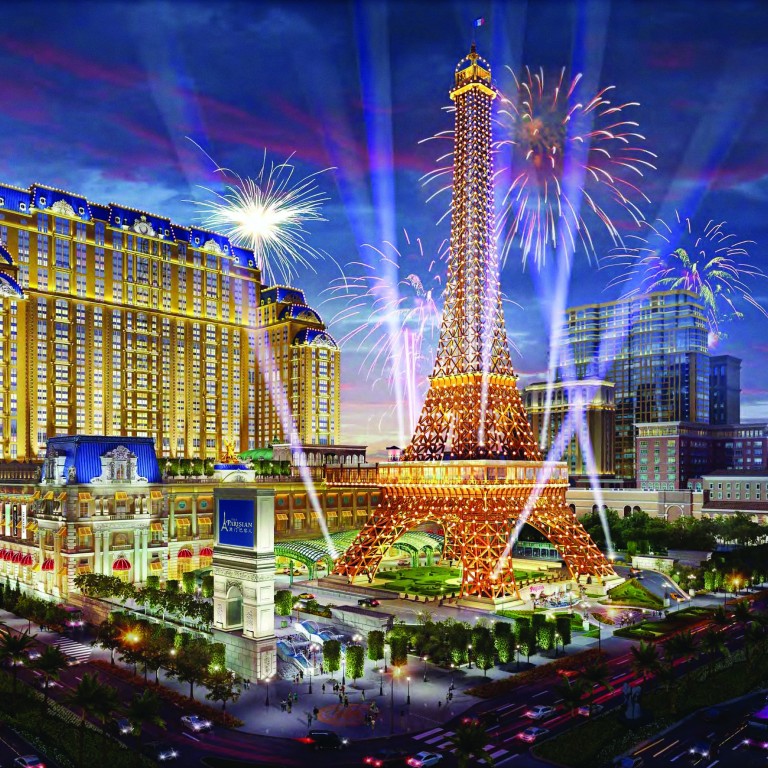 First look inside the US$2.7 billion Parisian Macao
Casino operators in Macau hope that a new mega-resort themed on the City of Lights, "Paris", can help to illuminate a brighter future for the gambling enclave
For those who have found themselves in Macau any time over the last few months, it's likely that a new addition to the city skyline will have caught your eye.
Standing at the entrance to the new US$2.7 billion Parisian Macao resort, set to open September 13, is a striking half-scale replica of, arguably the world's most iconic monument, the Eiffel Tower.
Illuminating Macau's Cotai Strip with hopes for a brighter tomorrow, after a straight 26th-month decline in casino revenue, casino operators hope it will be the crowning jewel of the Cotai Strip and draw back the visitors and, with it, bolster revenue. 
High hopes come at a high price, US$2.7 billion to build this resort, but owners Sands China are confident that they're onto a winner. They are betting on the affinity many Chinese have for Paris and all things French to deliver a hit resort on a scale that hasn't been repeated since they opened Macau's landmark Venetian resort back in 2007.
"Originally, it was going to be more international. There was going to be four hotels – London, Paris, New York and one other – four on one site and they were going to be hotel towers and each tower would represent a different international city," says Charles Lee, chief architect.
"But Sands China did a survey and they found out that if you ask the Chinese, in China, what would be their first choice of destination for a holiday, the vast majority of them said Paris. So, given that research, how could they go wrong by selecting Paris?"
According to Lee, the resort is styled on the 1850s – 1960s "golden age of Paris" – with its art, culture and joie de vivre, and will officially open its doors on September 13. 
Starting from the half-scale replica Eiffel Tower at its entrance, which claims to be the tallest and most realistic replica of the Eiffel Tower worldwide, it features two observation decks, situated on the 37th floor, with panoramic views of the Cotai Strip. The replica tower is also home to its own pan-Asian style restaurant, La Chine, located on the 6th floor, which serves up a blend of East and West culinary traditions. 
As you enter the resort through gilded doors inspired by the famous Paris opera house, Palais Garnier, your attention draws to the ornate dome inside the Rotunda, which is inspired by one of France's most famous domed buildings the L'Hotel National des Invalides. Here you will also find a replica of the Fontaine de Mers fountain from the heart of Paris.
Parisian art and history is reflected throughout the resort with reproductions of 17th and 18th-century antique rugs, chandeliers, silk textiles, chinoiserie porcelains, as well as a reception area inspired by the prestigious Palace of Versailles. 
The resort offers approximately 3,000 guestrooms and suites, although unlikely to wow you, they feature all the contemporary mod-cons. Just over one-third of the rooms offer views of the Eiffel Tower – an ideal spot for watching the nightly light show. 
With Paris being the fashion capital of the world, you would expect shopping to be well represented here and you won't be disappointed. The Shoppes at Parisian feature 150 boutiques and kiosks with the latest in luxury fashion designers, couture and lifestyle brands. Some will be new to Macau, including labels like Antonia, Sonia Rykiel, Temptation, Garel Paris, Herzo and Isabelle Langlois, all set in a precinct reminiscent of Paris' famed Champs-Élysées.
Being a French-themed resort it would need to cater for foodies too and to that extent there is the Brasserie – a traditional French-style bistro, with experienced French chef Daniel Brolese at the helm. Signature dishes here include traditional galettes, steamed mussels in white wine and cream sauce, steak au poivre, black pepper crusted fillet mignon in cognac creamy pepper sauce and much more. We also spotted several other French style sidewalk cafes and the resort's signature Chinese restaurant called Lotus Palace. 
With continued pressure from central government to diversify Macau and make it more family orientated, family-style entertainment is a prerequisite. Walking around the resort you are entertained by an eclectic mix of street artists, mimes and buskers which in a style reminiscent of a theme-park parade, is quite a novelty element for a Macau casino. 
Further afield there is the newly built 1,200-seat Parisian Theatre, which, integrated into the hotel, aims to host future music concerts and Broadway-style shows. The first show to be staged here will be a month long run of the hit West-End musical Thriller Live that celebrates the life of the late king of pop, Michael Jackson.
Outside there's an expansive pool deck area with a heated swimming pool and Aqua World, complete with a life-size pirate ship designed for kids to enjoy. Meanwhile, a 12 treatment room luxury spa called Le SPA'tique offers grown-ups a place to unwind. 
All in all, the resort is designed to be "the closest thing to simulating a holiday in Paris" according to its chief architect Charles Lee. 
"First of all, we're trying to give visitors an experience that is memorable and authentic. Give them an experience which isn't tongue-in-cheek, this isn't a game - we're quite serious in trying to entertain millions of people. Not just Chinese - there are a lot of visitors coming from India, Australia, The Philippines, a lot of people come from Hong Kong just for the day," he says.  
"I come from a background of working in movies, says Lee. "And so I treated the project like a movie – firstly setting it in 19th century Paris, then I came across beautiful music from that period. I know what French crepe smells like and I certainly know what it tastes like – and I thought that if you could combine all those things in one place, then I could succeed in transporting visitors to Paris."