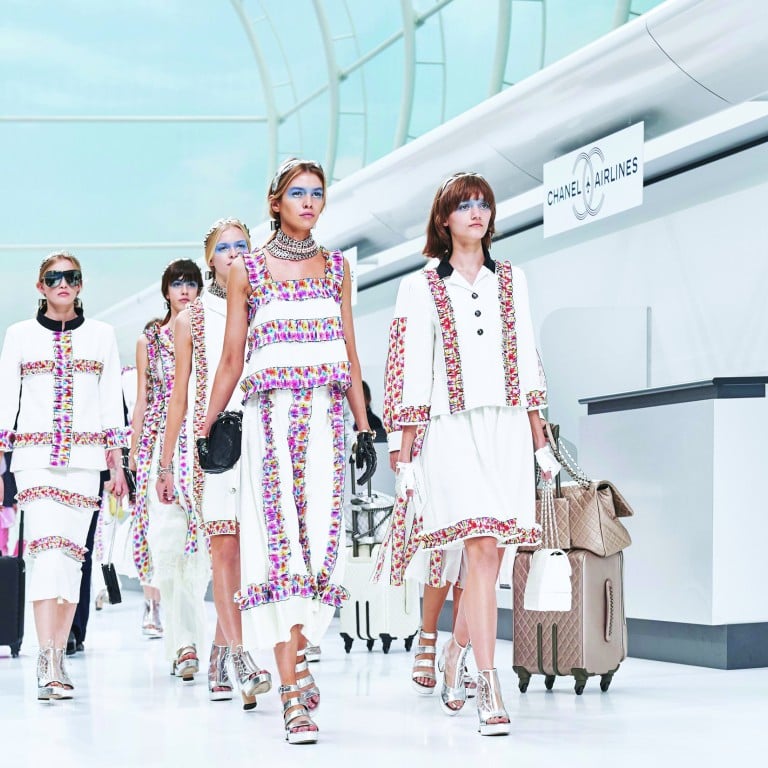 Top names in the fashion world including Chanel, Anna Sui and Phillip Lim are inspiring the next generation of designers in Macau
Macau's young fashion designers are drawing inspiration from some of the top talents in the industry to start their own labels
Few people know about the trials and tribulations, the serendipitous circumstances or the outright nepotism that gave the world's most famous fashion designers their start in the industry.
There are dynasties to be sure, and family wealth has been used to back debut collections, but often it is hard work and determination that propels these talents through the ranks of the fashion industry to superstardom.
Chinese-American designer Anna Sui recalls the moment, as a teen, when she realised she wanted a career in fashion.
She had read a story in Life magazine about two girls who went to Parsons School of Design and ended up opening a boutique in Paris. "All I have to do is move to New York and go to Parsons," Sui remembers thinking. And that was exactly what she did. 
In the years following her time at Parsons, Sui worked as a designer for several sportswear companies before deciding to start her own label. Despite being born into a relatively wealthy household, the Detroit-born designer's first collection was created in her New York apartment.
Sui patiently developed her label, reinvesting any revenues she made before moving her line to Annette B. Showroom, where owner Annette Breindel helped the designer build up her dress line.
Sui was at a Jean-Paul Gaultier show in Paris in 1990 when pop music icon Madonna appeared wearing one of Sui's designs. That was the confidence boost that the designer needed, and the following year she presented her first runway collection. Paying her models – which included close friends Naomi Campbell and Linda Evangelista – in clothes, the show was a solid start in the runway world for Sui, exposing her to buyers and the media. 
A year later, Sui opened her first flagship store in New York's Soho neighbourhood. Today, her multimillion-dollar brand is distributed in over 35 countries. 
Another classic fashion success story is that of Phillip Lim. A southern California transplant, Lim was born in Thailand to Chinese parents who then moved to Cambodia, but eventually fled to the United States to escape Cambodia's civil war.
Although his mother was a seamstress, Lim grew up with no conscious aspirations to be a designer. But she did play a pivotal role in his love of clothes, with Lim recalling how he would direct his mother when she made pieces for him.
Lim initially enrolled in university to study finance and business, but later changed his degree to home economics.
It was while unpacking boxes at a part-time job at Barneys that Lim took his first step into the fashion world. With no real experience or even a portfolio, Lim was able to secure an internship at Katayone Adeli based on his love of clothes and knowledge of designers. He eventually became a design assistant at the label and then went on to co-found his first label, Development. 
Four years later, Lim left Los Angeles for the Big Apple. It was there that Wen Zhou, the CEO of a fabric company that supplied Development, saw promise in the young designer and backed Lim and his new label, 3.1 Phillip Lim – Lim and Zhou were 31 at the time, hence 3.1.
Two years later, Lim's effortless, chic style was available in over 300 stores. Today, his empire has grown to include women's, men's and children's fashions as well as an eco-friendly line.
Perhaps the most legendary life story in the fashion world is that of Coco Chanel. It is hard to think of this fashion icon as anything less than the epitome of elegance, but her beginnings were surprisingly grim. 
Gabrielle Chanel was born into an impoverished family in France in 1883. As she reached adolescence, the death of her mother left her orphaned and she went to live at a convent school. It was there that Chanel learned how to sew. 
Early adulthood aspirations of becoming a stage performer led her to the cabarets. Although her dreams of stardom went unrealised, Chanel came away with her famous nickname: Coco. And her brief spell in the spotlight attracted wealthy racehorse owner Etienne Balsan, who introduced Chanel to high society. Unfortunately for Balsan, it was his friend Arthur Capel who eventually won Chanel's love. 
Capel helped Chanel set up her first milliner's studio in Paris in 1910, and her success was almost immediate, with boutiques springing up all over the country. Buoyed by this response, the designer moved beyond hats, with her unique pieces being largely influenced by Capel's wardrobe.
The bottle for her Chanel No 5 perfume is also said to have been influenced by Capel's toiletry bottles. But he wasn't the only one of Chanel's lovers to inspire her work. Sailing motifs were taken from the Duke of Westminster, and her fur-lined coats from Russia's Grand Duke Dimitri Pavlovich. 
Chanel passed away in 1971, but her legacy endures, with her timeless and influential style remaining firmly at the centre of the fashion industry. 
MACAU STYLE: inspiring the next generation of designers
Local brand AXOXYXOXS (pronounced anonymous) is a collaboration between three Macau-based fashion designers, Tom Wan, Liz Cheong, and Eva Wong. 
The three met at the Macau Productivity and Technology Transfer Center in 2005, where they graduated from the Manufacturing Diploma Programme. Joining forces in 2013, they established AXOXYXOXS to "represent a group of people who are not labeled and confined by convention, instead, pursuing freedom, independence and dreams". 
They all admit, however, that they can't recall ever having aspirations to become fashion designers – mainly because Macau is a difficult place to break into the world of fashion.  
Wan says fashion magazines have always inspired him, but on seeing someone wearing his creations, pride takes over. "The feeling is amazing when people on the street are wearing your clothes," he says. French brand Comme de Garcons is one of his favourite labels that has influenced his work. 
Wong's reason for her foray into fashion is more idealistic: "I just wanted to make something beautiful." She looks to Phillip Lim for inspiration these days. 
The upcoming collection by AXOXYXOXS, called City Vagabond, mirrors the designers' philosophy and tracks their progress. "[It's] for those that have no boundaries or limitations," Wong says. "Our last collection was about home, and now it's time for us to move out and enjoy our lives." 
The humble trio are reluctant to give advice to others who want to follow their lead, but they do offer a warning about the hard work that is required. "If people really want to pursue a job in fashion, they really need to put a lot of effort in," Wong says. "Continue, keep going and don't give up."