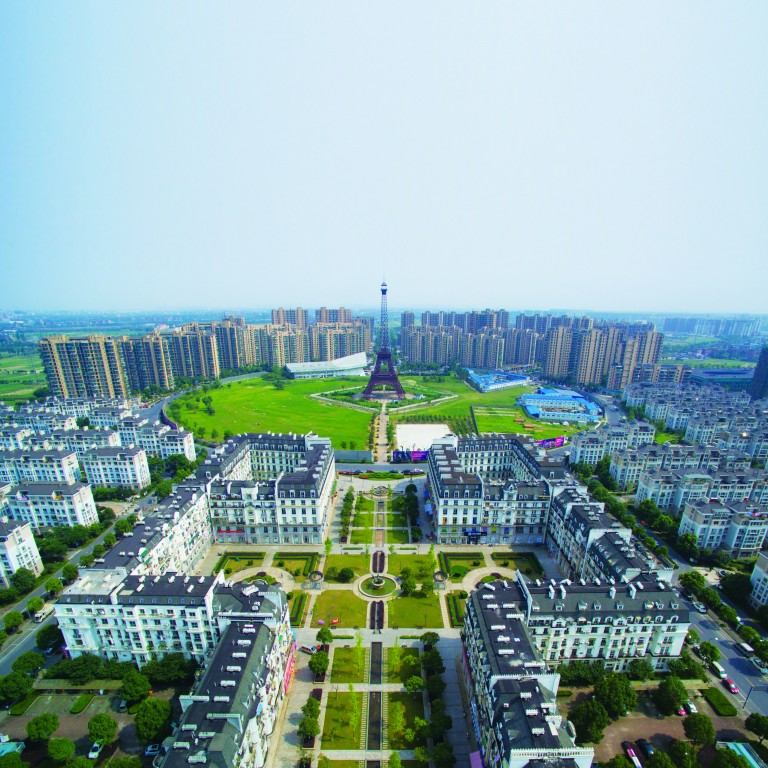 Paris in Macau and a mini London in Shanghai - why China loves to build copycat towns
The US$2.7 billion Parisian Macao opening this month is the latest example of China's fondness for re-creating Europe's greatest architecture in its own image
As the original East-meets-West territory, Macau first formed ties with Europe over 400 years ago when it was colonised by the Portuguese.
These days, the European connection extends beyond Macau as recreating some of Europe's greatest architecture has become something of a trend in mainland China.
In 2007, a whole town modelled on Paris was built near Hangzhou, Zhejiang province, complete with its own replica of the Eiffel Tower, a copycat Arc de Triomphe and French-style residential apartments.
There's also Shanghai's "One City, Nine Towns" — a massive, government-led project that saw 10 satellite cities built each in the architectural style of a different European country. There you will find a mini London, a mini Holland and half a dozen other replicas of the West's greatest architecture.
"I think it's a very powerful statement that China is able to build any kind of architectural fantasy that it desires and offer that as an option – that's amazing," says Bianca Bosker, author of the best-selling book, Architectural Mimicry in Contemporary China.
"Some might argue that it's tacky, but at the same time it's cool in a country where there used to be a lack of choice, that people can now choose and vacation, even in the same island, in a Venice or a Paris and they never have to leave China."
This month, Macau extended its European links in the form of the US$2.7 billion resort, The Parisian Macao. Its striking half-scale replica of the Eiffel Tower, marking the entrance to the property, is already illuminating the skyline with hopes for renewed prosperity.
With gaming revenue starting to show signs of recovery, many are betting that The Parisian, given the Chinese's affinity for all things French, could potentially eclipse The Venetian's success.
"Sands China [developers of the Parisian Macao] did a survey and they found out that if you ask the Chinese, in China, what would be their first choice of destination for a holiday, the vast majority said Paris," says Charles Lee, design director at Gensler who worked on the Parisian project.
"The Chinese tend to love every single aspect of Paris – the fashion, the food, they love the wine, the music, the lifestyle – they love the look of the place, obviously. So, given that research, how could they go wrong by selecting Paris as the theme?"
Given the overwhelming popularity of Paris as a destination for Chinese tourists, Lee and his team set about bringing The Parisian to life. "The only restrictions given to us as designers and architects was that the chairman, Mr Adelson, wanted it to be authentic – he wanted it to be as if you were on a holiday in Paris,"  Lee says.
"I come from a background of working in movies and so I treated the project like a movie – firstly setting it in 19th century Paris, then I came across beautiful music from that period, I know what French crepes smell like and I certainly know what they taste like – and I thought that if I could combine all those things in one place, I could succeed in transporting visitors to Paris."
The Parisian Macao will have all the features that made its sister property The Venetian such a phenomenon, only modelled on a time Lee regards as the "golden age of Paris". Aside from the half-scale Eiffel Tower complete with a 360-degree viewing platform and its own pan-Asian style restaurant, le Chine, the resort will boast 3,000 guestrooms and suites, convention and meeting space, international restaurants, a luxury spa, children's club, pool deck with a themed water park and a 1,200-seat theatre.
However, as China strengthens its position on the world stage, so too are the tastes and interests of its citizens changing, leaving some questioning whether these replicas are all passé.
"I think there is still a segment of the population that is interested in themed attractions or these copycat European towns," says James Roy, associate principal at China Market Research Group. "But there is also a large segment of the population who are more sophisticated. They've been to Europe and they have seen the real thing. There's still plenty of people who will buy apartments and houses built in a European style or a fondness for that old-world Europe style, but I think the ornate or really gilded design is being viewed as being too nouveau riche – it's something that's falling out of fashion a bit."
There's no denying that a trend exists with China's fondness for re-creating Europe, but it may leave people wondering why there aren't more Chinese-themed resorts that reflect their own rich culture and heritage.
"There's certainly room for a resort or entertainment destination that is distinctly Chinese," Roy says. "I think what has turned people off that for a while is that a lot of those attractions are either very familiar to people, or they tend to be not very well done. There hasn't been a very strong, high-quality offering. I think you will begin to see a more distinctly Chinese sense of culture and history entering into things like style, architecture and high-end lifestyle. I think people will start to return to emphasising Chinese culture as the country becomes more powerful and takes more pride in Chinese culture which is very rich itself."
While collecting research for her book on China's enthusiasm for copycat architecture or "duplitecture" [duplicated architecture] as she refers to it, author Bianca Bosker came across numerous citizens who told her that "the way to live best was to eat Chinese food, drive an American car and live in a British home."
"I think it will be interesting to see how that changes," Bosker says. "Whether in another 10 years, with China's innovation and economy if it continues to grow, rather than say eat Chinese food, drive an American car and live in a British house, perhaps they will be saying the ideal way is to drive a Chinese car, eat Chinese food and live in a Chinese house. And who knows, if China continues to grow as a world leader and economic powerhouse, will Paris, Venice or New York lose some of its appeal? Perhaps, in years to come, we'll see someone in Europe or America building a 2.5 billion-dollar copy of Macau."